The Media Has Already Lost Interest In Twitter
News volume surrounding Twitter has fallen off a cliff since its IPO debut, marking another metric in which it pales in comparison to Facebook.
Here's another snapshot of how much mindshare Twitter has in its post-IPO era with respect to Facebook, courtesy of Bloomberg: the number of news reports about Twitter has, since going public, fallen sharply.
Bloomberg is able to assess how many news stories across a variety of outlets (Bloomberg says it is more than 100 authoritative sources) were published about Twitter — and other companies — with its data, as can be seen in the chart below. As expected, the number of stories about Twitter (the white line) has fallen sharply since it went public, but for the tech story of 2013 it's completely dwarfed by Facebook.
Even going back as far as nearly a year before Facebook's initial public offering, Twitter has many fewer mentions than Facebook. That makes sense, given that Facebook is (and was) a much larger company with many more users, but it is still rather telling.
Twitter, at its peak, was mentioned in 591 stories weekly, whereas Facebook was mentioned more than 1,300 times in a week during its peak (also when it went public).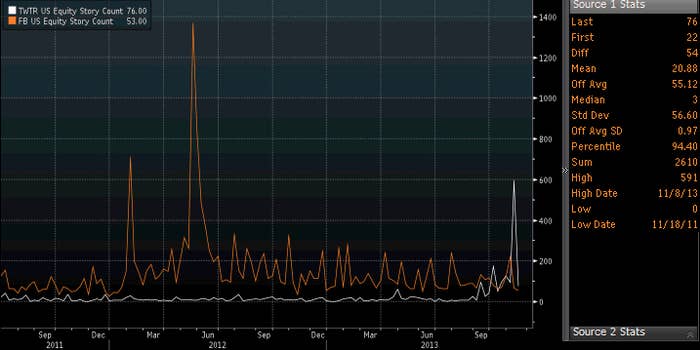 It's also worth noting, however, that much of the press following Facebook's initial public offering was negative — the first-day trading glitches, selective discussions with banks, and such — while Twitter's IPO was quiet and went through without much fanfare (though the stock did nearly double in its first day of trading).