Bad Overshadows Good in Candy Crush Maker King.com's Earnings
King.com reported its first-quarter earnings Tuesday. Though it beat expectations, it still needs to find life after Candy Crush Saga.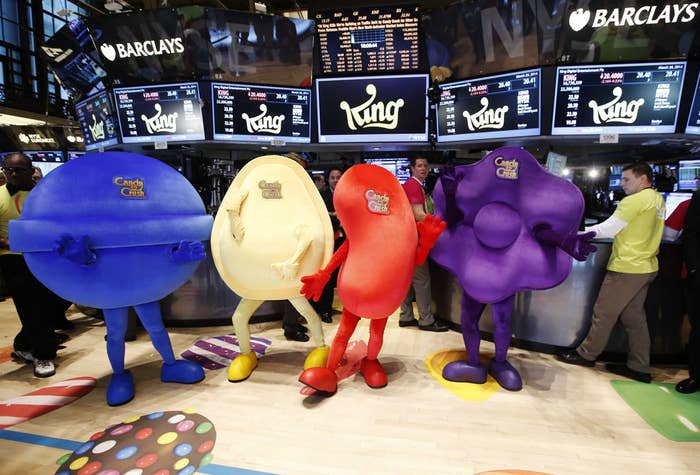 Things aren't looking good for the maker of Candy Crush Saga, and Wall Street knows it — it's seen this song and dance before.
King.com, the creator of Candy Crush Saga, reported its first earnings as a public company Tuesday, and while it generally beat expectations across the board, it also began to show slowing growth sequentially. That led Wall Street to slam the stock, which is down more than 9% after market open.
Normally, quarter-over-quarter comparisons aren't apples to apples, and investors tend to look at how a company has grown in a quarter compared to the previous year. In that respect, King.com has grown tremendously, nearly tripling its gross bookings and profit. But for a gaming business like King.com, the company's growth essentially happens based on the number of hits it has, and showing slowing growth in the next quarter means the company hasn't found another hit.
The company is also starting to make less money off Candy Crush Saga, with 67% of its gross bookings coming from the game, compared 78% in the fourth quarter last year. Monthly unique payers fell from 12.2 million in the fourth quarter to 11.9 million in the first quarter.
This sort of thing is familiar to investors, who faced a similar dilemma when Zynga went public on the strength of its FarmVille and CityVille game. The comments in the earnings release are eerily similar as well, down to the company pointing to it having three of the top ten grossing apps on the App Store — while, at the time, Zynga would point to having a number of games in the top monthly active user charts on AppData when it was the largest game maker on Facebook.
Again, year over year, King is showing stunning growth — it has 143 million people playing its games daily, up from 36 million in the same quarter a year ago. But 2013 was also the year of Candy Crush Saga, when the company's growth came from what was arguably the most popular and biggest game of all time, propelling King.com to its initial public offering. Its daily active users increased just 15% quarter over quarter, meaning that it is still finding some growth — though part of that likely came from a recent partnership with Tencent to bring Candy Crush Saga to its messaging networks in China.
The company's perennial problem — and the problem with basically any large gaming company — still exists: It needs a hit. Electronic Arts reported its earnings yesterday and beat analyst estimates across the board, but it also revealed that it has built a hit in Titanfall, an aggressive first-person shooting game. King.com said this quarter was led by Farm Heroes Saga, but that app is still behind Candy Crush Saga on Apple's top grossing charts.
Wall Street is still waiting for King.com to find life after Candy Crush Saga, and until it does, the company is basically going to get the Zynga treatment. The question remains whether it can.