Someone Said Twitter's CEO Is Going To Lose His Job, And The Stock Is Soaring
The rumor mill that Dick Costolo's time is running out continues to churn.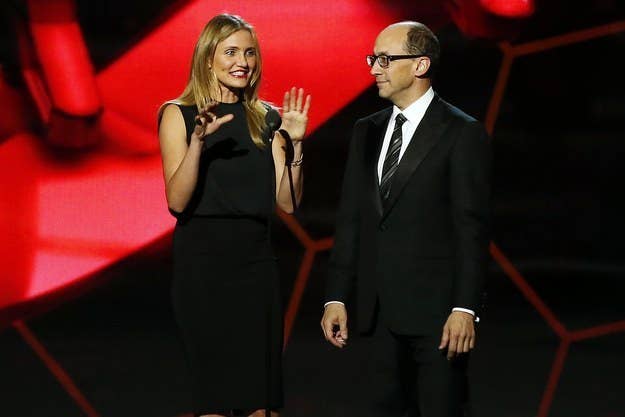 Another week, another rumor that Dick Costolo is losing his job.
This time, the mention comes from Robert Peck, an analyst at SunTrust who said, "There's a good chance he's not there in a year." Peck made the call on CNBC earlier today.
Indeed, the whispers that Costolo's time is running out have been getting louder. Twitter has gone through three heads of product in a year, not to mention the ouster of COO Ali Rowghani. In recent weeks, the rumor mill turned to Costolo, suggesting he may be the next one to be shown the door. Shortly after Peck made the call on CNBC, Twitter's shares rose by around 3%.
While Twitter's business continues to churn along — monetizing the service has never been Twitter's big problem — the company hasn't yet found a way to reignite user growth. Earlier, BuzzFeed News reported that after Rowghani's ouster, Twitter's growth team was reorganized into a central unit. Meanwhile, Daniel Graf — a Google alumni — was given the job as head of product. He promptly lost his job, with Kevin Weil, a longtime Twitter employee, getting the role.
Many observers and people close to the company attribute the shortfall to Costolo, who is seen largely as an operational CEO and not a product visionary — hence the revolving door at the product role. Costolo, however, is savvy and thus far has been able to navigate turmoil at the company. Still, investor patience is waning: Earlier this year, the Wall Street Journal wrote a scathing story that demonstrated some of the community's frustration with Costolo, which sources close to the company described as "spot on."
Costolo is beloved by a segment of employees at the company, and it's possible that his upper-management changes have bought him enough time to see the company through the Super Bowl — an event where Twitter will no doubt see a frenzy of activity.
Still, as is often the case in technology, rumors have some element of truth behind them, and the truth seems clear to both observers and investors: Costolo is running out of time.