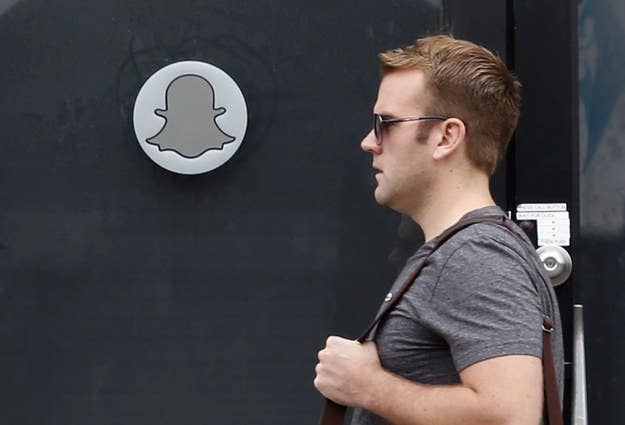 Snapchat said the company's first ads in the United States will be appearing this weekend.
The company announced the ads in a blog post Friday afternoon. The new ads mark a change to Snapchat that will begin generating real revenue for the company, which was recently rumored to be raising financing at a $10 billion valuation.
Snapchat's first ads will appear in the "Recent Updates" section of the application, and not in a user's Snapchat feed that shows videos and Snaps coming from their friends.
"The product we're releasing today is a lot simpler," the company wrote. "An advertisement will appear in your Recent Updates from time to time, and you can choose if you want to watch it. No biggie. It goes away after you view it or within 24 hours, just like Stories. We won't put advertisements in your personal communication – things like Snaps or Chats. That would be totally rude."
Snapchat's co-founder and CEO Evan Spiegel said the company's first ads would be coming soon at the Vanity Fair New Establishment conference last week. At the time, Spiegel said it would be related to the company's "Stories," which are a collection of Snaps that can be viewed for 24 hours.
"We're cutting through the new technology around ads to the core of it, which is telling a story," Spiegel said at the conference. "People are gonna see the first Snapchat ads soon, they're going to be around our Stories product."
Mobile advertising, too, is increasingly becoming the de facto advertising medium on social networks like Snapchat and Facebook. Mobile advertising will total $18.99 billion in the US this year, according to eMarketer, a firm that tracks advertising data. That's up 78% from $10.67 billion in 2013, according to the firm. Facebook will take 17.7% share of the US mobile ad market this year, with Twitter grabbing 3.5%, according to eMarketer estimates.
Snapchat Stories, which the company launched last year, appear in the "Recent Updates" section of the application. Snapchat has also rolled out the "Our Story" feature, which is a collection of Snaps that anyone can post to and are curated by the company. "Our Story" has largely been focused around events like college football games and Octoberfest.
Advertising is one of the first steps for Snapchat building a real business with a real revenue stream, which will help justify its ever-increasing valuation. And then there's the fact that Facebook also sought to acquire Snapchat for $3 billion in cash, but ultimately the negotiations fell through.
The company's user base is said to be much more engaged than on other applications, making it very appealing to advertisers. Now, the company is taking its first steps in advertising, though it appears to be experimenting with unobtrusive ads that won't necessarily be viewed by all its users.
"Understandably, a lot of folks want to know why we're introducing advertisements to our service," the company wrote. "The answer is probably unsurprising – we need to make money. Advertising allows us to support our service while delivering neat content to Snapchatters. We promise that we'll use the money we make to continue to surprise the Snapchat community with more terrific products – that's what we love to do!"
A representative from Snapchat declined to comment further on the company's advertising plans.