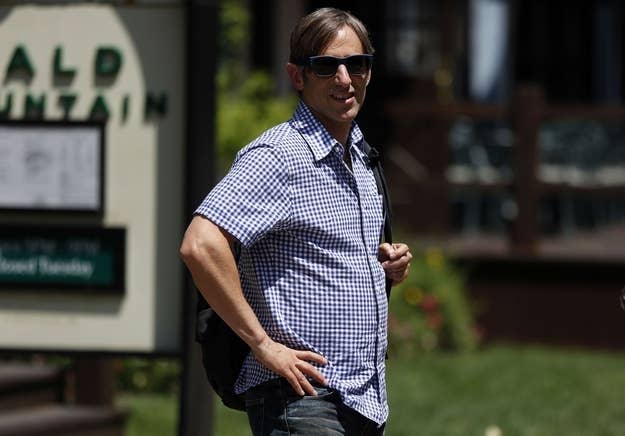 At around 2:30 p.m. ET, the entire office of Zynga New York was called in for an all-hands meeting. They were brought to the room where Dan Porter, the former CEO of OMGPOP, would give his weekly updates.
The person speaking to the office was not Dan Porter, who had recently left the company. It also wasn't Sean Kelly, the VP of mobile games brought in to run Zynga New York. It was an employee from Zynga's San Francisco office, who was here to tell them that the entire New York office was being shut down.
New York's Zynga office was one of several — including Dallas and Los Angeles — that was shut down amid a mass layoff at the social gaming provider. About 18% of Zynga's workforce, or 520 employees, were laid off amid restructuring as the company sought to cut costs to help spur its turnaround.
Zynga, whose empire of Web games is under immense pressure, has been forced to make serious cuts as it reorients itself as a mobile gaming business. In all, the cuts will save the company around $80 million, CEO Mark Pincus said in a memo to employees today. The cuts caught most of its employees — especially those in remote studios — by complete surprise.
"We met [in Porter's old office], and it was the straightforward jargon you'd get from a Pincus email: Due to restructuring, blah blah, you're all very talented, but we are closing this office," an employee who was just laid off said. "It was like, a three-minute meeting, maybe five minutes at most."
But as recently as a few weeks ago, it wasn't immediately obvious that Zynga's New York office was about to be terminated. At that time, Zynga New York was pitching new ideas for games and business was operating as usual — though Kelly was mysteriously absent more often than normally. Now those game ideas are "locked up in a Google Doc somewhere on the internet," according to that employee, and the keys to the top games are being handed back to Zynga's San Francisco office.
Shortly after that five-minute meeting, there was already a sense of closure at Zynga's New York office, employees said. Some tore up Zynga shirts and hoodies. Some broke Zynga's "Oscars," which they handed out like trophies for the company's games. Most just left their things on their desks. A few employees are being kept around to wind down partnerships, but most have a week or so to file their severance packages — which will grant them pay for a few months — employees said.
"No one here regrets anything that happened over the past three or four years. We all have positive memories and a positive experience," said an employee who was laid off today. "A lot of people were almost relieved that there's finally a decision one way or the other."
Less than a half hour after the meeting, many employees had already piled into the OMGPOP bar, Tom & Jerry's, right across the street in NoHo. They were holding a "cast party" for the company that had built an app that clocked in as high as No. 14 for Apple's all-time top apps on the iPhone.
"If there's one thing that OMGPOP loves to do, it's get together," said an employee.
Inside of Tom and Jerry's, it seemed almost like a party. You wouldn't have guessed a few dozen people had been laid off, the bartender said. One last victory lap for Zynga's most high-profile acquisition, now unceremoniously terminated amid a company turnaround. The bartender treated them all to drinks.
It was barely 2 p.m. when a crowd from Zynga started to trickle into Mars Bar, near the company's San Francisco headquarters. It didn't take long for the barkeeper to tell something was wrong. Despite the circumstances, the bar was quickly full of Zynga T-shirts, hoodies, and messenger bags — by the time BuzzFeed arrived, the place was solid Zynga.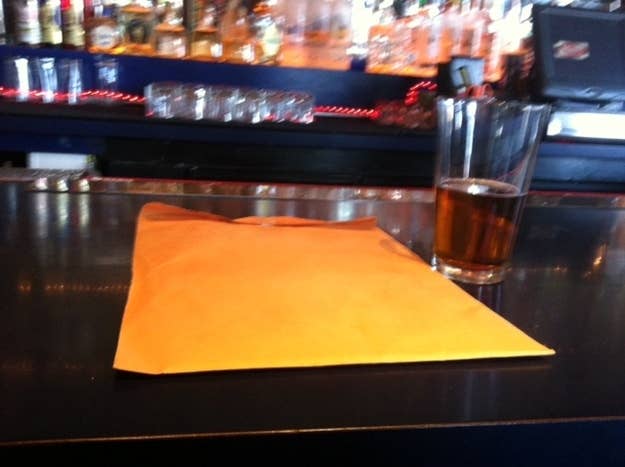 Some were there in solidarity, but most of them had been laid off. Since they were stripped of company phones, many had no way to call or text their friends, co-workers, or even their parents. A few manila envelopes, with severance packages inside, sat on the bar.
Nobody was being shy about how angry they were about the situation. It took them off guard, they said, and there was no warning (some say they could pick up a vibe, others claim they heard rumors). "It's a wake," said one employee. Another, one of the first to get the bad news, noted that the situation might get messy. "People were tweeting the shit out of this. My ex-boyfriend emailed me about it," she said. Some people, bizarrely, were meeting for the first time — up until recently, Zynga was ballooning in size.
"Are you safe?" became the default way to greet people. A tech recruiter named Trent Krupp from DeveloperAuction, chasing fresh — and perhaps raw — leads, had dropped off business cards for the bartenders to hand out. He left an open bar: two free drinks for anyone from Zynga.
Bar-goers were mostly reconstructing what had happened to them collectively, but largely apart. The process was methodical. They had been pulled aside, one by one, told by their manager that they were being let go, and were then led down a hall to a waiting room. The company provided snacks and magazines to tide them over while they awaited their fates. Good thing: Some were there for over three hours. Everyone else sat at their computers in fear that they would be tapped. While at the bar, Zynga (or, rather, ex-Zynga) workers were receiving texts from their friends still in limbo, fired, but waiting for severance packages. (The packages vary, no doubt, but one source told BuzzFeed that she received full pay through October.)
Certain teams were almost fully stripped, by around 80%. Others, like Farmville 2's, didn't lose many, according to an ex-employee who asked not to be named. The less popular games were to be handed off to teams in India.
There was speculation about which managers knew what and when. Many said there was no forewarning, even for HR. "I had no idea this was coming," said a senior employee. "As manager, you think someone might say something." Another told BuzzFeed that her manager had mentioned privately that he had known for a few weeks.
This was a new type of news for the relatively young company, which in many ways still feels like a start-up — a place where a few years of service makes you a longtime vet. As such, the dominant mood was shock: "It's hard see friends you've done battle with arbitrarily sent out the door," said one employee. "Some with four-plus years."
"You are a fixture and then you are gone," said one of the four-year employees.