One Theory Behind Nest's Jaw-Dropping Valuation
The smart thermostat company is raising a big pile of cash that values it at $2 billion, according to Re/code. That's because there's a lot more work to be done, say industry insiders.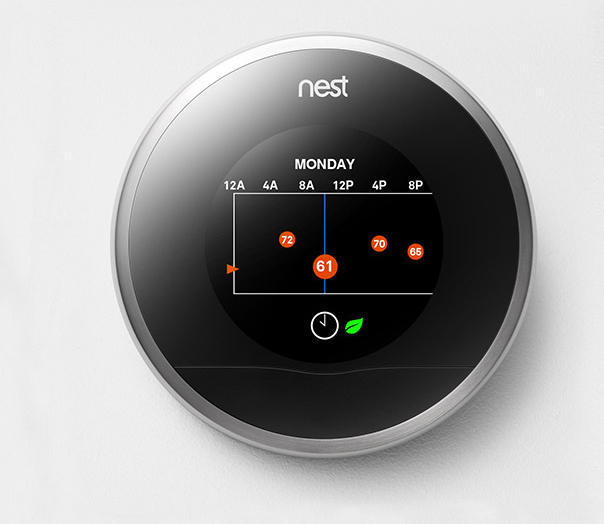 Nest Labs is raising additional money that would value the company at more than $2 billion, according to a report by Re/code (the new site from the team behind AllThingsD).
Nest Labs currently has two products: a "smart" thermostat, named after the company, and a smoke and carbon monoxide detector called Protect. Both sport an industrial design in Apple's vein (which makes sense given that CEO Tony Fadell is essentially the man behind the iPod). But both products also do something more for their owners than simply handle their basic functions, according to industry watchers.
Here's how one venture capital source put it: The products teach home owners to think of their homes as having more "states" than simply "home" and "away." Initially, when leaving the house, home owners would either leave the air-conditioning or heating running or turn it off. With Nest, home owners can think of more phases that a time of day has — such as waking up, leaving for work, coming home for work (as in, turning the heat/air on in anticipation of being home), and so on.
The "Protect" name for the smoke detector takes that even further, with additional states of being away, like being on vacation. Essentially, the more states a home owner is aware of, the more obvious certain product holes become — and that's where Nest Labs can come in, designing and selling additional products that suit those needs.
The funding — about $150 million, according to the report — will apparently come from Yuri Milner's DST and will mean the company has raised more than $230 million. That's pretty typical for a startup that is making a piece of hardware, which includes additional costs that startups don't typically have to face like managing a supply chain and fulfillment of products.
It also means that, as a hardware startup, there are additional risks. The company has to continue iterating hardware products or finding new customers for them, a similar problem that even Apple faces, and it has to continue making additional products that can grow its revenue. For a startup, that is even harder, as a single flop can mean the end of the company if it isn't careful.
Still, Nest Labs has so far been one of the first startups to actually succeed in going after building a "connected" home — and with additional funding, that only gives it more runway to continue going after it.