One Chart That Illustrates Wall Street's Disappointment With Apple
The company Steve Jobs built has lost nearly $50 billion in market cap in the past month. It's still not clear if new iPhones will be enough to re-ignite growth and bring back investor confidence.
Wall Street is really disappointed in Apple's new iPhones

The above chart represent's Apple's market capitalization, which spiked when billionaire hedge fund manager Carl Icahn announced he had a $1 billion stake in Apple. (His tweets alone added about $17 billion to the company's market capitalization.)
Then, on September 10, Apple unveiled a pair of new iPhones — the high-end iPhone 5S and the not-quite-so-low-end iPhone 5C. The unveiling was basically panned by investors, who were expected Apple to unveil an iPhone that would help it penetrate lower-end smartphone markets that don't have carrier subsidies to bring the price of the phones down.
Instead, the "cheaper" iPhone is $549 off-contract in the U.S., and even more expensive in China, which is considered one of Apple's most important markets. Following that, Apple shed nearly all of its gains that Icahn added to the company following his Tweets. The above chart doesn't even include today's dip in market cap (down to around $407 billion), after Apple shares fell more than 3%.
It's a far cry from Apple's recent highs of more than $500 – and even further from its all-time high of around $700.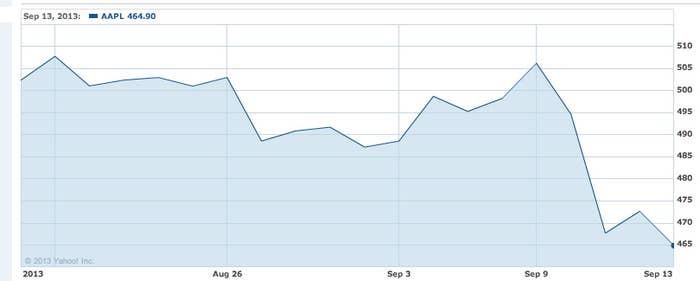 Instead of showing a willingness to go after lower-end markets, Apple may have to once again create a category-defining product like it did with the iPhone and the iPad. Or it can increase its program to return value to shareholders in the form of dividends and share buybacks, which Icahn is suggesting the company does.
Either way the recent plummet has once again raised questions about whether Apple will be able to ignite the rapid growth that the iPhone and iPad granted Apple beginning in 2007.