Nokia Deal Locks New Microsoft CEO Into Steve Ballmer's Old Strategy
Like it or not, Microsoft is going to be a consumer-oriented company with its enterprise services funding the rest of the company. Yesterday's announcement basically confirms the former Microsoft CEO's vision.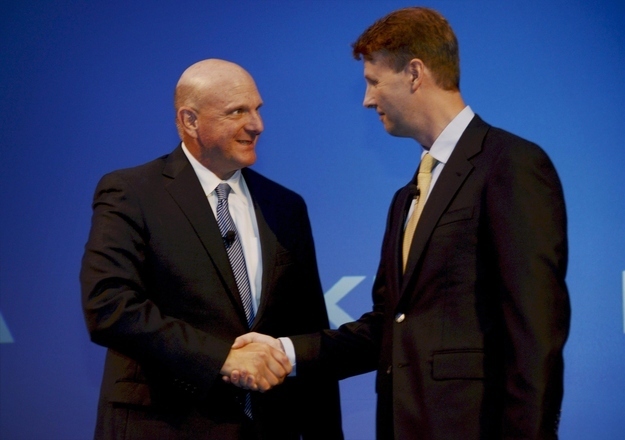 Microsoft has announced that it is acquiring Nokia's devices and services division — the same group building Microsoft's flagship Windows Phone devices — and, in doing so, has basically confirmed outgoing CEO Steve Ballmer's stamp on the company.
On his way out, Ballmer initiated a major reorganization — including the Nokia deal — in an attempt to turn Microsoft into a "devices and services" company: a company where the core software (in Microsoft's case, Office and Windows among others) is tightly coupled with hardware created by the company (such as Windows Phone and Surface). It's a model that looks much more like Apple rather than Google, which relies on online services to monetize its customers.
It's a stamp that, regardless of who takes over, will have a hard time diffusing, even if Microsoft's enterprise services are what was driving Microsoft's revenue and bottom-line growth. Whoever takes over the role of CEO will, inevitably, be following in Ballmer's footprints and be following Ballmer's blueprint. Here's what Citi's Walter Pritchard said in an analyst note about the announcement:
Some investors had hoped and it was speculated in the press that Microsoft might explore separating the challenged consumer business from its profit-driving enterprise business. However, with doubling down on devices here, that scenario looks unlikely. It is also possible investors will view the upcoming CEO change as less interesting as this acquisition really does lock the successor into the current strategy. It has been our view that success in Windows is necessary to ensure the longevity of the company's enterprise franchise and thus a separation of consumer Windows could not happen.
There is a certain logic to this, to be sure. One of the things that has made Apple and Google so successful in this arena is their strategies of targeting consumers first, who then turned around and brought the iPhone and Android devices into their companies and forced them into the enterprise. Focusing on consumers would, if successful, give Microsoft a back door into the enterprise much in the same way Apple and Google were so successful in doing. And locking them into an ecosystem keeps them more tightly linked to a single device, whether that's a Surface, iPad, or Windows Phone.
"When you look at Apple, everything is tightly coupled. They don't say let's take iTunes and make Google a better vendor," Rob Enderle, principal of Enderle Group, told BuzzFeed at the time of Ballmer's retirement. "I have a hard time believing someone would come in to let Office free-float. They would have to believe that windows is failing and that office needs to be its own thing."
However, the market has basically been completely eaten away by the iPhone and Android. Ballmer, even amid that, remains optimistic: "I will tell you that you cannot get to be 2 until you are 3, and we will look very hard on the opportunities that are ahead of us," he said on the call discussing the Nokia Devices and Services acquisition.
Ballmer announced his retirement last month, surprising a lot of long-time Microsoft watchers. At the time, multiple names were thrown out as candidates internally, including execs Qi Lu and Satya Nadella, who received greater oversight in the reorganization. But even amid that, it also seemed like Microsoft was willing to look outside the company for a CEO. Heidrick & Struggles is the executive recruiting firm hired to find the company's next CEO. Chairman Bill Gates is also going to be on the committee searching for a replacement, and Ballmer will still continue as CEO as the company searches for one.
And, notably, Nokia CEO Stephen Elop — who is joining Microsoft as part of this — was one of the names brought up among long-time Microsoft watchers. Still, Ballmer is very clearly laying out a mission for Nokia to push the company's goal of becoming a devices and services company — whether that looks like Apple or not.
"The device, while we continue to pursue services opportunities, opportunity is perhaps the best opportunity for pursuing users in very, very large numbers. It's the most popular intelligence device now on the planet," Ballmer said on the call discussing the acquisition. "I continue to believe that there is some innovation is left, unlike some of our investors. As we do today, we will support iPhone and Galaxy phones, we're not holding back services, but we cannot do a full and first-class experience on those platforms. We run the risk that Google or Apple will foreclose on our ability to innovate."
Windows Phone isn't the only device it's focusing on, either. Microsoft has a modestly successful Xbox business, which helps them tackle the living room — another major front in the war for consumers. "It is hard to get users to buy services without buying hardware," Ballmer said.
That's not a terrible goal to have, either. For fiscal year 2012, Apple brought in $156.5 billion in revenue, up from about $8 billion in its 2000 fiscal year. Its net income in 2000 was $786 million, compared with $41.7 billion in 2012. In that same period, Microsoft has about tripled revenue, bringing in about $77.9 billion. Microsoft has also nearly tripled its net income to $21.9 billion. Microsoft is also only spending around $7 billion on Nokia, which has had a hard time finding its place in the world as the number-three Smartphone provider after completely dominating the dumbphone market.
At the end of the day, this sets up an interesting path for the next CEO of Microsoft that — while not necessarily entirely in his or her own control — looks almost a bit like Yahoo. If the next CEO of Microsoft fails, then Microsoft could have never been saved, and some of the blame will still rest on Ballmer, and of course the new CEO. But, unlike Yahoo CEO Marissa Mayer, who will receive full credit for the turnaround of Yahoo if it happens, the next CEO will still owe a debt to the structure and acquisitions Ballmer has made to set Microsoft up as a devices and services company.
That is, if these incredibly risky bets turn out well for Microsoft.