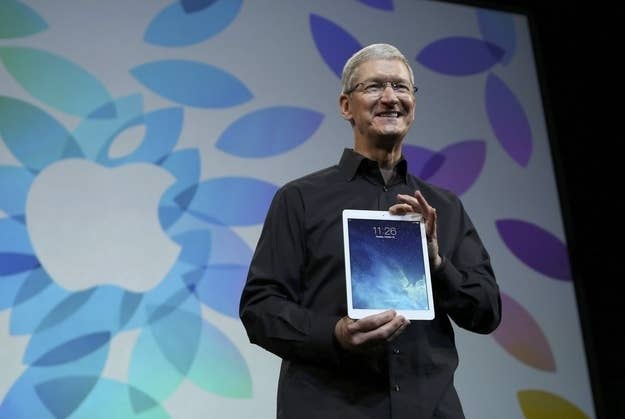 As expected, Apple unveiled a highly-polished new iteration of the iPad at an event in San Francisco today, along with an update to the smaller iPad Mini.
They also rolled out new, highly-polished updates to their MacBook Pro laptops and a street date for its $3,000 superuser-skewed Mac Pro desktop. A month ago, Apple unveiled a new, highly-polished update to its iPhone with the iPhone 5S, along with a plastic highly-polished update to its mid-range iPhone.
It's basically been the play book for Apple since the launch of the original iPad. Apple, once known for creating category-defining products, hasn't done so since it launched the original iPad three and a half years ago. Even the iPad Mini, a smaller companion to the 9.7-inch iPad, was a follow-up in response to a smattering of 7-inch Android tablets flooding the market.
Now, Apple still has a considerable lead in terms of mind share and market share when it comes to tablets, and there is little debate that the iPad Air will be one of the best, if not the best, tablet on the market when it comes out next month. But Apple, sticking with its cheapest tablet still costing $300, has shown no indication it wants to compete on price with new rival tablets from Google and Amazon costing around $200.
It's reminiscent of when the iPhone began to cede its lead position in the smartphone ecosystem. The iPhone defined a category and was a clear leader for years after its launch, and Apple rode that to adding hundreds of billions to its market value. Then, rivals running Google's Android operating system, and other smartphones with a different market proposition, began to chip away from that lead.
Fast forward to 2013 and there are several competent competitors for the iPhone, particularly Samsung in terms of phones — which has quickly leapt to be the top Android smartphone manufacturer and led Android to have the largest share of smartphone operating systems in the market.

Again, Apple has a clear lead in terms of tablet usage — which makes sense, because Apple again basically defined the category. "Regardless of what you read, about what's sold and activated, the iPad is still used more," Apple CEO Tim Cook said at the event today. "No one else is close to this."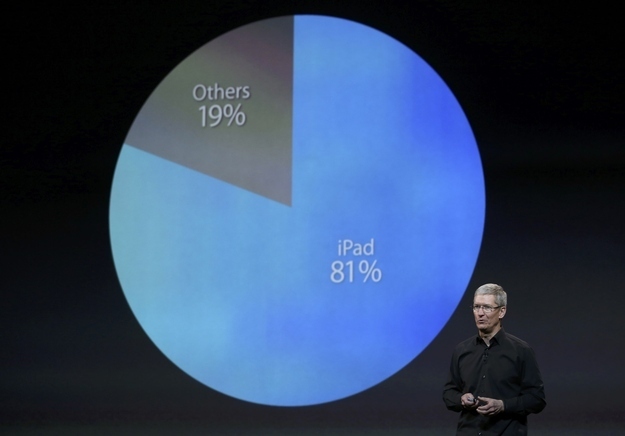 But, even still, that Apple has already ceded a 19% share of tablet usage is indicative that there are legitimate alternatives to the iPad. Android has pushed out many updates to improve its tablet experience, and more importantly, both Google and Amazon are looking to beat Apple considerably on price.
The new iPad Mini, the smaller and cheaper iPad, starts at $399, while the last-generation iPad Mini starts at $299. The Kindle Fire starts at $139, with the current-generation 7-inch tablet selling for $229. Google's Nexus 7 tablet, also running Android, starts at $229. So, for current-generation tablets, two significant competitors are able to build a comparable experience while still being more than $100 cheaper.
Cook did address that today, essentially writing it off as a play to get as many tablets into the market as possible and dilute Apple's share. "But it's not about quantity, it's about quality. Other companies would be incredibly proud to have just one of these products," he said.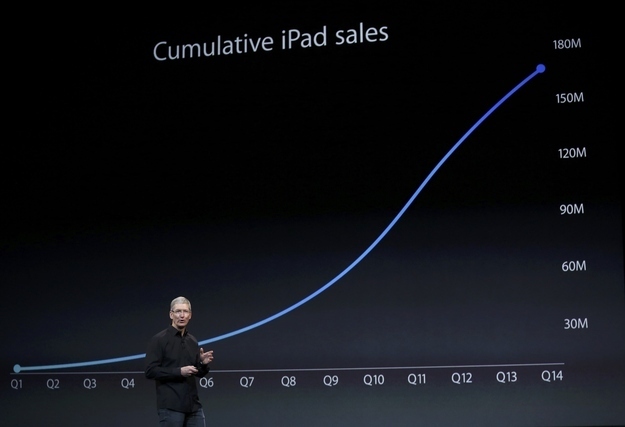 Having the highest-quality product in a category doesn't necessarily guarantee dominance. The reality is that comparable devices are emerging that are able to compete with Apple in ways that go beyond simply being the highest quality.
Amazon attacks it as an optimization problem — how to produce the best product at the lowest price — while Samsung has a wide array of products to appeal to many different kinds of users. Android, as an operating system, is more open and more flexible for developers, meaning there are apps that will appear on Android that simply can't be built for iOS. They have all proved that a company doesn't have to be the outright best — it can be the best for specific markets, and enough markets can add up to be a legitimate force.
With the iPod, Apple was well on its way to becoming the most valuable technology company in the world by creating a category-defining product and polishing it to the point that it would remain the best. It did it again with the iPhone. And then it did it again with the iPad.
But Apple still hasn't answered the question — which is as much a philosophical question as it is core to Apple's history, nature and business potential — of what comes next. That question, which has been nagging Apple for years after the death of founder Steve Jobs, is what's sliced off at least $200 from its stock price after it reached a peak of $700, with talk that it could be well on its way to being worth $1 trillion.

So, Apple's steadfastness can be taken two ways: one, that Apple is genuinely not worried about Amazon and Google, which are beginning to nip at its heaps; or two, that Apple is confident in what it has coming next.
Thus far, the only indication of what might be coming from Apple is a smart watch powered by iOS, based off multiple reports from reputable news outlets that are probably accurate. Even then, Samsung was able to get ahead of Apple and release its own smart watch, even though the product was widely panned and didn't have much utility without a Samsung smartphone.
The iPad Air and new iPad Mini are still likely going to remain the best tablets on the market, and they are probably going to sell like crazy. But right now, with the current line-up of iPads, Apple is kicking that question back for at least a little while longer, with no indication that Apple has plans to release a watch or television any time in the near future. Eventually, Apple won't be able to ignore that question any longer.