How Five Activist Investing Campaigns Fared, In A Single Chart
Bloomberg has a huge report on the state of activist investing. Here's the basic summary of some of the biggest campaigns, laid out in one simple chart.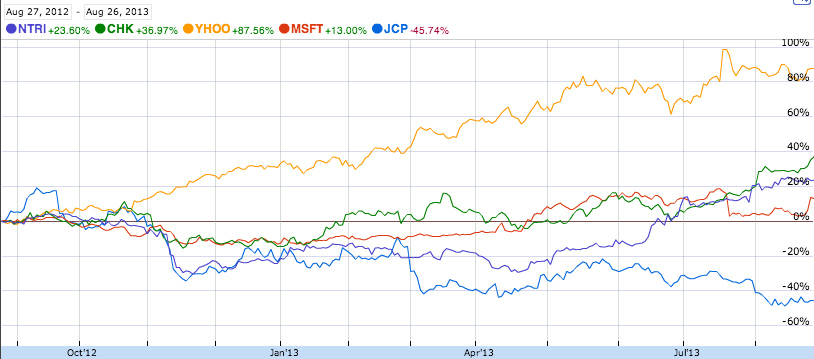 Activist investors like billionaire hedge fund manager Carl Icahn have been very, very busy in the past several years. Most recently, Bloomberg and a number of outlets are reporting that ValueAct Capital had been pressuring for a board seat just before Microsoft CEO Steve Ballmer decided to retire.
Ballmer's announcement that he would leave his post in the next year, unsurprisingly, sent the stock up nearly 10% — though the company still had a mixed record under his leadership.
In fact, according to a new comprehensive report from Bloomberg, slicing the head off the beast has turned out to be a relatively successful strategy. Dan Loeb's replacement of Yahoo CEO in exchange for Marissa Mayer nearly doubled the stock price. Icahn's pressure at Chesapeake energy, according to Bloomberg, has also reaped rewards, as has activist pressure at Nutrisystem.
According to the same Bloomberg report, assets managed by activist funds have more than doubled over the past five years. Of the 23 companies where activists won executive or director changes in the past year and a half, more than half have outperformed the S&P.
The biggest sore spot has to be the replacement of J.C. Penney's CEO under pressure from Bill Ackman, which has sent the company — and its stock — into a tailspin.
At the end of the day, it's the stock price that matters most, and some strategies have clearly performed better than others.