When Dropbox was looking to grow by getting its software pre-installed on new mobile devices, it turned to somebody who knew all about the fusion of hardware and software: It hired Christine Moon, the Googler who helped write the company's playbook for its Nexus smartphones.
Moon, who joined Dropbox in 2013, heads up the team in charge of integrating Dropbox software into new devices including flagship phones like the Samsung Galaxy Note 4 and the HTC One. Formerly part of Google's Nexus project that developed the first line of Google-branded mobile devices, Moon now spends her time making Dropbox an integral part of new devices.
For Dropbox, the challenge is critical. The company has yet to become a dominating part of the mobile app ecosystem, and both Google and Apple are working to lock users into their own online storage and synchronization services. Just as Google recognized the looming switch to mobile in the mid-2000s and went all-in on Android, Dropbox now needs to become an indispensable part of the mobile world. Luckily, Moon remembers the early days of Android—and its explosive growth—from a very inside perspective.
"Android was something people had never heard of before," she said. "This was very early, I worked very closely with [Android founder] Andy Rubin. The team was a little startup and I saw it scale. I think about Dropbox where Google was in 2004, expanding into new markets. It's that inflection point when you're expanding outside of the U.S."
Her team recently scored its latest victory: Dropbox will soon be integrated in Sony's newest smartphones, including the Xperia Z3, Moon told BuzzFeed News in an interview. Sony has only a 3.1% share of the overall smartphone market as of the second quarter, according to IDC, but the latest deal gives Dropbox a stronger foothold in many major global Android smartphone manufacturers, including Samsung and HTC.
With Dropbox coming baked into millions of new top-of-the-line handsets sold every quarter, the company also has a chance at converting all those new owners into Dropbox subscribers.
The partnerships come as Dropbox works to keep growing its user base, which rose from 100 million to 300 million users in the 18 months to May 2014. Part of that is simple organic growth, and most of its user base is overseas, with 70% of Dropbox's users outside of the United States. Android is the dominant emerging-market smartphone platform, and partnerships with top Android phone makers can give Dropbox an immense global footprint.
So far, its global growth came with a very small personnel footprint — it was only this month that the company hired people to manage its operations in Australia and Japan, for example.
But emerging-market growth won't be easy. Going into 2015, the company has a large and dedicated user base but has had to slash its prices to continue to contend with larger incumbents like Apple and Google. Dropbox will have to prove that the layer of software that sits on top of otherwise "dumb storage" — which includes sharing tools, intelligent synchronization and deeper integration with new devices as they come out — are valuable enough to get customers to pay the company every month. Paying for a mobile utility app is a tough proposition even in the United States, let alone the emerging economies where low-cost Android handset sales are booming.
But getting the software pre-installed on phones is a good start, and one that requires extensive negotiations with handset makers all around the world. Moon, who studied political science and has a background in technology mergers and acquisitions from her time at JP Morgan, likens it to helping a company like Samsung "tell the story" of the device by enhancing its core capabilities with Dropbox. In the engineering-dominated Silicon Valley, Moon's background sticks out — but it's a skill set a company like Dropbox needs to navigate complex relationships with companies like Samsung and Sony.
Moon has only been at the company for roughly a year, but during that time,its staff doubled. It was a series of informal coffee meetings with former Google colleagues at Dropbox's headquarters in 2013 that eventually led her to join the company. The Xooglers at the meeting, as they colloquially refer to themselves as, included former deputy general counsel Ramsey Homsany, longtime software engineer Guido Van Rossum and Marc Leibowitz, who was also on Google's strategic partnerships team.
Moon is often spotted on her laptop riding the San Francisco Bay Area Caltrain, surrounded by other Dropbox employees, like the company's product lead Chen Li Wang or Gentry Underwood, the founder of Mailbox, a mobile email client that Dropbox acquired for around $100 million. All of them live in Palo Alto, but telecommute to the office even as they are commuting to the company's sprawling campus near AT&T Park, home of the San Francisco giants.
Dropbox's partnerships — including its new one with Sony — aim to go beyond pre-loading the application. Moon works with Samsung and other partners to give those manufacturers access to special functions that allow a deeper level of integration. For example, a Samsung user can automatically save a photo to Dropbox from the phone's gallery app.
"What we want to do is do more of that," she said. "The added value is having Dropbox integrated in a smart way. This device (a Samsung Galaxy Note 3) comes with an application that tracks my steps. What if over time because I'm prone to diabetes I want to track it over many years? What if it had a cloud component? Those are the things that we think about, what is the added value we can bring? You can see more of those integrations going forward, coming with many different partners."
Integrating across a portfolio of Android devices, too, has its benefits even among the community using iPhones and iPads. Dropbox bills itself as a cross-platform service, or as Moon calls it, the "connective tissue" between devices. While it might not find the same deep integration on iPhones as it does with Android devices, securing a dominant share in the Android market lends itself to being persistent among Android users switching to iPhone, and Android phone owners that also have iOS devices.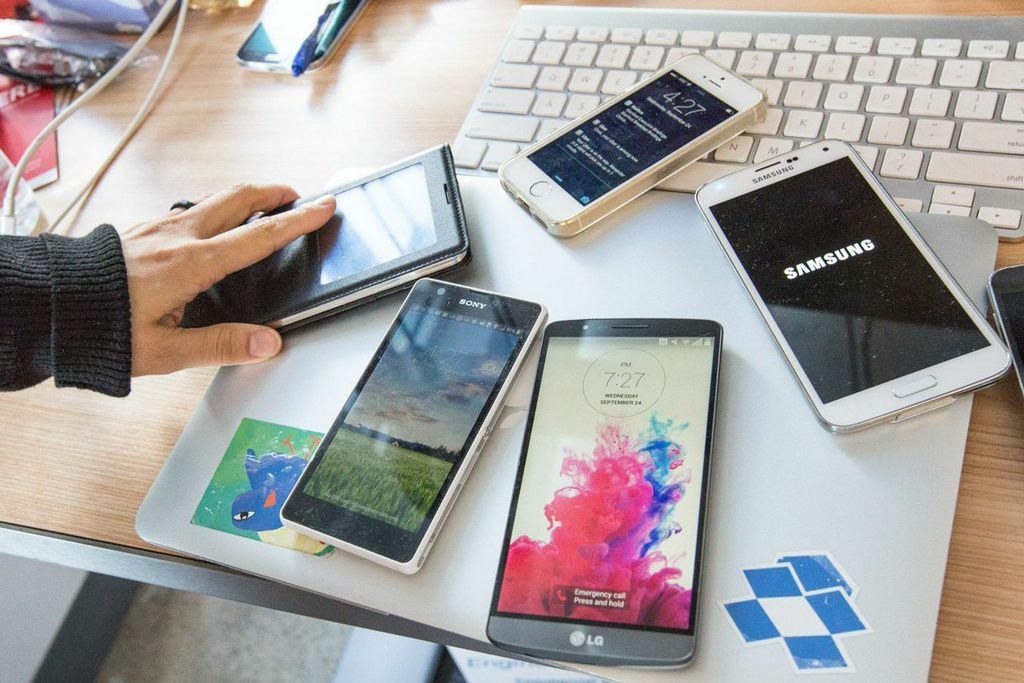 Deeper, more thoughtful integration of software and hardware has another advantage: the company doesn't want to be considered "crapware," the catch-all term for pre-loaded applications on on phones and computers that many users consider useless, or worse. Dropbox has to re-think how the service is integrated in mobile devices beyond a standard application where users can access files.
And with that, comes an opportunity to create paying customers, she said.
The fruits of her team's work comes at an opportune time. Online storage costs have gone to zero and Dropbox has had to quickly find a future beyond charging for simple online storage. The company was valued at $10 billion during its most-recent financing round, and the still-limited success of its existing mobile applications has raised questions about the future of the company.
In many ways, Dropbox's current state mirrors that of Facebook's before it went public. In 2012, Facebook had to justify its $100 billion valuation while it had no mobile advertising revenue and low-quality mobile applications. Facebook CEO Mark Zuckerberg himself referred to the company's poor-quality mobile applications as its worst strategic mistake.
Facebook was able to successfully make that transition, and now the company is worth more than even blue-blood tech companies like IBM and massive brands like Coca-Cola. For Dropbox to have the same success, it will have to continue to rapidly iterate and find an edge with consumers that keeps them not only using Dropbox, but paying for additional value beyond just storage.
Much more work is to be done. Smartphone growth is largely being driven by Apple and Samsung, as well as Chinese vendors like Huawei and Xiaomi. Dropbox has not secured partnerships with the Chinese giants, nor LG, another massive smartphone maker.
And finding a home with those manufacturers will be tricky. The Chinese Internet market is dominated by domestic champions like Tencent and Alibaba, and American companies like Facebook, Google and Twitter have had a hard time finding a footprint there. For Xiaomi — a Chinese smartphone manufacturer of intense interest among both smartphone manufacturers and software providers — the Google connection may come in handy once again. While Moon didn't comment on any specific conversations, Xiaomi vice president of international Hugo Barra is also a former Googler, who worked on Android.
But if Dropbox can continue to integrate deeply with mobile devices, it may find the killer use case that helps transition it to a truly mobile company.
"We are very well aligned with global brands, unlike carriers that are more region specific where they have a local presence," Moon said. "We're not just a startup out of Silicon Valley. The fact that partners want to partner with us is obviously because of differentiated services."