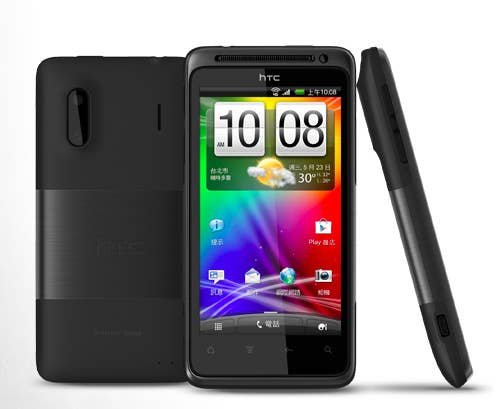 While Apple doesn't want to manufacture a cheap smartphone, a small company called FreedomPop sees an opportunity to begin clawing its way into the phone industry.
Working with Sprint, FreedomPop today said it would begin selling a 4G-enabled Android smartphone for $99 without a contract, and along with it, a small amount of free voice minutes, text messaging, and data. Rather than being geared toward the hardcore smartphone user, the new phone from FreedomPop is a phone that's intended more for the masses, founder Stephen Stokols said in an interview with BuzzFeed.
Its product compares to most modern smartphones — including the new "cheaper" iPhone 5C — that cost upwards of $500 without a contract. The new FreedomPop phone, a refurbished HTC EVO Design 4G, is the first in what Stokols hopes will be a portfolio of devices geared toward first-time and cost-conscious smartphone buyers that have typically gravitated toward pre-paid markets.
"[The iPhone] does great for income levels over $100,000, but the reality is the world is still Android dominant. We kind of look at it from that perspective," he said. "We want to be able to offer what we're doing on Apple devices, but the world's more Android-centric than comes across in the media just because Apple dominates a disproportionate share of media attention."
In the United States, the Android operating system has around a 53% share of the mobile operating system market, compared with 40% from Apple, according to data from Nielson. And a Pew report in June said 35% of phone owners in the United States don't even have a smartphone yet.

The basic plan comes with 500 text messages, 200 voice minutes, and 500 megabytes of data. For power users that's a very small package — carriers like Verizon offer plans of up to 8 gigabytes of data, for example — but Stokols says his company's offering is closer to what an average smartphone user actually uses. FreedomPop phone owners can pay $11 a month for unlimited calls and texts, and pay more for additional data. FreedomPop currently has a few hundred thousand subscribers, Stokols said.
While Stokols is making his case for the United States, the international opportunities seem much bigger, where contracts that bring down the initial cost of a smartphone are the exception rather than the rule. Internationally, carriers perceive FreedomPop as less of a threat and more of a partnership opportunity, partly because of his experience in the British telecom industry, he said.
"Prices were a lot lower in the U.K. We looked at the U.S. market in envy — the margins are three times what they are in the U.K.," he said. "There's very little competition."
FreedomPop is, along with other companies like Ting and Virgin Mobile, what is called a mobile virtual network operator, which leases wireless and telephone spectrum from wholesale providers. In the case of FreedomPop, it relies on a partnership with Sprint to build up its network. (Ting also uses Sprint's network.)
There's a certain irony, to be sure, that FreedomPop is using Sprint as a way to go after the top telecom companies in the United States. But Sprint does work with FreedomPop because it sees the opportunity to chip away at Verizon and AT&T's dominance, Stokols said.
CORRECTION: The founder of FreedomPop is Stephen Stokols. An earlier version of this story misstated his name. (10/1/13)