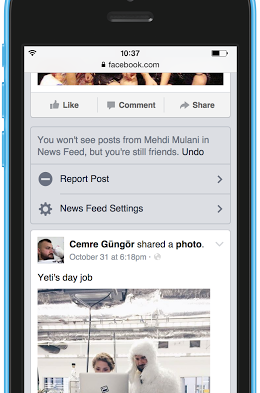 The Facebook News Feed has become perhaps the single most important destination on the internet — a make-or-break location for digital publishers, a key distribution channel for game developers, and the town square of the world's most popular social network. So when the company makes even small changes to how the News Feed works, it's a big deal.
Today, therefore, is a big deal. The company is rolling out a change to News Feed, and more specifically, a change to how users control what does and doesn't appear in it. When users choose to hide posts in their News Feed, they will now be asked a few extra questions about whether to outright unfollow posts from friends and pages, or just see them less. If the user dives a little deeper into the News Feed option, they will be able to see whose posts they see the most and who they have unfollowed.
"We've been thinking a lot about how we can better get at the qualitative aspects about what you love about your News Feed," Facebook product manager Greg Marra told BuzzFeed News. "That's fallen out in a few ways — one is a lot of talking to people and surveying what you actually like versus seeing how you interact with News Feed. We're doing more and more of that to understand what are the great experiences and what are the not-great experiences, and how do we help shift the not-great experiences to the great experiences."
What Marra is explaining is a process known as user experience research, where experts hired by Facebook and other companies directly observe how someone is using a product and ask questions about what they do and do not understand. In the case of Facebook, it often comes down to how things are worded and where people are tapping on the app. Facebook takes that research back to its development teams, and they tweak the features until they find the sweet spot.
Facebook spends a lot of time these days bringing people onto its Menlo Park, California, campus and asking them how they are using the app. That's not a novel idea — it's commonly employed by social media companies looking to figure out exactly how users are actually using their apps. Those conversations — along with regular surveys and, of course, data gathered on user activity — has borne new fruit today in the form of a new addition to the Facebook News Feed, perhaps the most influential place on the internet today.
An example Marra referred to was the earliest iteration of Facebook's unfollow feature, which at the time was a check box on a person's profile that said "show in News Feed."
"People weren't sure what 'show in News Feed' meant when they were in the context of someone's profile," he said. "When we talk to people, there are some [other Facebook users] they love but don't like the stuff they post. They say, 'I still want to be friends with those people, I just want to turn them off.' That feature was there, but the understanding of where to find that feature and use it is the point of whole feature. [The feature] doesn't matter if they don't know it's there or how to use it."
Simple wording can be crucial at times. If an internet company's product is only fully understood by its own employees, it loses touch with users.
"We have to put it in front of people and see what they say," Pinterest's head of user research Gabe Trionfi told BuzzFeed News in an earlier interview. "You can have the most amazing insight in the world, but if you can't communicate it effectively it's for naught."
Much of the learnings that companies like Facebook and Pinterest are adopting are thanks to Ideo, a firm known for "human-centric design." The theory is that design has to begin with how people use products, and conduct research around that — rather than designers trusting they know what's best for users.
That process isn't new for Facebook, Marra said. But increasingly the company is being more public about the impacts of that research, he said.
"The key thing is we need to build things that are easy for people to understand and use," he said. "This all comes back to showing you the things that are best for you. Even if you and I had the same friends, we'd still see different things in News Feed. We want to give [users] controls to give them experience they want. The new News Feed settings are the beginning of a bunch of things to be easier to tweak your feed to be what you want it to be."