Facebook Takes On Google and Apple On Mobile With WhatsApp Deal
The company can functionally and effectively compete with Google and Apple — whether it's with products or when fighting over acquiring companies.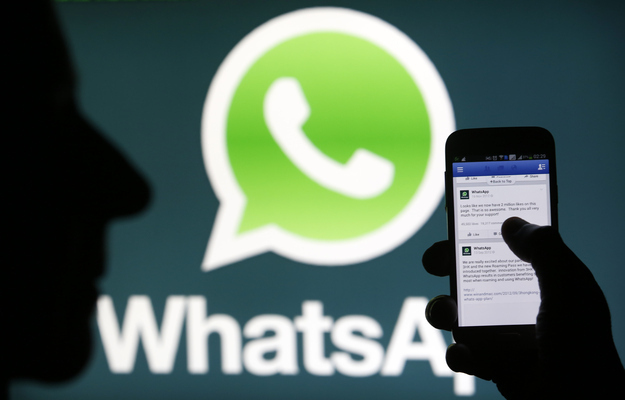 Google suffered a rare defeat at the hands of Facebook this week when it was announced that Facebook had acquired WhatsApp. Google had offered $10 billion for the messaging company according to a report by Fortune — falling short of Facebook's $19 billion offer, including cash, stock, restricted stock units, and a board seat for WhatsApp CEO Jan Koum.
Google had earlier beat out Facebook in its bid for Waze, a crowdsourced traffic application that fits neatly with the company's Google Maps app. But this time around, Google CEO Larry Page saw the need to make a last-ditch effort to prevent Koum from selling to Facebook by meeting with him last week and telling him to stay independent, according to The Information.
Already, Facebook is finding ways to challenge Google at a product level — and now it's able to challenge the company when it comes to buying some of the hottest tech companies in the world. The tech industry been dominated by both Apple and Google in the past decade, but now a third behemoth exists — one that is ready and willing to pull out its checkbook and buy out any kind of existential threat. And CEO Mark Zuckerberg has been particularly aggressive when it comes to deals like this, personally handling them in the case of both WhatsApp and Instagram.
While Apple isn't quite as vocal as Google when it comes to acquisitions, they are in competition with Google and Facebook when it comes to buying up tech companies. Facebook was already able to snap up at least one startup from under Apple's nose, according to several people familiar with that deal.
Facebook's cash pile isn't necessarily as large as Google's or Apple's, but the company has shown it's willing to issue an enormous amount of stock and use the cash it has in order to buy companies like WhatsApp and Instagram. Google also reportedly tried to outbid Facebook for Snapchat, but was also turned down.
"Both of those companies have been more aggressive in the past couple of years than they were prior, and I'd expect this aggressiveness to continue given the sizes of their balance sheets," said Scott Kessler, senior equity analyst at S&P Capital IQ. "Facebook's proposed purchase of Whatsapp warrants them being even more aggressive."
Facebook's strategy since its initial public offering has been to build out a portfolio of the strongest applications on smartphones. After all, Facebook can't control the core components of phones, like text messaging (though on Android text messaging can be looped into Facebook Messenger) or more importantly, an App Store. It's attempted to find routes around the App Store with things like the App Center, but Google and Apple still control the device and the means of app distribution.
If that strategy sounds familiar, it should — it's similar to Yahoo's approach to control the applications that fit into "daily habits," as CEO Marissa Mayer calls them. Facebook has so far eyed the means of communication on a device, while Yahoo has targeted things like weather and news. Google aggregates a similar space when it comes to touching various points on the Internet, like with Google Maps and its mobile browser Chrome, not to mention Gmail.
"We do see parallels to other companies such as Google, who focused on making a best-in-class map application, well ahead of any attempts to monetize the application," BTIG's Rich Greenfield said in a blog post. "The goal was to become the default application for mapping on any device, regardless of the underlying operating system. The key distinction between the Google analogy and even Facebook's Instagram acquisition, is how focused Whatsapp is on not capturing user information, which could later be used to create revenue opportunities. Koum was extremely direct on this issue at DLD '14."
Both Google, Apple, and Facebook have skin in the messaging game as well. Apple seeks to have a closed messaging system with iMessage, while Google is attempting to do something similar with Hangouts — a messaging service tied to a user's Gmail account. But by most accounts, WhatsApp seems considerably larger than that — partly because it's easier to use and fast, according to Nomura Securities' Anthony DiClemente.
"Compared to other messaging products such as iMessage, Google Hangouts, or standard SMS, we believe that WhatsApp is easy to use, quickly rewarding, and fast, excelling at the real-time small group chat use case," DiClemente wrote. "That said, WhatsApp plans on adding new features in the next 12–24 months."
Still, at the end of the day, Apple and Google (though, to a larger extent, other phone manufacturers) control the device.
"Clearly they don't have an operating system, they have had a few fits when trying to skin a phone, and then we have the Facebook platform," said Rick Summer, an analyst at Morningstar. "That worked really well on the desktop, but it's less obvious it has a play in mobile. To us it's somewhat obvious they don't have a store, they sort of have a platform — if they can be a choke point for application, that's interesting"
Imagine if when starting an iPhone or an Android device, a user jumps immediately into WhatsApp — and never leaves. That's the dream of just about any app maker, but having the enormous reach, scale, and engagement of an app like WhatsApp allows Facebook to feed users into wherever it likes. One early example is including games, an early strategy for desktop-aged Facebook — for which there is already a robust ecosystem within Kik, a mobile messaging app popular in the United States.
"While we respect WhatsApp's position of focusing in the near term on user growth and engagement and not monetization, the experience of other similar messaging apps like WeChat, Kakaotalk and LINE suggest significant revenue opportunities in areas like games, stamps/stickers and payments/m-commerce are possible without hurting user metrics (in fact, most argue convincingly that these services actually enhance the user experience)," Citi's Mark May wrote in a note about the deal.
That is an eventuality that Google — and also Apple — doesn't want. Google needs its users, whether they are on Android or Apple devices, to use its services like maps and search. And Apple wants to ensure that its iPhone owners use Apple products that synchronize across multiple Apple devices in order to sell more Apple products. While Apple seemingly wasn't part of the conversation, Google was vying for WhatsApp with Facebook to ensure that didn't happen.
And yet, this time around, Facebook was able to outmaneuver and outbid Google in acquiring one of the fastest-growing mobile services in the history of mankind.