Facebook Stock Hits An All-Time High
The company's shares have now nearly doubled their IPO price.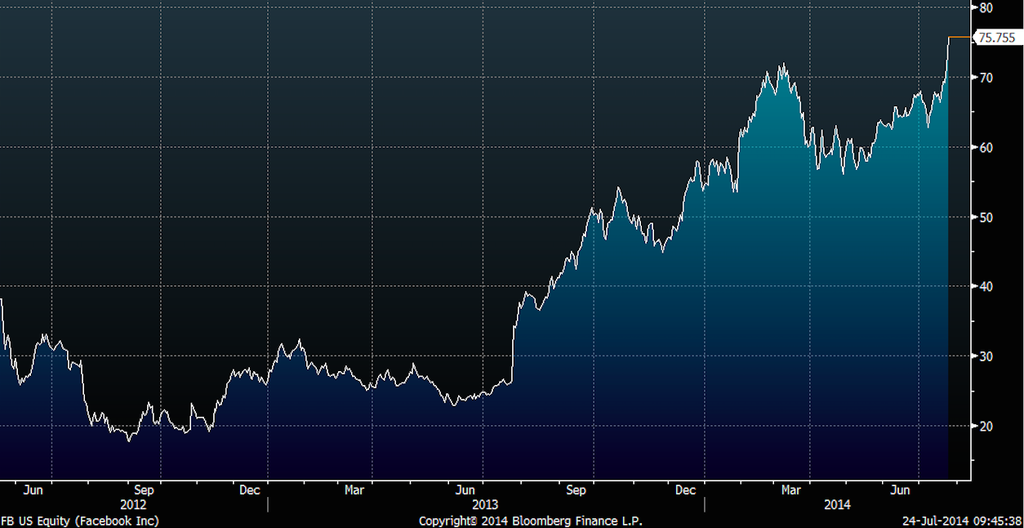 Facebook shares opened Thursday at a record high, trading about a quarter shy of a price that would double the one it set for its initial public offering.
When the market opened today, Facebook was trading higher than $75. That means that Facebook is now worth nearly $200 billion. At its current price, it's valued at more than $192 billion, which is just a few billion shy of the market cap of IBM.
At one point, Facebook was trading above $76 this morning, which would double its IPO price of $38. The rise in Facebook's shares, which are up more than 5% in trading today, were a result of a strong earnings report last night. Facebook's advertising revenue rose 67%, and 62% of Facebook's advertising revenue came from its mobile advertising products, like its News Feed and Mobile App Install ads.
Around 63% of Facebook's overall user base — which hit 1.32 billion as of the company's most recent earnings report — checks the company's services at least once a day. That remarkably high level of engagement makes Facebook a very attractive platform for advertisements. While daily active user growth slowed slightly, more than 10% of the world's population is checking the service on a daily basis.