Facebook Still Has High Hopes For Its Apps That Flopped
New mobile apps launched by Facebook's Creative Labs have mostly been busts. Facebook Product Manager Josh Miller says it's a learning process.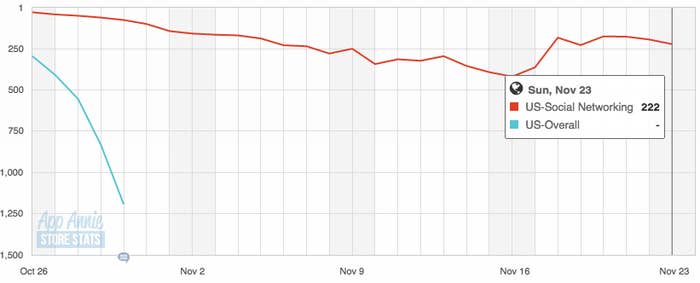 By app ranking standards, most of the new mobile apps coming out of Facebook's "Creative Labs" initiative haven't been particularly successful.
Consider Paper, a news reader, or Slingshot, for sharing photos. Each plays on hugely popular aspects of the core Facebook product. Both have fallen fast in the leaderboards since being launched, and neither have become a smash hit, despite being backed up by the vast reach and promotional power of the world's largest social network.
The problem is partly one of execution, says Facebook product manager Josh Miller, whose company was acquired by Facebook earlier this year. Thus far, one of the company's standalone applications called Rooms — which is similar to Facebook Groups, but without a specific Facebook identity tied to them — fits with that trend, he says: A solid hypothesis for a product, but yet to take off.
"The thing we're really spot on with and have something going for us, we know this is a use case that people care about," he told BuzzFeed News. "There are definitely things we think we got wrong. Every product changes."
In order to improve on that execution, Facebook is releasing a few updates to the application Monday to make it a bit more user-friendly. The company is adding a dashboard to track user activity in the app, as well as the option for push notifications with different kinds of sounds. The goal, Miller said, is to help people find it useful beyond other Facebook applications like Groups.
"I've read every single one of the reviews," he said, when asked about reviews from users who didn't understand what the point of the app was. "The specific review [that] was 'what is the purpose of this?' -- that's what we're really onto, and I'm surprised more people aren't building in this space. I do think execution wise we have a lot to work on."
Rooms is not the only Creative Labs application that hasn't caught on. Slingshot, which Facebook executives billed as an application that would encourage more people to share photos regularly, instead of just viewing photos, has not been as successful as anticipated, plunging in the rankings of photo and video apps.
The case is similar for Paper, though that has recently found some success among news junkies, according to AppAnnie, which ranks apps by popularity.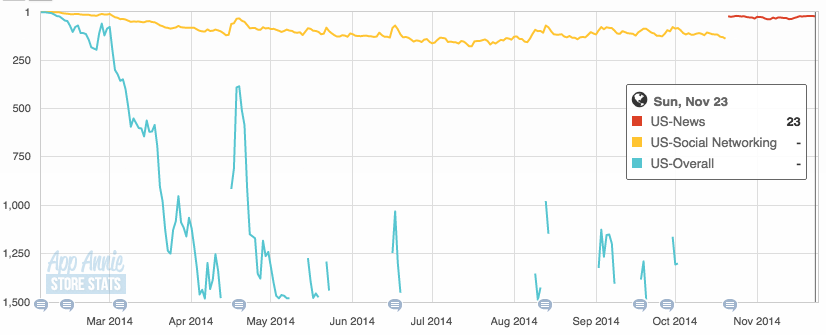 In an earlier interview with BuzzFeed News shortly after the launch of Slingshot, the app's designer Joey Flynn told BuzzFeed News that "a launch is the beginning of a journey, not a sprint."
"We aren't focused on downloads and app store rankings right now, but instead on making something that people love to use and keep coming back to," he said. "We're excited to get the first version of Slingshot into people's hands, and to learn from their feedback."
The Slingshot team for example followed through with its process of figuring out how to define a popular use case for its application, updating the app to alter one of the core requirements of the application and letting users decide whether a photo is locked or unlocked when they send it to another Slingshot user.
Of course, Facebook's standalone applications haven't always been a bust. Earlier this month, Facebook revealed that it had herded 500 million of its users into Facebook Messenger, up from 200 million earlier this year. Those numbers suggest a non-trivial part of the overall population of the internet are now using another Facebook application that the company willed into existence and popularity.
Facebook's Creative Labs projects are, for the most part, just that — experiments that the company is running to see what resonates with its large user base. Creative Labs, thus far, is not quite analog to Google X, Google's advanced research projects division, with Facebook's Creative Labs efforts spanning across the whole company. Slingshot, like Paper and Rooms, came out of a hackathon in December last year, and the biggest effort so far from Creative Labs seems to have been the launch of its Groups standalone application, which enlisted much of the app's team.