Facebook Is Making It Easier To Share Songs And Shows In Real Time
The company is rolling out a new update that enables users to share what they are listening to or watching based on recording audio.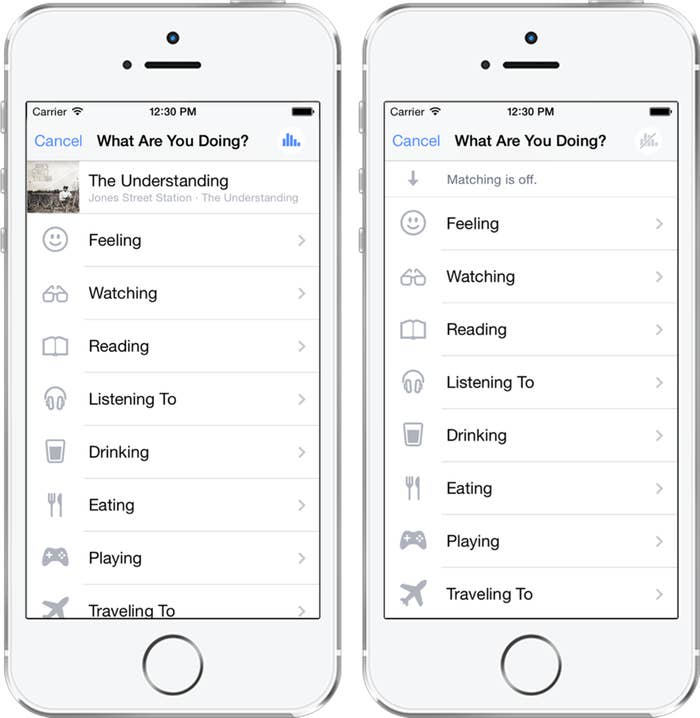 Facebook wants you to tell your friends what you are listening to or what you are watching — and it has a new tool in its arsenal to do that.
The company is beginning a slow rollout of an update to its iPhone and Android applications that will listen to whatever music or television shows are playing in the background when writing a status update. If the audio matches up with a song or show that Facebook has data on, users can add that to a status update by adding an "activity."
Previously, users would have to go through the activity tab and type out whatever show they were watching or song they were listening to, but that process is essentially automated with the new update. "We've found it was hard to always figure out what you're watching or listening to," said Aryeh Selekman, product manager on Facebook's activities team. "So this speaks back to, how do we make that experience easier. That speaks to, especially, being able to tap through and being able to express yourself through tapping rather than typing. That's one of the reasons the product has resonated."
With the update, the Facebook app will record a sound clip while a user is posting a status update, and generate a code for the sound profile of that clip. If that code matches a code that Facebook has created based on its database of songs — which Selekman says is in the millions — or matches a show from one of 160 channels Facebook is monitoring, it will add that show or song as an optional activity to share. For shows specifically, it will list the season and the episode that it detects.
Streamlining that process serves two purposes: making it easier to share what users are doing, and making it easier to start a conversation around it — such as in the case of a television show like Game of Thrones, which Selekman turned on to demo the feature.
"This notion, you might have been on your couch posting an update, and being able to provide an extra layer of context will help stimulate that conversation because you can see the season and episode," he said. "It definitely helps stimulate the conversation... For me, there's certainly conversation that can come out of that, but it's a self-expression."
The conversation element around shows is naturally important given that Twitter, which went public earlier this year, uses its strength as a conversational tool for live TV events as a major selling point to advertisers. Twitter CEO Dick Costolo specifically called it out in the company's most recent earnings call after being questioned about the strength of Twitter's TV strategy, saying "There were only three things that correlated with TV ratings in that study: prior seasons' ratings for the TV show, ad spend for the show, and Twitter activity. So all of that tells us, in addition to, I would say, the growing number of content providers and broadcasters participating in our Amplify program, that our Twitter and TV strategy is on the right track."
Also as part of the update, songs that are available in some of Facebook's partnered applications like Rdio and Spotify will show up as previews in status updates.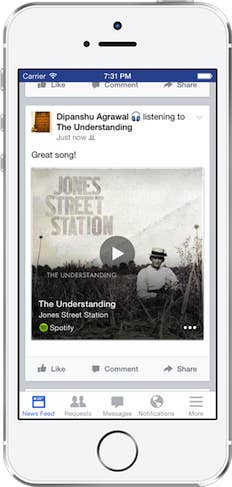 Facebook built the sound-profiling technology in-house, beginning about a year ago, Selekman said in an interview with BuzzFeed. In the past year, Facebook users have posted about 5 billion status updates adding feelings and activities. Selekman also stressed that the feature would be optional, and that when users go to share an activity for the first time an explanation for the feature would pop up, asking whether the user wants to turn it on.
Selekman also said that any information that is uploaded is "anonymized" unless the user decides to post a status update including that song or television show. "The audio doesn't come to us, we only get these codes. Only when you post, is the fact that you're watching Game of Thrones added to your profile. Everything else is anonymized."
He and his team observed Facebook users actively adding shows and songs to their status updates, but said — much as many other technology startups are beginning to observe — that the process of typing is clunky. Pinterest, for example, recently rolled out its own take on a search engine that relies less on typing than other keyword-focused engines like Google — and was recently valued at $5 billion.
"I think it's one of the things about feeling and activity sharing, you can express a lot without typing a lot," Selekman said. "You can say you're traveling somewhere, say what you're eating, and in many cases you don't have to type."
The update is coming to both Android and iOS, and is beginning a slow rollout today.