Facebook Builds Up Mobile Search To Help Index Your News Feed
The company said it was rolling out search updates to its iOS and desktop versions starting today.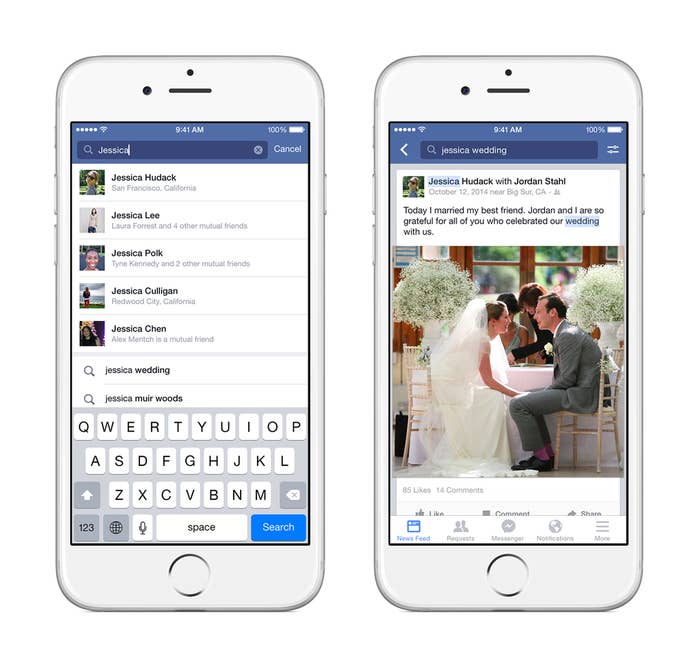 Facebook's search tools are getting an update beginning today, including a new way to search for existing posts instead of only people on Facebook.
The typical example, seen above, would be for a person searching for some related topic to a person — like a vacation, or a wedding. Those search results will return photos and posts linked to those search terms, much in the same way a Google search might.
Facebook first rolled out its Graph Search in 2013, which started as an engine built around how people speak and write, with queries like "photos of my friends in New York." Today's update brings mobile search more in line with typical keyword-focused search behaviors, though the original search queries and their variations still exist.
"You get more precision out of structured grammar, but it's difficult to formulate your queries that way," Facebook product manager Rousseau Kazi told BuzzFeed News.
Today's update hopes to be an index of News Feed, in the same way Google is an index for the web pages across the internet. The approach is somewhat similar — build an engine that will find content for a given domain. In Google's domain, that's the Internet, while in Facebook's domain that is News Feed and the collection of one person's related posts.
This new search has natural monetary implications for Facebook. For the most part, search queries are markers of "intent" — a term often used by marketers to gauge what someone is attempting to accomplish, and how can an ad capture that intent. If someone is searching for rain boots, for example, that person may be in a mode where they are looking to buy rain boots, and an ad for rain boots might perform well on that page.
"Monetization will definitely come at some point, but right now the whole team is focused on making sure this is something people want," Kazi said. "We can take it a bunch of different ways, but the whole focus is are we ranking these things properly."
The tools are working out on iOS and desktop in the U.S. first, then to other platforms and locations.