Dropbox's Business Enters 2014
After refusing for years to lower a large monthly fee for its storage, Dropbox has finally changed its price scheme for subscribers and is placing a bet on the added value on top of it.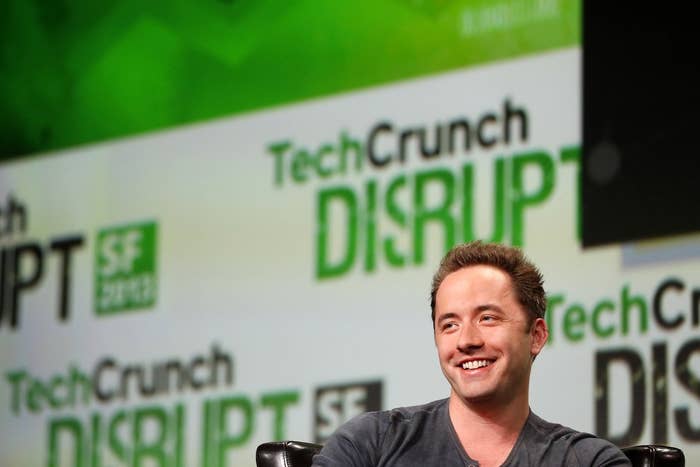 Toward the end of a meeting in Dropbox's sunny offices on the San Francisco bay, product head Chen Li Wang tucked a rather massive shift in the company's entire business model as something of an afterthought.
Billed as a "simplification" of Dropbox's Pro plan, the subscriber version tailored to power users that require a lot of storage, the company said it would begin charging $9.99 a month for 1 terabyte of storage, effectively eliminating its existing price scheme. Prior to the new model, Dropbox would charge as much as $50 a month for 500 gigabytes of storage.
The new pricing model effectively marks the final shift of Dropbox being a company centered around cloud storage, to a company that is centered around the software that sits on top of that storage. It's a move that has been a long time coming, and one that Dropbox is making after several other companies like Box did so earlier in the year.
Dropbox's viability of a business now comes down to whether it can convince the most active of its 300 million users to pay for the services it can provide on top of a terabyte of storage, a locker so large that Wang said he was not expecting anyone to hit the limit any time soon. Not surprisingly, as part of the revamp of its Dropbox Pro service, the company said it was unveiling a number of new features centered around file-sharing and security.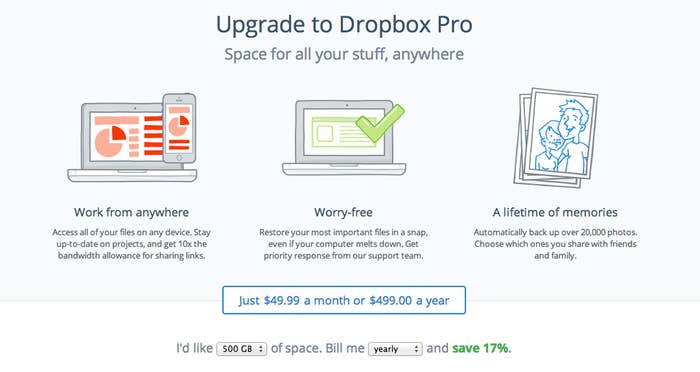 "In the past we've had three different plans with pro, but we see content going digital," Wang said. "The more people use dropbox the more they rely on it. We're simplifying it for all their needs... The goal is, we don't want people to worry about how much space or what plan to choose — they're too busy. I just want you to take care of it. Today we're simplifying it, this is the new pro."
In addition to the new pricing structure, there are some additional features coming for Pro users. One feature allows users to share files, like photos or documents, but disable the recipient's ability to edit those files. Dropbox users can also share files for set periods of time, like a week or a month, before the link expires. Dropbox users can also now remotely wipe the Dropbox files they have saved or shared from other computers once that computer connects to Dropbox over the Internet.
The focus on these new features, Wang said, was simplicity and "keeping the number of taps to a minimum." Indeed, much of the reason behind Dropbox's quick growth has been thanks to its simple interface — it's basically a folder on a computer and an app on a phone — and its fast synchronization. Dropbox, for example, will begin to synchronize parts of a file to other devices before they have even been completely uploaded to the company's servers, minimizing the amount of time it takes to show up on other devices. The company has seen its users grow 200% in the past 18 months, Dropbox head of marketing Kitty Oestlien said.
And the fate of Dropbox will, inevitably, lie within its ability to prove its service is better than those offered by competitors and large incumbents like Apple and Google that are investing in online storage services. Those companies don't rely on storage as a primary stream of revenue, instead including them as a feature to keep users on their products, like the iPhone and Gmail.
"They're not doing it because there's any economics in the storage of information, the economics are that information is now currency," Box CEO Aaron Levie told BuzzFeed in an earlier interview. "If you can have more of a customer's photos, then they're going to want more of those apps and devices to get those photos."
Dropbox, too, recently began targeting big corporations as large potential clients. The company charges $15 per user per month, and offers a huge suite of features for those clients that would make it attractive to managers with large budgets for infrastructure and technology. One feature available to business customers is the ability to see in real time how colleagues are editing files, like PowerPoint presentations or documents. Dropbox is being used by 4 million businesses, and has users coming from 97% of the companies on the Fortune 500 list.
Beyond storage, Dropbox is also looking to a portfolio of applications that would help expand its network to mobile devices. It has a photo-storage application called Carousel, and an email client called Mailbox, which also recently came out of beta on Mac. Still, those applications haven't quite caught traction among mainstream users in the way some of Google's most popular apps like Maps or social networking services like Snapchat have.
In many ways, Dropbox's challenges in mobile are like the ones Facebook faced when it went public. Facebook had to completely re-orient its priorities and build new advertising products for mobile devices, which it succeeded in, rocketing the company to a valuation more than $200 billion. And like Facebook, if Dropbox were to remain a completely open platform, there is a risk that a smaller company using it can come in and build a better experience for a specific kind of file sharing, like photo sharing.
Still, the updates to Dropbox Pro represent a surprising olive branch. Dropbox Pro now costs as much as Dropbox's old cheapest option, which cost $9.99 a month for 100 gigabytes of storage. It's a move that, per market forces, was a long time coming, and now it is up to Houston and Dropbox to prove to investors that the company is worth the $10 billion valuation it had as part of its last financing round.