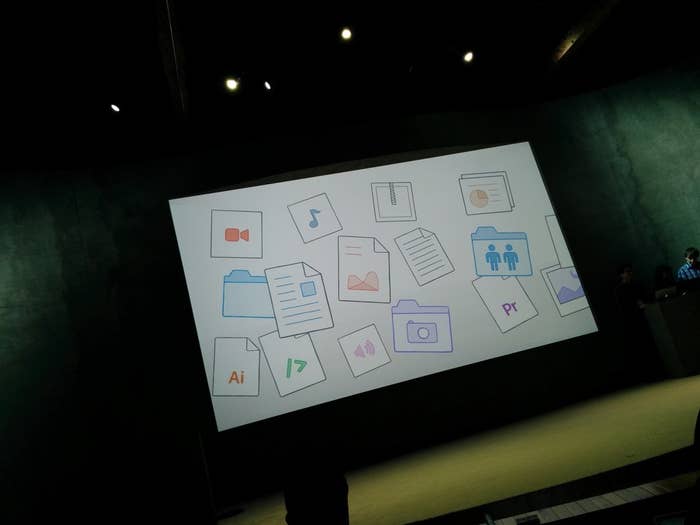 After focusing on consumers for more than half a decade, Dropbox is finally getting serious about gathering big businesses as clients as it heads toward an initial public offering.
The company unveiled a revamped version of Dropbox for Business Wednesday at an event in San Francisco. It includes a number of new features like remote wiping and enhanced security, built to woo bigger enterprise clients who have relied on other companies like Box for their cloud storage and file-sharing services.
"There have been a couple speed bumps here," Dropbox CEO Drew Houston said. "It's so popular, and that's a problem — a lot of people are putting company stuff in their personal Dropboxes ... We didn't have to rebuild Dropbox for business, we had to rebuild Dropbox itself."
Specific details about the update for Dropbox for Business at the event were somewhat scant, but the message was clear: Houston and Dropbox are gunning for big companies as clients to build out Dropbox's revenue stream. Dropbox already sells its cloud storage service as a subscription to regular consumers, who can buy additional storage for files that they can synchronize across multiple devices. But the company began rolling out services specifically geared toward big companies last year.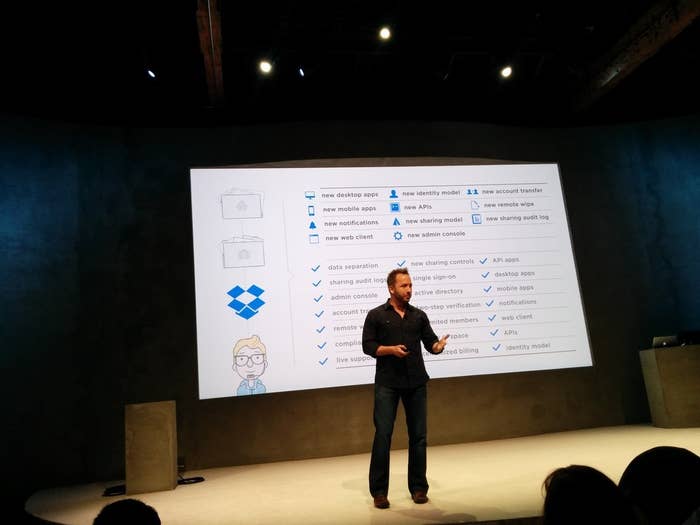 Also on the horizon is an initial public offering by Box, a similar file-sharing and storage service to Dropbox that focuses more on enterprise clients. That company, while spending hundreds of millions of dollars in marketing and sales expenses, lists many of the companies on the Fortune 500 as clients.
Dropbox — while now competing with Box — also competes with giants in the technology sector like Google, Apple, and Microsoft. Microsoft last month rolled out its Office applications like Word and Excel for the iPad, iPhone, and Android.
Dropbox has benefited from a lot of branding and recognition thanks to its consumer approach, especially in Silicon Valley where much of the community points to it as the next hot initial public offering following Twitter's IPO last year. Dropbox was valued at $10 billion in its last financing round, putting it well ahead of other Silicon Valley startups and competitor Box.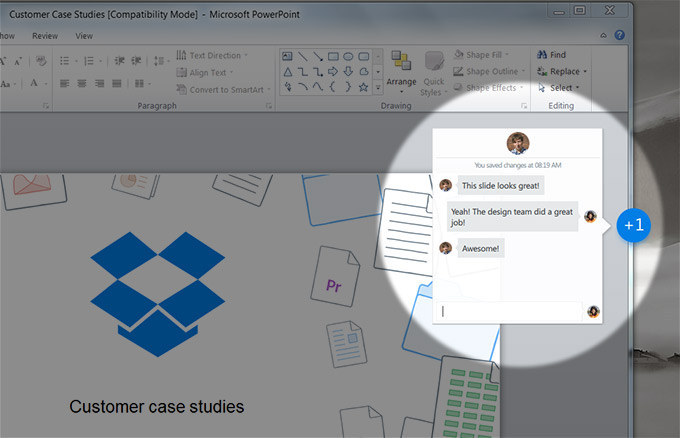 One new feature that will appeal to enterprise clients (demonstrated in the above photo) is that Dropbox users modifying a file can now see in real time when coworkers are modifying a file or updating it. A small badge appears on the side of the file window that includes some contextual information — such as whether the file is up to date, a chat window, and whether or not a document needs to be synchronized. It works for Microsoft Office files for now, but the company will be rolling it out for other services under an initiative called "Project Harmony."
The company also launched Mailbox, a popular mail application on the iPhone, on Android and on desktop computers. Dropbox acquired Mailbox for around $100 million in March last year, when the company only had an iPhone application that used a "waiting list" to drive demand for the application as it scaled up the service. The 13-person team was known for its design affinity, making it an attractive acquisition target.
Dropbox has more than 275 million users, Houston said at the event — up from 200 million late last year. And some in the Silicon Valley venture community already estimate that Dropbox is already bringing in hundreds of millions in revenue well before having made the significant push into businesses. Houston cited companies like Spotify, Under Armour, and Foursquare as customers at the event — not quite the top of the scale clients like Box claims, thus far.
In addition to building a business with enterprise clients, Dropbox has also spent a lot of time building out its own team, which for much of the company's life was run by Houston. Dropbox hired former Motorola CEO Dennis Woodside — which was recently sold by Google to Lenovo — to be the company's chief operating officer.
At a stage like the one Dropbox is now in, companies often bring in experienced managers to be the "parental supervision" for younger CEOs and leaders, much in the same way the Facebook CEO Mark Zuckerberg brought in former Googler Sheryl Sandberg to be Facebook's chief operating officer. The company added Condoleezza Rice to its board of directors, following a number of other technology companies who have added women to their boards prior to or shortly after going public, according to a profile of the company in BusinessWeek.
The company also raised additional funding earlier this year as it continues to build out its team and services. With the market hot and investors salivating over technology companies, Dropbox is in a good position for a significant initial public offering — if it can navigate an increasingly crowded storage and file-sharing sector. Building out a number of significant business clients is one part of that, and Houston and Dropbox have made clear the startup is gunning for them.