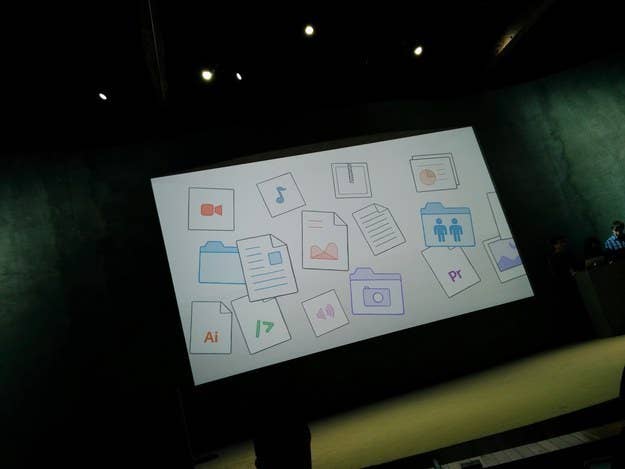 Box chief executive Aaron Levie doesn't want his cloud storage company, estimated to be worth $2.4 billion when it debuts on the public markets, to be called a cloud storage company.
As the 29-year-old Levie explains to BuzzFeed via a hand-drawn diagram, Box's value in fact lies on top of the online storage layer Apple founder Steve Jobs famously called "a feature, not a product." The company's value, he says, is locked up in services like annotation, collaboration, and the ability to search through those files and share them in a secure fashion that complies with any number of regulations.
Levie's argument is rooted in sound business logic — he needs to convince both customers and, shortly, investors that Box can win when it comes to online file sharing.
Unlimited free storage is now becoming table stakes thanks to Amazon, Apple, Google, Microsoft, and others driving the cost down to near zero. These companies can afford to offer free storage because their businesses have other, often vastly more lucrative, revenue streams. Large incumbents like Flickr now offer 1 terabyte of storage for free, and Amazon's first phone will come with unlimited free photo storage, for instance.
"They're not doing it because there's any economics of the storage of information, the economics are that information is now currency," Levie told BuzzFeed. "If you can have more of a customer's photos, then they're going to want more of those apps and devices to get those photos. That's the reason why you see these players getting into the space."
Levie is referring to the fact that files on mobile devices for consumers increasingly exist within applications and as the pieces of content those applications produce — like photos or notes through apps like Instagram and Evernote.
"On the consumer side, because it's just your own relationship with your files and your data, it's not a very complicated problem that leads itself to massive differentiation between services," Levie said. "Conversely on the enterprise, while you have the exact same economics in play, our theory was [businesses] would choose their vendor based on who could add the most value on top of the storage, and the delta in value between your software and the pure storage would be infinitely large."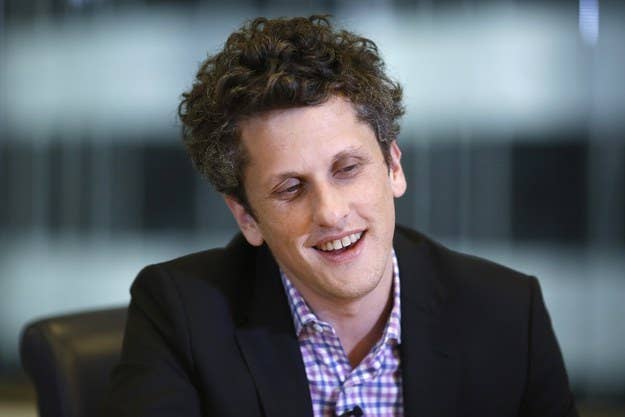 Levie is now ready to leverage the drop in storage costs to his advantage, as Box's business services now come with unlimited online storage, the company said. Previously, Box limited businesses to a terabyte of storage as part of its mid-tier pricing plan. The aim in offering unlimited storage is to reduce friction in how people use Box to help keep it ahead of enterprise collaboration services provided from major software companies like Microsoft and, most recently, Amazon.
Box started in 2004, but it wasn't unitl 2006, when it seemed like Google might launch its own online storage service, that Levie decided to focus exclusively on storage for businesses. That shift in focus was more than philosophical, as the important parts of a file-sharing product for businesses are different from those for consumers — with security and regulatory compliance being among the most important. With a smaller and more nimble company, and a focus on services that work across many devices, Box has been able to attract 27 million users and 39,000 paying organizations — as well as users from 99% of the highly valuable companies on the Fortune 500 list.
"There's some set of people that we haven't been able to communicate with, that think we're a storage company," he said. "The way to think about it is, we buy storage, and sell the service on top of that."
It hasn't always been easy. Box has had to raise a lot of money, which it is rapidly spending in order to continue growing. But there are signs of life, with the company showing its losses narrowing in its most recent filing for its initial public offering. For its most-recent operating quarter, its revenue nearly doubled year-over-year while its losses rose by about 13%. Some in the tech community also often point to the strict regulation around GAAP financial accounting that may be hiding positive signs in Box's subscription-driven business model.
The rapid shift in online pricing also makes it less of a surprise that Dropbox CEO Drew Houston said his company spends much of its time working on new things beyond simple file storage and synchronization across devices. During an on-stage interview at Re/Code's first Code conference in early June, Houston said he would not be cutting prices of his subscription service, which lets users store their files online and access them from any device. While startup founders are often preaching focus on specific products in order to outmaneuver larger and slower competitors, Dropbox is trying to figure out what comes after file sharing in its current form.
"I think that most internet services are built on commodity layers," said Josh Stein, a partner at Draper Fisher Jurveston who invested in Box, as well as ChartBeat, Yammer — which was acquired by Microsoft for $1.2 billion — and Twilio. "Over time those services need to continue moving higher up the stack to deliver higher-level value to their customers and users. In the case of enterprise tech, that means building software that interfaces with and enhances the customers' business processes and/or creates differentiated value add that can't be commoditized as easily. Failure to do so leads inevitably to commoditization of the vendors' business itself (and failure)."
With a rapidly changing business model also comes new competitors for Box — including Dropbox, which has found itself pushing hard into the enterprise space. Like Box, Dropbox is one of the most hotly anticipated initial public offerings, with its last round of financing valuing the company at $10 billion. Earlier this year, Dropbox held an event where it unveiled a revamped version of its file-sharing software for businesses. As part of one feature, for example, Dropbox users modifying a file can now see in real time when co-workers are modifying a file or updating it. Dropbox is being used by 4 million businesses, and has users coming from 97% of the companies on the Fortune 500 list.
But enterprise is a market with demands beyond secure file sharing and fast and simple synchronization — arguably Dropbox's greatest strength. "The innovation that Dropbox had [when it first launched] that was so amazing was sync technology, but that is sort of table stakes right now," Levie said. "It's not easy in a trivial sense, but that's neutralized. So the value is going to be, what can you do with that data once it's in the cloud."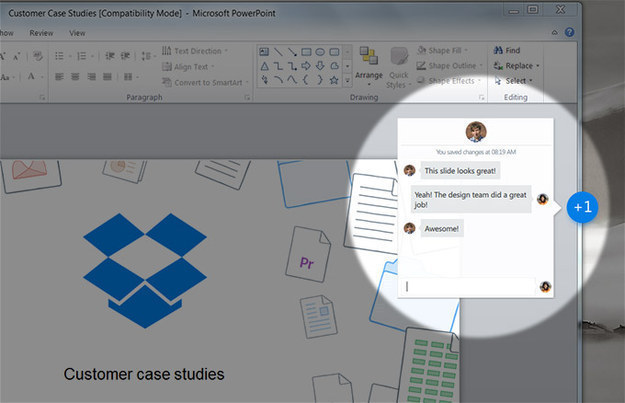 Dropbox is also rapidly searching for its killer app on mobile devices with a portfolio of applications like Carousel and Mailbox. But neither of those has gained much traction among mainstream users, and the company has yet to build a mobile application that is a hit among consumers. In many ways, Dropbox's challenges finding a winning mobile strategy mirror the ones Facebook faced — and resolved — shortly after it went public. And remaining a completely open platform comes with its own risks, with the constant possibility of a smaller company using it to dominate a specific kind of file sharing, like photos.
Box has built services that go beyond file synchronization. One tool, for example, converts any document stored on its servers to an HTML file that can be viewed on the web on any device. This has two purposes: first, that it is easily readable from anywhere; and second, that the file is never downloaded — so it remains secure and is less likely to leak out of an organization. Content in files and documents stored on Box's servers are also readily searchable, and it has an entire platform on which other businesses have built services.
Box is also not the only company to offer business-focused software on top of online storage — and it's also not the only to offer unlimited storage for its business clients either. Hightail began offering unlimited storage for its services last year, which include secure file sharing and transfer as well as notifying a user when a document has been downloaded or read by the recipient.
"About two years ago, we made a decision, we foresaw trying to differentiate on storage was gonna be difficult," Hightail CEO Brad Garlinghouse said. "A lot of the thought process was just recognizing, storage, whether online or offline, you can expect to see the same dynamics. What you have seen in the offline storage market is, it's a classic commodity. It's been more aggressive and more severe than I would have predicted, and certainly more quickly than I might have predicted."
To be sure, Dropbox is a behemoth with more than 300 million registered users and a sizable number of clients using its business products — a 200% jump from a short 18 months ago. Investors continue to pour money into it, and the company — which has continued to be one of the most successful startups in Silicon Valley — will likely find its footing. It also has one of the strongest brands when it comes to file sharing and storage thanks to its pristine and dead-simple interface.
But it — along with many other services — will soon likely find itself having a hard time charging its customers for simple file storage and synchronization.
"We've run the business [this way] seven and a half of the nine and a half years, it's always been under the assumption that storage will be free," Levie said. "Every piece of value we build is prepared for a world where storage is not the differentiation. All of those things assume we're not selling storage in the process."