Car-Hailing App Lyft Adds A Cheaper Option That's More Like A Bus Than A Taxi
It's called Lyft Line, and CEO John Zimmer says it's more in line with Lyft's vision than the normal car-hailing part of the app.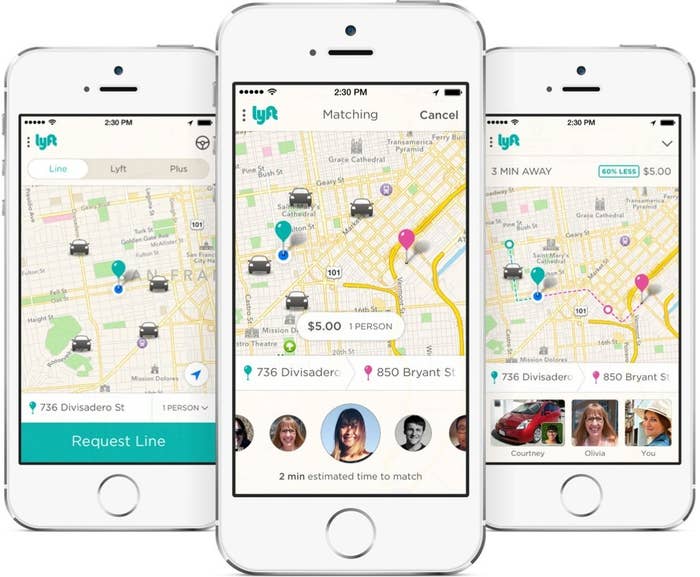 Lyft is launching a new part of its app that will allow users to take cheaper rides to their destinations — as long as they are OK with picking up a few people along the way.
Lyft Line, as the company calls it, still summons a car to pick users up. But it will also intelligently route a driver to pick up a few others along the way that are headed roughly to the same destination, splitting the cost between up to three passengers in the car. The night before Lyft revealed its plans, Uber unveiled a version it's adding to its application that's similar, called UberPool.
The rides are expected to be around 30% to 40% cheaper than a normal Lyft ride with minimal additional time added to the trip, though the discount can be as high as 60%. When picking up riders, Lyft's algorithm essentially "bets" that it will be able to pick up an additional rider or two along the way, and determines the discount based on how certain that bet is. If it can't find a rider, the ride will still be 10% cheaper than a normal Lyft ride. But if the app can find additional riders, in theory drivers will be able to make more on the trip than they would by driving a single rider.
"Drivers will earn more on longer trips and also have less downtime," Lyft CEO John Zimmer said as part of a press conference to unveil the new feature, adding that it is launching in San Francisco initially before rolling out to other cities. Lyft in total has about 60,000 drivers, he said.
Lyft riders specify a destination and a pickup point, and then have to be outside to get in the car within a set period of time once the car arrives. The idea is actually an evolution of the original concept of Zimride, a startup centered around efficiently pairing drivers and riders for longer trips that eventually gave rise to the Lyft application. Lyft is now live in 65 cities, most recently getting approval to launch in New York City.
The goal, Zimmer said, is not to replace taxis specifically, but also functions like public transportation. The company's goal with Lyft Line was to get the price down to a point that would make it reasonable for users to take it twice a day, much like they might take public transportation in the city. It would be more expensive — somewhere in the range of $5 per ride — but also easier to use and would get riders to their destinations faster, Zimmer said.
The community aspect of Lyft — encouraging passengers to ride in the front seat and fist-bumping drivers, as well as having a conversation with them, for example — has also led into this. "We've been thinking about this user experience from the first day we launched Lyft. We encouraged people to sit up front because we always intended to launch this product," he said.
"The story that's typically told about the competition and around what we're doing is this $11 billion for-hire market," Zimmer said. "That's the taxi or limo for hire market. A lot of talk is how we compete with taxis and Uber. The way we look at the market is the entire consumer transportation market is $1.1 trillion, and 95% of that is what people spend on personal automobiles."