Candy Crush Is Huge, But There Are Many Troubling Signs In Its Parent Company's IPO Filing
King.com's IPO is going to be a tough sell. And it isn't exactly a ringing endorsement for the gaming industry as a whole.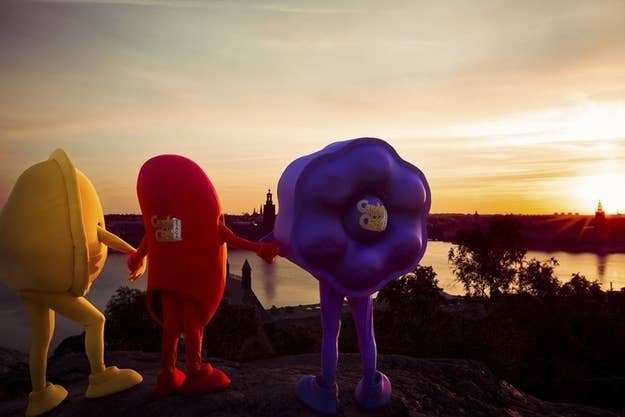 King.com, the maker of Candy Crush Saga and a few other games, has proven the rumors true and filed today for a $500 million initial public offering in the United States.
Financial and user details included in the filing reveal two things: that Candy Crush is huge, and that King.com is thus far a one-hit wonder. Indeed, King.com's business looks a lot like that of OMGPop, which had a massive success with Draw Something (though it didn't reach the heights of Candy Crush Saga) but was unable to develop a hit beyond that one game. The main difference is that OMGPop was able to cash out at its peak via a private sale to Zynga for more than $180 million, whereas King.com is hoping to convince investors to pump money into the company on the belief that it will indeed be able to develop more hits.
Comparing the performance of other King.com games to Candy Crush Saga is almost unfair, given that Candy Crush has a staggering 93 million people playing it every day. To put that in perspective, King.com has a few other games that collectively add up to only 31 million daily active players. Candy Crush Saga accounts for 78% of the company's gross mobile bookings, and 86% of its overall mobile bookings.
The game does well on mobile devices because of both its simplicity and its attention to detail. While the mechanics are easy to pick up, the game is actually deceptively well designed and is very effective at getting users to pay for power ups in order to get over difficult levels, according to many top designers. King.com has around 12 million users who pay for power-ups every month, or about 3% of its overall 408 million monthly active user base.
The inability of King.com to launch new games off of Candy Crush Saga will likely be an immediate red flag for investors. Even Zynga was able to manufacture at least two hits — FarmVille and CityVille — prior to its IPO. (Zynga's performance as a public company has been marked by misstep and misstep, from missed earnings to executive departures and everything in between.)
Perhaps more alarming is that its newest games are not anywhere near the size of Candy Crush Saga, when the company can easily advertise them to Candy Crush Saga players. When players boot up the game, King.com advertises one of its other games — most recently another matching game called Farm Heroes Saga — in the bottom right of the starting screen. Farm Heroes Saga still features a rather paltry 8 million daily active users, but it — and previous games advertised on Candy Crush Saga — are nowhere near the heights of King.com's most popular game.
Add to that what stands to be another warning sign for investors: for the holiday quarter, King.com saw a sequential decline in revenue and unique payers. A sequential decline in the holiday quarter when individuals are usually more free-spending is likely to be taken by investors as another red flag. The decrease was due to a "decrease in Candy Crush Saga gross bookings," the company said in its filing to go public.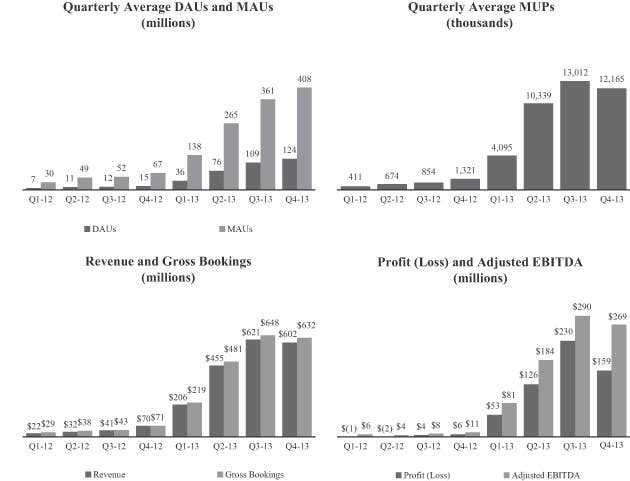 Of course, King.com isn't the only gaming company to develop a massive hit and falter with subsequent ones.
Supercell hasn't quite replicated the success of Clash of Clans, and recently agreed to sell half the company to Softbank for $1.5 billion — the closest equivalent to an exit the company will probably see. Then there are the companies behind Angry Birds and Minecraft, both of which are slightly more cagey about releasing statistics and financing but appear to be losing the momentum they had in 2012 and 2013 after milking the games for an extended period of time.
These example show how difficult it is to develop titles that consistently appeal to casual gamers, who are notoriously fickle and shift attention to new games over the course of a year — or even months, as recently exhibited with the meteoric rise of Flappy Bird.

To its credit, King.com seems to be acutely aware of this difficulty.
"Our recent annual revenue and gross bookings growth rates should not be considered indicative of our future performance," the company said in its IPO filing. "As we grow our business, we expect these annual growth rates to slow in future periods as the size of our player network increases and as we achieve higher market penetration rates."
It's hard to fault King.com for going after an initial public offering on the strength of Candy Crush Saga. In the world of private companies and startups, founders, employees, and investors alike are looking to finally cash in on years of work, and an initial public offering is typically the most lucrative way of doing so.
Some of King.com's early investors have actually already cashed out. In October, the company's board declared a dividend of $2.624 per share, or $287 million in aggregate, as a way to provide liquidity for the company's early investors. Earlier this month the board paid out another $217 million in aggregate dividends, or $1.987 per share, in a second tranche. Combined, early investors received a total of $504 million in dividend payments ahead of today's IPO filing.
For potential investors, the dividend payments combined with all the cautionary tales will make it hard to justify King.com's massive initial public offering.