BlackBerry Has Lost About $3 Billion In Market Value Since Its New CEO Took Over
BlackBerry delivered its first-quarter results today. They're basically scorched earth, with a huge miss on BlackBerry 10 sales, which has sent the stock down nearly 30%.
Thorsten Heins took over as CEO of Research In Motion — now called BlackBerry — in January 2012. But after a disastrous first-quarter report today, the stock has shed nearly a third of its value.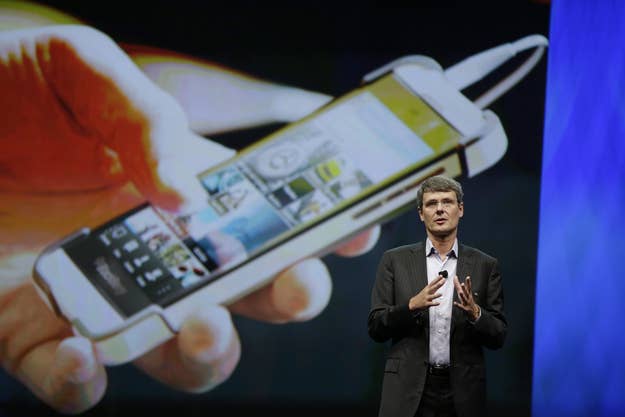 Today's report included a huge miss in shipments of BlackBerry 10 devices — which are supposed to be the company's key product to once again make it competitive with Apple's iPhone and Google's Android devices.
Blackberry shipped 6.8 million smartphones last quarter, including about 2.7 million BlackBerry 10 models. That's a huge miss from analyst estimates, which had projected shipments of 7.5 million, with about 3.6 million BB10 units.
When Heins — an exceptionally tall CEO with a thick accent — took over, the stock traded at around $15.52. It lost some value during his tenure, but Heins was able to assuage concerns for the most part during his first year on the job.
BlackBerry has had its ups and downs, but it's more or less stuck around that magic $15 mark.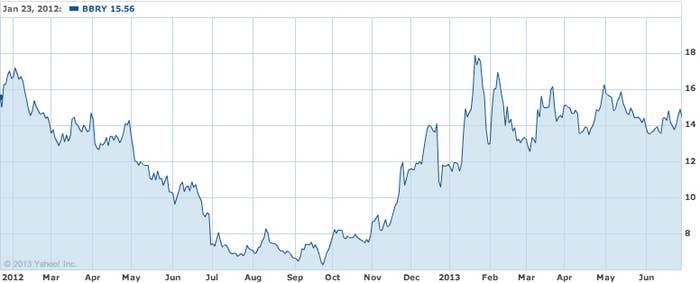 At least, until today, when the stock is getting completely thrashed.

Now, BlackBerry is worth around $5.5 billion, compared with more than $9 billion when Heins first took over in January last year amid one of the largest turnarounds in technology.
For some reference, here's what BlackBerry's market cap has looked like in the past several years.