Billionaire Hedge Fund Manager Carl Icahn Is Asking Tim Cook To Buy Back $150 Billion Of Apple Stock
So he says in a letter to the company today on the new website he launched. However, the website appears to be having technical issues.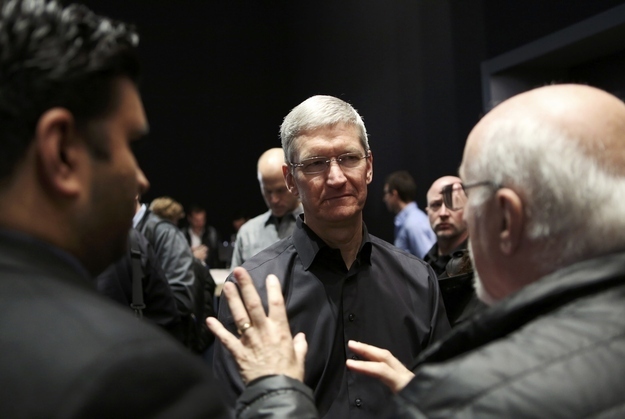 Billionaire hedge fund manager Carl Icahn sent Apple CEO Tim Cook a letter yesterday asking him to ramp up the company's program of buying back shares.
He said he would post the letter on a new website he was launching today — however, the website's registration was down for much of the morning, prompting a lot of comments about how it's working about as good as the U.S. health care website.
In the letter, Icahn says he has increased his position in Apple to about 4.7 million shares (about $2.5 billion) and is asking Cook to buy back $150 billion worth of shares at $525 in an immediate tender offer.
"Apple generates more than enough cash flow to service this amount of debt and has $147 billion of cash in the bank. As we proposed at our dinner, if the company decided to borrow the full $150 billion at a 3% interest rate to commence a tender at $525 per share, the result would be an immediate 33% boost to earnings per share, translating into a 33% increase in the value of the shares, which significantly assumes no multiple expansion," he said in the letter.
He also said he expects Apple to reach a share price of $1,250 if Cook follows through with the proposal.
"We want to be very clear that we could not be more supportive of you, the existing management team, the culture at Apple and the innovative spirit it engenders. The criticism we have as shareholders has nothing to do with your management leadership or operational strategy. Our criticism relates to one thing only: the size and timeframe of Apple's buyback program. It is obvious to us that it should be much bigger and immediate," he wrote in the letter.
Icahn appeared on Bloomberg TV yesterday saying he hoped Apple would do something with its massive pile of cash, which is large enough to rival the treasuries of some sovereign nations. At more than $150 billion stockpiled, and with more likely on the way with the company's earnings coming next week, Icahn has argued Apple has more than enough cash to fund research and development and also pay out a major return to stockholders.
Still, Icahn is just coming off a major victory where he recognized about $800 million in returns off the sale of part of his stake in Netflix, whose stock rose more than 400% in trading in the past year or so.
Apple is already in the midst of a $100 billion buyback program, in which it returns value to its shareholders through the process of buying back shares and paying out dividends.
Icahn's website, which features large art and a few comments about making management accountable and protecting shareholders, still appeared to be having technical issues as of 9:15 a.m. eastern time. The lead quote on the site is from Icahn himself at a Texaco meeting in 1998, reading, "A lot of people died fighting tyranny. The least I can do is vote against it."
[Update: The website is working as of 11:30 a.m. eastern time, and the story has been updated with details from the letter.]