At Long Last, The Maker Of Candy Crush Has Gone Public
But it wasn't pretty – shares began trading at $20.50 each and fell more than 15% in its debut. The company priced its initial public offering at $22.50.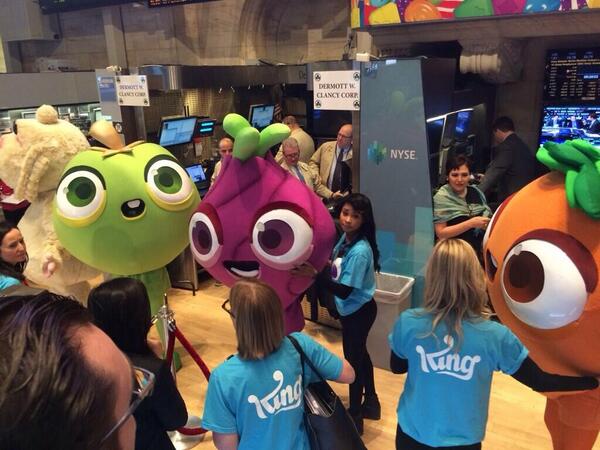 King.com, the maker of Candy Crush Saga, has finally gone public — and now comes the hard part.
Riding the strength of its match-three game on mobile devices, the company began trading Wednesday with shares starting off at $20.50 each, quickly falling more than 15% in its first day of trading. It initially priced its public offering at $22.50 on Tuesday at a valuation of around $7.1 billion.
Candy Crush Saga has turned out to be a genuine worldwide phenomenon, with nearly 100 million people playing it every day. But aside from Candy Crush Saga, the company hasn't quite generated another hit. Its next-best game, the newer-but-somewhat-similar Farm Heroes Saga, has around 20 million people playing it every day.
Those numbers are certainly not bad — but if King wants to sustain the momentum of the business, which brought in $1.9 billion in revenue and a net income of $714 million, it's going to need to generate another huge hit like Candy Crush Saga. It's a question every large gaming company has faced as each new platform has emerged: EA and Activision, for gaming consoles; Zynga, for Facebook; and finally King.com, for mobile devices.
The initial growth for Farm Heroes Saga bodes somewhat well, but questions still remain, given that King.com can cross-promote its games and is also investing heavily in user acquisition. King.com spent $312 million more in 2013 than it did in 2012 on user acquisition, the company said in its filing.
The trick will be replicating that into new games that will equally entice users. But already, it seems that the market is not confident in King.com's ability to do so. At the moment, the routes taken by other European gaming companies are looking like better "exits" than taking a gaming company public. Mojang AB, the makers of Minecraft, settled on running a super-popular game and making enormous amounts of money off it without outside investment, and Supercell, the creators of Clash of Clans, basically sold half the company to Softbank in a $1 billion financing deal.
Of course, this still counts as quite an exit for the company — it raised $500 million and a number of insider shareholders did sell some of their stake in the company. But it does leave King.com vulnerable to the whims of shareholders, which often do not have the best interests of a creative company like a video game company at heart when it is not performing up to expectations.

Many industry insiders and King.com alumni point to the company's focus on game quality above everything else — even if it meant missing the jump from the Web to Facebook. As a result of that focus, when the company decided to launch Candy Crush Saga on Facebook, and then on mobile devices, it ended up creating what is arguably the most successful mobile game of all time.
Candy Crush Saga does well on mobile devices because of both its simplicity and its attention to detail. While the mechanics are easy to pick up, the game is actually deceptively well designed and is very effective at getting users to pay for power-ups in order to get over difficult levels, according to industry insiders. King.com has around 12 million users who pay for power-ups every month, or about 3% of its overall 408 million monthly active user base.
King.com — unlike Zynga — has been around for more than a decade. During that time, it saw not one, but two titanic shifts in the way people play games. Starting off as a skill game company on the web, it first had to navigate the shift to Facebook — a process that took longer and caught the company somewhat flatfooted in the presence of Zynga, according to many industry watchers.
The transition wasn't pleasant, with some unrest at the company over being unable to catch up and build a presence on Facebook. But unlike Zynga, King.com was able to adequately navigate the shift to mobile devices and create a huge hit that would go on to make billions of dollars for the company. Zynga, meanwhile, is still trying to find a place on mobile devices and hasn't found a hit other than the one it bought for $210 million: Draw Something, a game with just tens of millions of users that crashed shortly after the acquisition.
More realistically, King.com's falling share price today is an indication that shareholders believe the company is overvalued at the price it picked when it went public. This is common when companies go public, but King.com is now up there with one of the worst-performing initial public offering debuts in the past year. In the shadow of Twitter, which has more than doubled since its pricing, and other enterprise companies that have gone public, King.com is a sore spot that will continue to shed much skepticism on the gaming industry.
The companies that make games are often, by definition, run on the strength of their one-hit wonders, with the ability to create a lasting company dependent on the ability to produce more hits. Activision and Electronic Arts have managed to survive by creating massive franchises like Call of Duty and Battlefield, but outside of those franchises there are no genuine "hit" factories for mobile devices. Even Rovio, with its massive Angry Birds franchise, has found itself looking for answers beyond Angry Birds.
Investors have spoken about their confidence in King.com's ability to create a lasting business. Now it's up to the company to essentially defy (a somewhat short) history and build a long-lasting mobile gaming company.