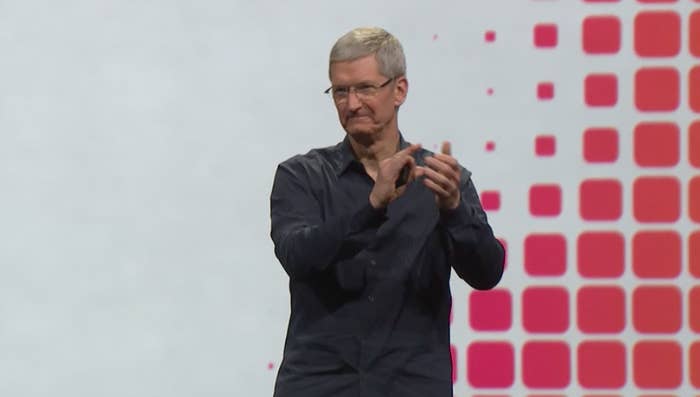 Apple is finally handing over the keys to its most sacred parts of the iPhone to developers, and its users can expect popular Android-only apps including SwiftKey to be available soon.
As part of its annual developer conference, Apple said it would allow developers to build custom keyboards for the iPhone, and let some apps interact with each other. Traditionally, applications have been neatly separated and unable to interact with each other, but with the new version of iOS, for example, a user will be able to call a specific function from one app in the middle of using a separate app, as long as it is up to Apple's standards.
In the past, these core components of iOS — dubbed APIs, or application programming interfaces, in industry parlance — have been sacred elements of the iPhone, untouchable by developers. About a year ago, Apple spokesperson Nat Kerris said the reasoning behind not allowing a customized keyboard was that Apple didn't "believe this would be the best customer experience."
The apps affected are typically exclusive to Android, as the core components are not available to developers on the iPhone. There aren't that many them, but some are extremely popular. And Android has benefited from that by attracting a more hardcore audience of power-users to its smartphones with the appeal of being a more open platform, giving it a differentiating point from the iPhone as the platform also gained steam as a cheaper alternative in developing markets.
Among the most successful of those apps is a keyboard startup called SwiftKey, which has for much of its lifetime been in the top 10 rankings — usually number one — of Google Play, Google's application store. SwiftKey scours a person's Gmail, Twitter and Facebook accounts to learn how that person types, and then begins predicting the next word. Apple's own predictive text keyboard itself looks lifted straight from SwiftKey Note, the company's note-taking app that it launched as a stand-in for a predictive keyboard replacement on the iPhone earlier this year.
Last year, SwiftKey seemed prepared to roll out a keyboard replacement app (complete with a blog post announcing it would work on it) when Apple seemed poised to open up additional APIs, but instead was forced to wait another year. Not only does SwiftKey continue to be a top Android application, but it also licenses out its natural language processing technology to smartphone manufacturers like Samsung, which integrated predictive typing into their own smartphone keyboard applications. SwiftKey, however, is not powering the predictive text algorithm that Apple uses for its own keyboard, according to a person familiar with the company's operations.
"We're delighted Apple has decided to embrace the importance of opening its platform to third-party keyboards," SwiftKey CEO Jon Reynolds said. "For more than four years, SwiftKey has pioneered faster, easier typing on touchscreens, leading the industry with next-word prediction and smarter autocorrection. Our technology features on more than 200 million devices to date and we can't wait to reach more. We first brought a taste of our technology to iOS in January this year with the launch of the free note-taking app SwiftKey Note. Are we going to build SwiftKey Keyboard for iOS8? Of course we are. We've already started."
And indeed, many of SwiftKey's executives have held meetings with Apple employees to discuss the opportunity for such a technology on the iPhone prior to Apple CEO TIm Cook's announcement today, according to a person familiar with the discussions. SwiftKey's Note application was featured by Apple's editors when it launched earlier this year. The company's data was so valuable it also attracted some suitors, including Facebook — where advanced talks were held for an acquisition but ultimately never followed through, according to two people familiar with the discussions. (A representative from SwiftKey declined to comment beyond Reynold's statement.)
Apple, for the most part, has locked up a majority of the premium smartphone market, but is beginning to expand in emerging markets — most notably China. Those are regions where Android has dominated thanks to the international reach of smartphone manufacturers like Samsung, and the emergence of new manufacturers using Android like Xiaomi — which hired Android product manager Hugo Barra from Google last year.
There are also secondary implications for opening the iPhone up. For most platforms, the best use cases are not actually devised by their creators, but discovered by developers. Google could not have predicted that a predictive keyboard would have become one of the top Android applications, beating out more popular categories like games.
But as the market for smartphones has changed, Apple — and its new leader — have had to also change. And so, they are making yet another move that Apple founder Steve Jobs refused to do during his time running the company: rewriting their developer playbook.