Apple Just Misses Expectations Ahead Of Its Critical Second Half Of The Year
The company reported its third-quarter results today, and it missed analyst estimates on revenue and quarterly guidance. Then again, there were no new products.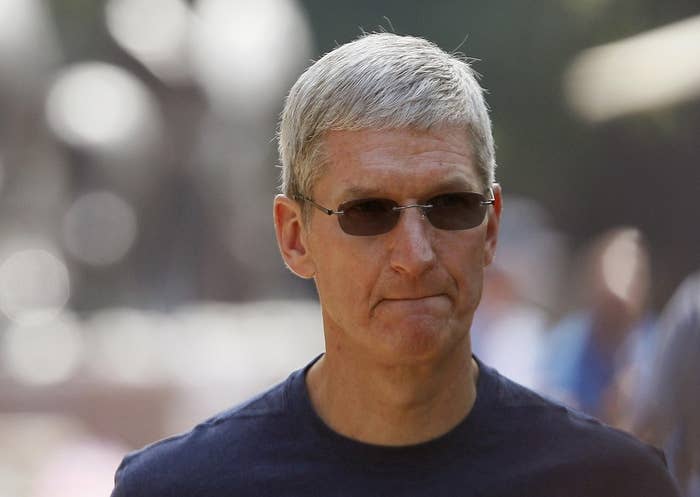 Apple missed analyst expectations when it reported its third-quarter earnings today — though only by a slight amount, selling fewer iPhones than expected and coming in light on sales.
The company sold 35.2 million iPhones in the third quarter of its 2014 fiscal year, compared to the 35.3 million iPhones it was expected to sell. It did beat analyst estimates when it came to earnings, coming in at $1.28 per share analysts were expecting $1.23 per share. But it reported $37.4 billion in sales, compared to analyst estimates of $37.9 billion in sales.
The company also sold fewer iPads than expected, reporting 15.3 million iPads sold compared to the 15.9 million expected by analysts. iPad sales have not grown significantly in the past several quarters, indicating the tablet market may have hit a saturation point. The earnings report sent shares of Apple falling briefly after regular trading ended.
However, the second quarter this year was pretty ho-hum in terms of products, with the company only unveiling a beta version of its next iPhone and Mac operating system, as well as some developer tools. Apple is expected to not only unveil a new iPhone in September this year, but also a smart watch toward the end of the year. While Apple was still able to bring in more than $37 billion in revenue in the second quarter, the fireworks are expected to start in the second half of the year.
Still, Apple's guidance for the fourth quarter quarter, which typically includes a small period of time after the next iPhone launches, was lower than analysts were predicting. Apple said it was expecting sales between $37 billion and $40 billion for the fourth quarter this year, compared to analyst estimates of $40.6 billion.
Despite a lack of new products that could help Apple enter new markets and re-ignite growth, and its big Beats acquisition, the company has enjoyed a run-up in its stock price in the past year, rising 54% excluding a stock split the company executed earlier this year.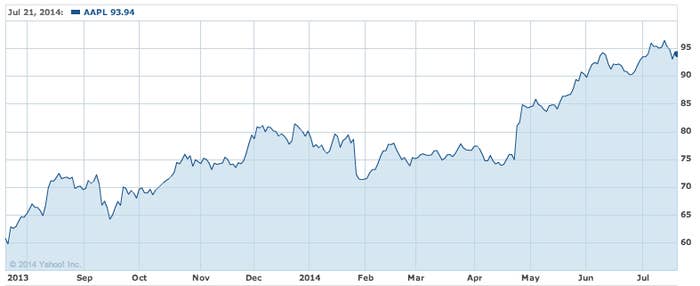 It wasn't a completely quiet quarter, however. In June, Apple said it would acquire Beats Electronics and Beats Music for $3 billion, which included a $400 million earn-out. As part of the deal, Universal Media Group's Jimmy Iovine and Dr. Dre both joined the company.