Apple Increases Dividend, Share Buybacks In Bid To Appease Investors
The news came as part of Apple's strong second quarter earnings report. The company also announced a 7-for-1 stock split.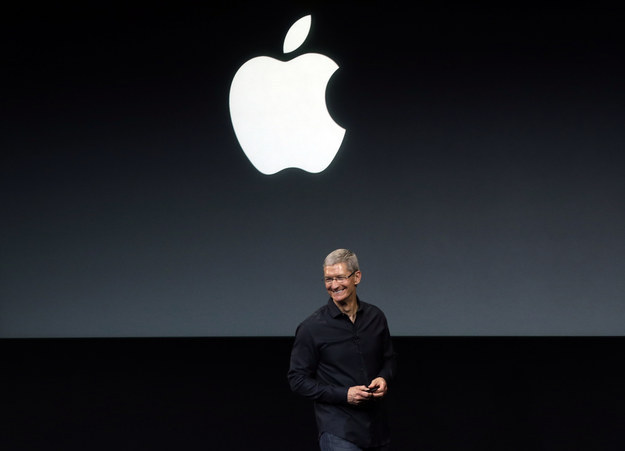 Apple's strong second quarter results took a backseat to a slew of other announcements the company made Wednesday, among them a dividend increase of 8%, an additional $30 billion increase in its stock buyback program to $90 billion and a 7-for-1 stock split.
The stock split, which will take effect in June and give investors of record 6 additional shares for every outstanding share held, was perhaps the biggest surprise. The move, as Chief Executive Tim Cook said on a conference call to discuss its results, is aimed at making Apple stock "more accessible to a larger number of investors." Put another way, the split will make Apple shares cheaper for pension funds, institutional investors and, importantly, individual retail investors. Post-split, based on Wednesday's closing price of $524.75 per share, Apple shares will trade at around $75, making them affordable enough for average investors to buy into the stock.
Apple's increased dividend and share buyback program follows a widely publicized battle with billionaire activist investor Carl Icahn, who called for the company to return more of its cash pile, which is now in excess of $150 billion, to shareholders. Under the expanded program, Apple will increase its share buyback plan to $90 billion from $60 billion and its dividend by 8% to $3.29 per share. Further, Apple said it will increase its dividend payout annually going forward. The company currently pays out about $11 billion in dividends annually, making it one of the most generous payers on that metric in the world.
Icahn endorsed Apple's moves in two tweets Wednesday, saying in one that he was "extremely pleased with results" but "will be happy when we see new products." In another tweet he added that Apple remains "meaningfully undervalued."
On the numbers, Apple beat analysts estimates for both revenue and net income. The company reported revenue of $45.6 billion and net income of $11.6 billion, against expectations of $43.6 billion on revenue and $10.2 billion on net income. Net income for the quarter grew at its highest rate in recent memory.
While the company sold more iPhones than analysts projected — 43.7 million units versus 37.7 million — it sold less iPads, only moving 16.4 million units against and expected 19.7 million.
Much of the discussion on the earnings call focused on the iPad sales figure, with analysts expressing disappointment with the results and Apple executives providing reasons for why they shouldn't be. Cook cited two reasons for the difference in actual and expected sales: in the same quarter last year Apple had increased iPad supply while this year they reduced it, and at the end of December the company had a backlog of iPad Mini demand that spilled over into the first quarter whereas this year it didn't.
"I can't help but still be extremely excited about where we are," Cook said in defense of the iPad's performance.
The earnings results coupled with the increased dividend and share buybacks and stock split sent Apple shares soaring in after-hours trading after closing down for the day. Apple shares ended trading at $524.75, down $6.95, but leapt more than 7%, or around $40, to roughly $565 in after-hours trading.
Patience among Apple investors had been wearing thin lately in the absence of a dramatic new product launch. Cook has born the brunt of that pressure, with his tenure thus far marked by product refinement, international expansion and iteration rather than innovation. That has kept Apple's business strong and stable, but hasn't been able to ignite new growth. While Cook has hinted on previous earnings calls in the last year that new products would be launching throughout 2014, nothing new has been launched thus far. The company is widely rumored to release a new version of its Apple TV set-top box and, eventually, a wearable device, but there is still no indication when these might come.
Cook again was asked about Apple TV on Wednesday's earnings call, and while he didn't shed any new light on whether a new product was in the offing, he did say that 20 million Apple TV devices have been sold and that more than $1 billion of content has been bought directly off of them.
"We continue to make the product better and better," Cook said, adding, "I'm feeling quite good about that business and where it can go."
Still, Cook conceded that the best thing Apple could do for its business is make great products.
Throughout its resurgence, Apple's staggering revenue and profit growth has been on the strength of new products: the original iPhone, the revamped iPhone 4 and its follow-up devices, and the iPad and its later iterations. The company tried diversifying its phone lineup this year with the iPhone 5c, but it was initially met with lukewarm reaction and didn't provide much growth for Apple, which has basically been treading water for the past several quarters. (The company is still bringing in an insane amount of money, to be sure, but it isn't growing at the rate that it is accustomed to). But this quarter iPhone sales gained steam, with the 43.7 million units sold marking its best-ever quarterly performance.
Outside of the iPad and iPhone sales, Apple made a point to highlight the strong performance of its iTunes business, which along with software and services generated $4.6 billion in revenue during the quarter. There are now 800 million iTunes accounts, executives said.
All this is overshadowed by the fact that Apple has more than $150 billion in cash. While companies like Google and Facebook are aggressively making large purchases that could potentially lead to new businesses — like the Oculus Rift for Facebook and Nest for Google — Apple has opted to let its cash trickle out through dividends and share repurchases. This has drawn a lot of criticism, as most other technology companies are in fact increasing their spending on research and development and acquisitions, while Apple seemingly is not.
Cook moved to squash that misconception Wednesday as well, noting that Apple has acquired 24 companies in past 18 months.
"That shows that we are on the prowl you could say," Cook said, adding that Apple "will not underinvest" in its business.