Apple Finally Has A Head Of Retail
After about a year with the position vacant, Apple has hired a senior vice president to head retail. It's Angela Ahrendts, the CEO of Burberry.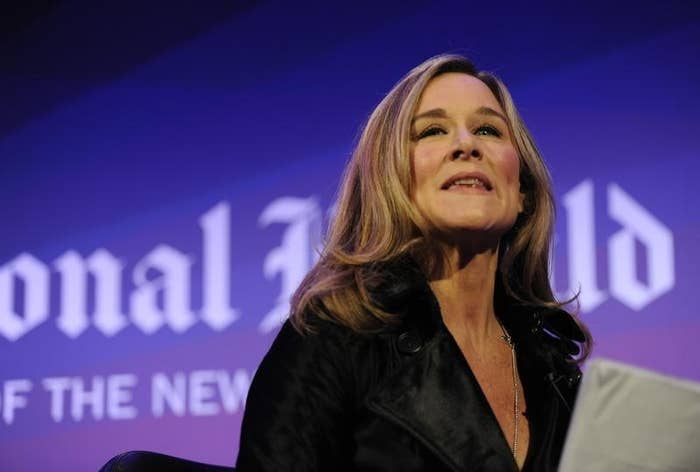 Apple has hired Angela Ahrendts, the CEO of luxury retailer Burberry, to run its retail operations — filling a spot that has been vacant for about a year.
Apple's original head of retail, Ron Johnson, first left Apple to be CEO of J.C. Penney in June 2011. He was replaced by John Browett, who ended up being a bad fit for the position and was let go around this time last year during a major reorganization at Apple. Chief creative officer Christopher Bailey will take Ahrendts' place at Burberry as CEO.
Ahrendts will start at her new job in spring 2014, reporting directly to Tim Cook. She'll also run Apple's online stores, per the company's announcement. Ahrendts was on a list of several executives speculated to take the job, which included the likes of John Culver, president of Starbucks Coffee China and Asia Pacific; Paul Gainer, executive vice president of Global Disney Store; and Jeanne Jackson, president of Direct to Consumer at Nike. Johnson's name was also often thrown around as a potential replacement, given his disastrous exit from J.C. Penney. (Johnson told Bloomberg Television today that Ahrendts was a "terrific choice" and she will be "exceptionally well-received.")
Last month, Burberry began using the new iPhone 5s as part of a promotional marketing campaign where it shot photos and video of Burberry's runway show using the phone. At the time the company said it was "paving the way for significant changes in how [customers] capture and share their content."
Apple has been aggressively expanding its retail operations, particularly in China. Revenue for Apple's retail stores this most recent quarter ending in June was $4.1 billion, about the same this quarter a year ago. Each retail store brings in about $10 million in revenue, 120 million visitors in 2012 (nearly as many as Disney's parks in 2011). Even stepping down from a CEO role, Ahrendts will oversee a roughly $19 billion business (for its 2012 fiscal year) — nearly 9 times that of Burberry's $2.3 billion retail business in 2012.
Ahrendts has been CEO of Burberry, which focuses more on luxury fashion — and even has the phrase in its tagline — than more mainstream outlets, since 2006. She was one of the highest-paid executives on the FTSE, according to The Daily Mail, bringing in £16.9 million last year (or about $27 million).
Here's what Tim Cook said about her in a memo to employees, according to 9to5Mac:
She shares our values and our focus on innovation. She places the same strong emphasis as we do on the customer experience. She cares deeply about people and embraces our view that our most important resource and our soul is our people. She believes in enriching the lives of others and she is wicked smart. Angela has shown herself to be an extraordinary leader throughout her career and has a proven track record. She led Burberry through a period of phenomenal growth with a focus on brand, culture, core values and the power of positive energy.
It's tough for Apple, which has the world's highest sales per square foot at $6,050, according to researcher RetailSails, to find executives from retail companies that come even remotely close to that. Burberry has said it averages about £1,000 per square foot, which is about $1,600. To put that in perspective, Tiffany & Co. is around $3,000 while Lululemon is closer to $2,000. Burberry lands below Coach and above Michael Kors.
"Burberry is kind of a high-end luxury brand, there's been this discussion about Apple for the last couple of quarters as, are they high-end or looking for mass market," said S&P CapitalIQ analyst Scott Kessler. "This indicates very clearly what Apple is focused on. You could see Apple taking more control over its distribution."
Ahrendts has been instrumental in driving up Burberry's in-store productivity by connecting its online and offline worlds, so that customers can access thousands of items once only available online in person, or receive something that's out of stock in stores via mail in 48 hours. While this now seems hardly revolutionary, retailers, generally, have been slow to seize such technological advances in recent years, especially with hundreds — not thousands — of locations, and lagging e-commerce platforms.
She has also overseen the development of Burberry "private client associates" in flagship stores, who give extra service to ultra-high net worth customers who may not even want to go into stores and want products brought to them. The company ended last year with 100 of those, Ahrendts said in a November 2012 conference call.
"It's a very different way of shopping and service will be one of the biggest differentiators in driving productivity long term," she said at the time.
Ahrendts, a 53-year-old parent, is a graduate of Ball State University and hails from the small town of New Palestine, Indiana. Prior to Burberry, she served as an executive vice president at Liz Claiborne, giving Apple a retail executive not only savvy in digital and brick-and-mortar sales but also fashion — the sort of skew Apple might seek if it seeks to break into the market for wearable technology like the supposed "iWatch."
"This is an amazing development and totally unexpected place for a tech company to search for a CEO," Pam Danziger, president of Unity Marketing, a luxury research firm, said in an e-mail. "As for whether she has the chops, we will see. After all, we haven't see Apple technology retailing experience translate well to mass retail, i.e. J.C. Penney. At the same time, Burberry is a very technology-savvy luxury marketer and the misstep I think for Ron Johnson was stepping from very specialized and relatively high-end retail environment into the world of mass marketing. Ahrendts should have a much easier transition from Burberry to Apple."
In 2012, Greater China represented Burberry's fastest growing major market and this consumer was prominent throughout the retail network, according to its 2012 annual report. Ahrendts' experience in international sales and high-end retail dovetails with Apple and Cook's emphasis on expanding into emerging markets with retail, particularly China.
"A lot of people vis-a-vis Apple think about it as a race to the bottom, but in China and other emerging markets there are high-end, luxury-type consumers," Kessler said. "That's what you need to keep in mind, she's had a lot of experience there."
Under Ahrendts, Burberry's stock price rose sharply and sales more than tripled. Ahrendts and Burberry have also already gained many fans in U.S. tech circles, with the company frequently being highlighted by companies like Salesforce.com during its annual Dreamforce conference and Google as part of its campaigns. The Silicon Valley tech world is, in the long run, quite small — so it's not hard to imagine Ahrendts' credibility built up through these relationships was enough to woo Apple and Cook.
Essentially, while Apple has a large online operation, the Apple Store serves as a major showroom to impress first-time and less-certain Apple product buyers, especially in countries where carrier stores and subsidies are less common. Apple CEO Tim Cook also said he wants to double the number of retail stores Apple has — currently 405 — over the next two years.
Updated, 12:02 p.m.: This story has been updated to reflect more information about the Burberry CEO.