Tim Cook: The iPad Isn't Dying, Tablet Growth Just Hit A "Speed Bump"
The company sold 12.3 million iPads in the last quarter, missing analyst expectations of 13 million. But with sell-in rates were down 4% in the last fiscal year, Tim Cook says the long term is still looking rosy.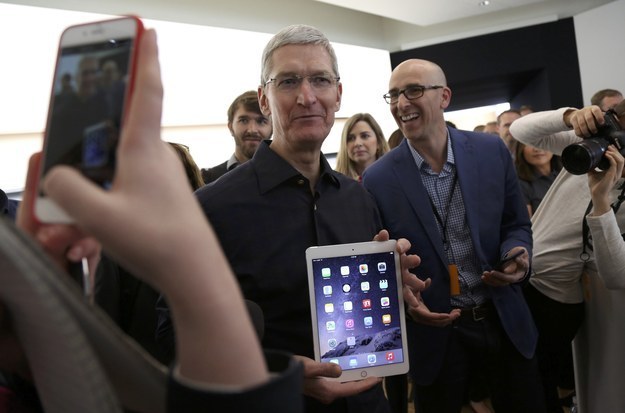 Apple CEO Tim Cook gave a lengthy defense of the iPad on the company's fourth-quarter earnings call today, staying bullish on the tablet's future prospects and saying the company didn't "know what the upgrade cycle will be for people."
Prompted by an analyst, Cook gave an lengthy explanation of the trends of the iPad market, pointing to the company's 237 million iPads sold in the first four years of the product's existence. As he frequently does, Cook cited the stat that the company has sold more iPads in its first four years on sale than it did iPod for its first four years on sale.
In the fourth fiscal quarter, Apple sold 12.3 million iPads, compared to analyst estimates of 13 million. On the flip side, the company sold many more iPhones and Macs than what analysts were expecting, leading to an overall better performance in terms of sales and profits.
Compared to Apple's 2013 fiscal, Apple's iPad sell-in rate fell 4%, Cook said — fitting in with a larger macro trend pointed out by research firms that the overall tablet market growth is beginning to slow. "To me I view it as a speed bump, not a huge issue," Cook said. "That said, we wanna grow, we don't like negative numbers on these things."
However, he refuted the notion that the tablet market is saturated — meaning that the total number of people who have bought tablets have already bought them, a theory often pointed out by those research firms. Cook said explained in many of its fastest-growing markets, a majority of the buyers of iPads are first-time buyers for the iPad.
"I know there's a popular view that the market is saturated, but we don't see that," Cook said. "I can't speak to other people, but I do look at our data deeply."
Last week, the company unveiled a new array of iPads, including a much lower price for the original iPad Mini at $249. The company released an upgrade to the iPad Air, which was thinner than a pencil and had more powerful processors that increased the performance of apps. At the time, he was confident sales would keep growing, citing the earlier argument about total iPad units sold and the company's new partnerships to expand its footprint in large corporations.
However, Cook did address another theory often floated by analysts, which is that the upgrade cycle for tablets is often longer than phones. Cell phone carriers in the United States, for example, typically allow cheaper upgrades every two years, while tablets have a larger purchase price.
"What you do see is that people hold onto iPads longer than they do a phone, and because we've only been in this business 4 years, we don't know what the upgrade cycle will be for people," Cook said. "That's a difficult thing to call."
Cook, however, also acknowledged that the iPad was likely cannibalizing other markets, including its Mac sales. "I'm fine with that," he said, also noting that it's possible that iPhone sales were cannibalizing iPad sales. Apple released a larger "phablet"-styled phone called the iPhone 6 Plus, bringing the phone's size closer to the size of an iPad Mini.
"But over the long arc of time, my own judgment is that iPad will have a great future," he said. "How the individual 90 day clicks work out, I don't know, but I'm very bullish where we can take iPad over time."