Apple CEO Says He's "Very Bullish" On The Future Of The Tablet
"We've sold more iPads through the first three years than we have sold iPhones," Tim Cook tells BuzzFeed News.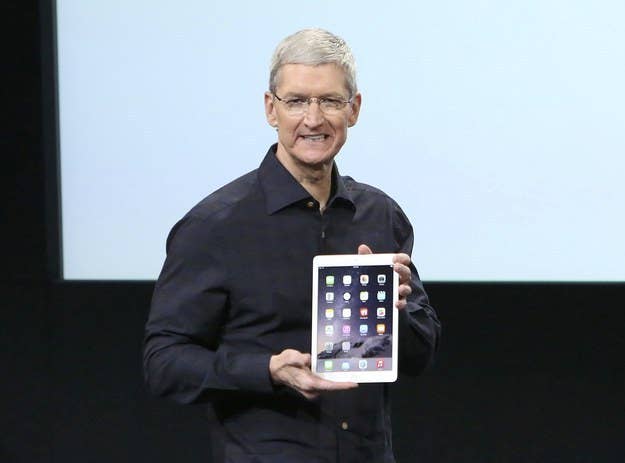 Apple CEO Tim Cook told BuzzFeed News following the iPad unveiling on Thursday that he was "very bullish" on the future of tablets, countering some reports that the outlook for tablets is not as positive as it was when the devices first began entering the market in force in 2010 with the release of the first iPad.
"At a macro level, we've sold more iPads through the first three years than we have sold iPhones," Cook said in response to a question about the subject from BuzzFeed News at a gathering following the iPad event. "There's ebbs and flows. I'm very bullish on the future of the tablet. You can see some things that we're doing with our work with IBM to get it deeper into the enterprise, and some other things we're working on I think bode very well for the future of it."
Earlier today, Cook unveiled a suite of new iPads that included a new, thinner and more powerful iPad called the iPad Air 2. Apple also unveiled an update to its smaller tablet, the iPad Mini, called the iPad Mini 3. All of the new tablets have Apple's "Retina" display, which is Apple parlance for a screen that is so high resolution that the human eye cannot discern individual pixels. The company today said it's sold 225 million iPads, since 2010.
According to IDC, at the end of the second quarter of 2014 Apple had a 26.9% market share. But the year-over-year growth for tablet shipments in Q2 of 2014 compared to 2014 was 11%. In August, IDC lowered its forecast for global tablet shipments, saying overall tablet shipments would only grow 6.5% this year compared to 2013. That's compared to its original forecast of 12.1% growth year-on-year of annual shipments. The same report also indicated that growth outside of North America was still present.

But Apple's tablet growth may get a shot in the arm. The company said it was dropping the price of its original smaller iPad Mini to $249, and the new iPad Mini 3 is priced at $399.
Apple also signed a major partnership with IBM earlier this year that would greatly increase its footprint in large corporations. Such a deal can be a powerful tool for selling tablets like the new iPad Air 2 and even lower-priced ones like the iPad Mini. Many large companies are adopting tablets like iPads for work use, and Apple had already held a large presence preceding the IBM deal.
Still, Cook said he isn't necessarily focused on other tablets. "That doesn't mean that they bode well for the future of other tablets; I'm not focused on those, I'm focused on iPad," he told BuzzFeed News.