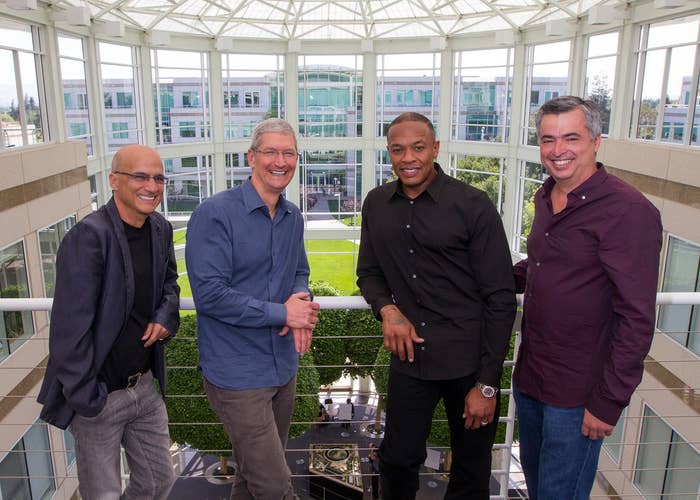 Apple took a dramatic new direction in the digital music business it once led, officially announcing its purchase of Beats Entertainment, a company built by Dr. Dre and music mogul Jimmy Iovine that sells high-priced headphones and a music streaming service, for $3 billion.
The purchase, despite much hand-wringing over what Apple is actually buying, is at its core a way to return Apple to a leadership position in digital music, as download sales give way to subscription streaming services. As part of the deal, Dre and Iovine are taking executive positions at Apple running its music operations — though Apple did not specify what those positions would be. The deal consists of a $2.6 billion straight-up purchase with a $400 million earn-out clause.
"Music is such an important part of Apple's DNA and always will be," said Eddy Cue, Apple's senior vice president of internet software and services, as part of the announcement. "The addition of Beats will make our music lineup even better, from free streaming with iTunes Radio to a world-class subscription service in Beats, and of course buying music from the iTunes Store as customers have loved to do for years."
Beats Music will fall under the purvue of Cue, while Beats Electronics will be run by Apple SVP of marketing Phil Schiller, according to a memo obtained by 9to5Mac.
The deal, which ranks as Apple's largest ever, is the culmination of a relationship Iovine has had with Apple for years. Apple CEO Tim Cook reportedly met with Beats executives in February last year to discuss a potential partnership involving the new streaming service released by Beats. Iovine and Apple founder Steve Jobs were long-time friends who often sought advice from each other, with Jobs sometimes staying at Iovine's house when visiting Los Angeles before he passed away and handed the reigns of the company over to Cook.
Though Iovine is leaving Universal Music to join Apple, the record label can't be too unhappy about the deal — it will receive a $420 million windfall by virtue of its 14.4% stake in Beats. It was earlier reported that Apple was buying Beats Entertainment for $3.2 billion, but the deal took a while to close and the final price appears to have dropped in the period since the deal was first reported. The announcement also comes less than a week before its annual developer conference, WWDC, takes place in San Francisco.
"I've always known in my heart that Beats belonged with Apple," Iovine said as part of the announcement. "The idea when we started the company was inspired by Apple's unmatched ability to marry culture and technology. Apple's deep commitment to music fans, artists, songwriters and the music industry is something special."
Iovine's departure leaves a big hole at UMG, which will be filled by existing Interscope Records COO John Janick. "Together we created a once-in-a-generation opportunity that allowed Jimmy to maximize the use of his many talents," UMG CEO Lucian Grainge said in response to the news. "In recent years, as Jimmy partnered with John Janick, one of the industry's most talented and promising young executives, Interscope's results have skyrocketed. We thank Jimmy for both the incomparable leadership he's provided to Interscope and UMG and for the highly beneficial partnership UMG has enjoyed with Beats. We wish Jimmy the very best and look forward to enhancing our partnerships with Apple and Beats for many years to come."
Acquiring Beats gives Apple another way into the increasingly popular streaming music market beyond its existing streaming service, iTunes Radio. According to IFPI, more than 28 million consumers paid for a music subscription in 2013, up from 8 million in 2011. What's more, the $1.1 billion in revenue that IFPI attributed to subscriptions for streaming music in 2013 represents a year-over-year increase in excess of 51%. Many industry watchers are viewing streaming music as a way to return to growth as downloads — iTunes' bread and butter — have begun to flatline.
The deal is also a rather significant break in character for Apple, which has often sought to build out services rather than acquire them — such as iCloud, iMessage, or iTunes Radio. While companies like Google and Facebook are willing to shell out billions for companies that seem to have a natural product fit, Apple has never done a billion dollar-plus deal, even though it is sitting on more than $150 billion in cash.