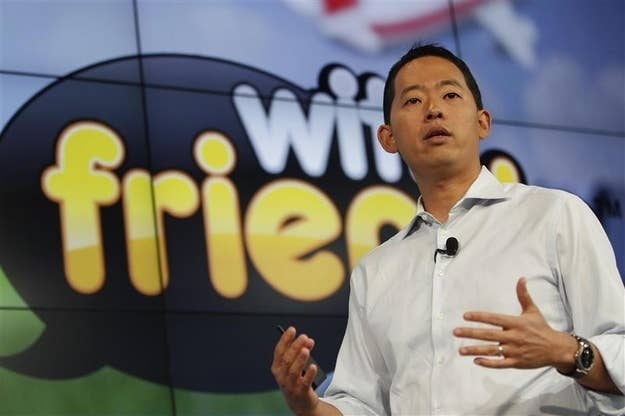 Zynga's chief operating officer and mobile guru, David Ko, is stepping down from his position, according to a source familiar with the company's operations.
Chief people officer Colleen McCreary is also stepping down, a source familiar with Zynga's operations told BuzzFeed, in part of a series of major executive changes that will be announced at an all-hands meeting at 4 p.m. PT to discuss new CEO Don Mattrick's "vision" for the company.
It's the latest in a major shake-up at the social gaming company that brought in Mattrick, a former Microsoft exec in its Xbox division, to run the company. Zynga also recently laid off more than 500 people in a bid to turn the company around from what was previously a company that relied on viral channels to spread and monetize its games.
Ko's move comes at a time when Zynga finds itself unable to rely on the traditional viral channels that propelled it to one of the largest tech IPOs since Google. Since going public at $10, however, Zynga has fallen quite significantly to the point that it's trading around $3 today. Zynga also recently abandoned its plans to pursue real-money gambling in its games, a move that sent the stock price tumbling even further.
The move was not unexpected, according to several sources familiar with Ko's situation, given that he was expected to be in the running as the next CEO prior to Mattrick's hiring. Ko, a strong businessman who was well-liked at the company, was fast-tracked to the COO position for his mobile acumen, replacing EA alumnus John Schappert. We've also heard from several sources close to Ko that his goal, inevitably, was to be CEO of a tech company in Silicon Valley — something he likely can no longer do at Zynga.
Unlike Ko, however, McCreary's relinquishment of command has more to do with Mattrick finding ways to shake up the company's executive ranks to conform to his vision for the company, according to several sources familiar with Mattrick's plans.
Zynga is still in the midst of a massive turnaround, and many executives — like others that have departed after the Mattrick hire — might not have a place in the future of the company. Still, Zynga has had to shift itself to becoming a proper games company with a larger mobile presence, and Ko stepping down certainly doesn't help.
Throughout the history of the company, founder Mark Pincus' interference has frustrated numerous former high-level executives such as Owen Van Natta and John Schappert, external hires brought to Zynga in high-ranking positions who ultimately left in part because of Pincus' management style, according to several sources familiar with Zynga's operations. Even amid departures and distractions, the biggest question at Zynga that still remains today is whether Pincus will be able to let Mattrick run the show and turn his company into a real gaming company.
However, Zynga has existed without a chief operating officer before, so it's possible they could revert to a structure where Mattrick and Pincus operate in tandem to make operational and game decisions for the company.
Zynga wasn't able to be reached for comment after repeated attempts by phone and email.