Amazon Seems Quite Proud Of The Media Empire It Is Building
The company reported its first-quarter earnings today.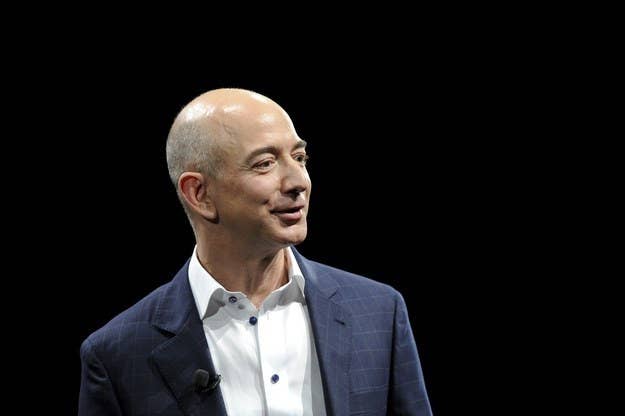 Before even getting to how the rest of its core business is growing, Amazon would like to take a second to talk about how much it is investing in its media empire.
In its earnings announcement today, Amazon (without any kind of specific statistics, naturally) spelled out how much work it has put into its media empire before getting to talking about its core business of selling and delivering goods — the business that actually brought in the majority of the $19.74 billion it made this quarter.
"We get our energy from inventing on behalf of customers, and 2014 is off to a kinetic start," CEO Jeff Bezos said as part of the announcement. "Our device team launched Fire TV, offering great content, including our recently announced exclusive deal with HBO, and innovative features like unified voice search, which we're delighted is being adopted by so many new partners, including Netflix, HBO Go, Hulu Plus, Crackle, and Showtime Anytime. The team is working hard to keep Fire TV in stock."
He then proceeded to meander a bit about the company's release of its grocery delivery service Prime Pantry, which is part of its Amazon Prime delivery service. Then spoke briefly about its cloud services, before cutting straight back into the growth of its media business.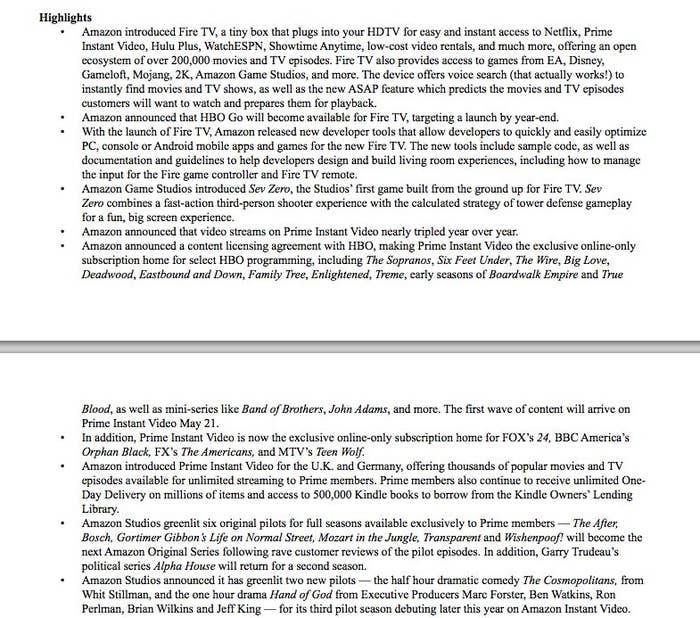 As is customary with Amazon's quarterly earnings, the company beat expectations on revenue, brought in a ridiculously tiny portion of that as a profit (its margins were 0.7% — compared that to a business like Facebook which has margins upward of 50%). Amazon expects to lose money in the second quarter — and, as usual, the stock is up a hair after the earnings report. It also released a few vanity stats about its media business ("Video streams on Prime Instant Video nearly tripled year over year") that don't have any real context.
Granted, Amazon had a lot to reveal when it came to its growing media business this quarter — but it also rolled out a lot of other new services that more neatly align with its online retailing business that consistently generates billions.
Alongside its retail business, Amazon has also been aggressively building out a media business. Amazon launched a set-top box, the Fire TV, and has its own giant game studio producing first-party titles for the Fire TV — including many high-profile game designers. The company has a suite of original shows for its Amazon Prime Instant Video service as well, which comes with an Amazon Prime subscription (a service that allows two-day deliveries for free).
In addition to launching a set-top box, Amazon was able to get another jump on streaming rival Netflix by signing deal earlier this week that would allow the online retail giant to stream select HBO shows through its Amazon Prime Instant Video service. The deal, which will run over the course of three years, is estimated to be worth around $300 million, according to an estimate by BTIG analyst Rich Greenfield.
"HBO fears Netflix's growing industry power," Greenfield wrote. "We suspect HBO wanted to balance Netflix's growing media industry hegemony by helping to bolster their largest direct-to-consumer, SVOD competitor — Amazon."