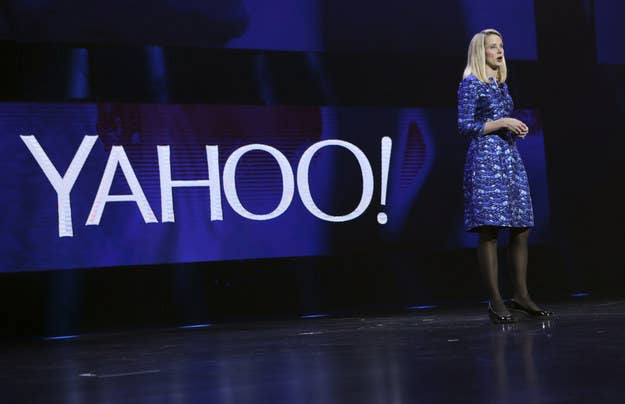 There's a good reason Yahoo CEO Marissa Mayer wanted to hold onto as many shares of Alibaba as possible when the Chinese commerce company went public today.
As part of the initial public offering, Yahoo sold around 121 million shares, immediately minting it a return of more than $8 billion at the IPO price of $68. But after beginning trading today, Alibaba's shares shot up to more than $93 and even reached a high of more than $99, valuing the company at more than $245 billion.
When trading ended, shares of Alibaba were $93.89, valuing Yahoo's stake at $37.7 billion. As a reference point, Yahoo's current market cap is around $41 billion. But even amid Alibaba's IPO frenzy, shares of Yahoo fell nearly 3%.
Thanks to some of Mayer and her team's negotiating, Yahoo was able to sell fewer shares as part of Alibaba's IPO — likely banking on the expected pop that occurred when it begins trading today. Yahoo's remaining stake in the company represents 16.3% of its outstanding shares according to its most recent filing with the Securities and Exchange Commission.
Yahoo's executives already pledged to return half of that windfall to shareholders, likely in the form of dividends and share buybacks. It's a substantial payoff for investors who have patiently remained holding Yahoo following a savvy early investment from the company's founder, Jerry Yang, into the company. Yahoo had already sold off a part of its stake in order to fuel acquisitions and hiring, but it was worth nowhere near the value of its current stake in the company.
What Yahoo plans to do with the other half of the windfall, however, is another story. Yahoo has acquired dozens of companies in the past year using its early returns from sales of its Alibaba stake. It's aggressively hiring and buying companies in order to compete with the likes of other internet companies like Google and Facebook. Mayer is still searching for life after Alibaba.
After the company went public today, Mayer will have plenty of cash to continue her current strategy of building out online digital publications and mobile applications. But whether investors still will be tolerant of that without a future massive return like Alibaba is up in the air.