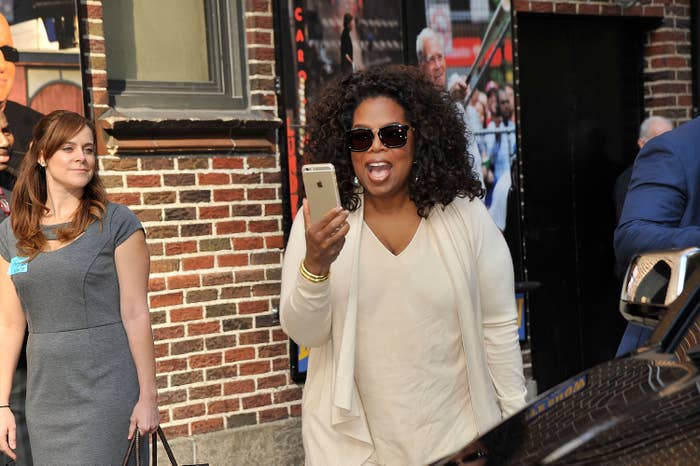 Oprah Winfrey's personal fortune and Weight Watchers have both added some serious bulk after the TV host turned media tycoon became a major investor in the weight loss company. Its stock more than doubled in trading Monday, rising to almost $14 from Friday's closing price of $6.79.
Along with a 105% share price rise, the news that Winfrey will buy a 10% stake in the company and join its board of directors turned into a tidy paper profit for Winfrey herself. The $43 million stake she purchased has already increased in value to almost $89 million.
Although Winfrey can't sell of any of her shares — she has to wait two years to be able to sell even 15% and five years to sell all of it — the soaring stock price suggests investor confidence that she can bring some shine back to Weight Watchers. It also means short-sellers, who have made big bets that the stock would keep falling, are getting crushed by Winfrey.
About 15% of outstanding Weight Watchers shares were loaned out to short-sellers at the end of September, according to Bloomberg data. Short-sellers borrow stock and then sell it, betting that they will be able to buy it back at a cheaper price in the future. When shares unexpectedly rise — for example, when a famed media tycoon commits to reviving a struggling company — short-sellers scramble to buy the stock before its rising price ruins their bets. The scramble to buy can itself cause the price to rise even further.
Weight Watchers' market capitalization now sits at just below $800 million, meaning Winfrey has, in a day, generated almost $400 million in value. Before her investment was announced, the stock had declined 73% since the end of 2014. It peaked at $85.25 in 2011.
The stock fell to a low of under $4 this year, with the business declining and investors worried that the company barely had enough cash on hand ($150 million) to make a debt payment of $144 million next April.
In an August financial filing, Weight Watchers said it was forecasting revenue for the 2015 fiscal year to decline to $1.15 billion, down from $1.5 billion last year. The company has just over $2 billion in long-term debt.