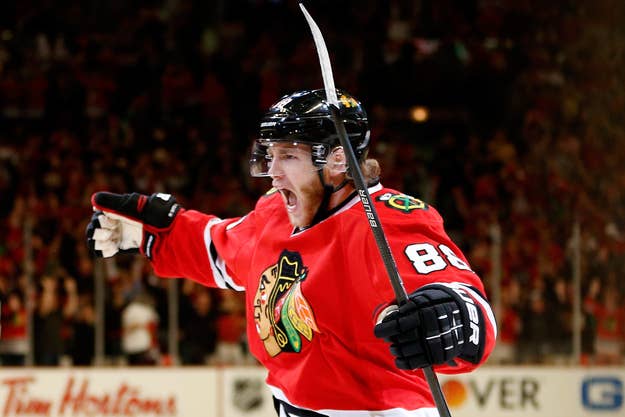 Wings + Beer + Sports = Raised second quarter same store sales and earnings-per-share estimates for restaurant chain Buffalo Wild Wings.
While most investment bank stock research notes include all sorts of very specific and often obscure financial models and economic metrics, one put out today by Lazard employed the simple math above to arrive at its conclusion.
The note, by analysts Matthew DiFrisco and Phan Le, points out that there are going to more Stanley Cup playoff games through all of June, compared to just five last year (editor's note: Wall Street research isn't always the most groundbreaking).
"NHL Stanley Cup playoff match ups and scheduling appear very favorable for [Buffalo Wild Wings'] May and June 2013 when compared to the same period a year ago," the analysts wrote as the basis for raising the bank's prospects for the restaurant chain's same-store sales and earnings per share for the second quarter.
Lazard expects Buffalo Wild Wings' same-store sales to jump 4.5 percent, up from their previous estimate of 3.5 percent, thus bringing second quarter earnings-per-share to 78 cents from 69 cents.
The first finals game, between the Chicago Blackhawks and the Boston Bruins, is scheduled for Wednesday night and, if the finals go seven games, the last one would not be until June 26. While the NHL as a whole might be struggling following its lockout, the late and compressed schedule means more beer, more wings, and more sales for Buffalo Wild Wings.
And while the NBA and ABC are probably disappointed that a team full of nationally prominent starts like the Lakers or the Oklahoma City Thunder didn't come out of the Western Conference to face the Miami Heat, the particularities of Buffalo Wild Wings make the Spurs matchup favorable: about ten percent of the company's national footprint is in Texas, according to the Lazard analysts. Also, the Blackhawks return to the Stanley Cups Finals "will likely draw greater interest from BWLD's large Midwest markets."
While the NHL and NBC finals are expected to provide Buffalo Wild Wings with a boost, mixed martial arts and boxing are expected to be a drag: there's one less UFC pay-per view event and one less marquee boxing match, according to the analysts.
So, even though HBO has had more fights in this year's second quarter, "the quality of last year's fights had stronger mass appeal as it included a Pacquiao fight."
But overall, the analysts think a lot of people will be sucking down wings and beer at the restaurant chain for the remainder of the second quarter. Its biggest downside risk, they said, is "rising wing prices."