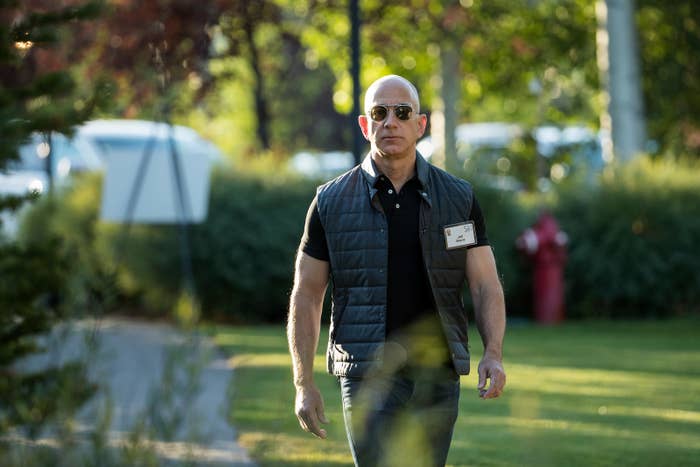 Amazon's stock price soared to more than $1,000 per share in after-market trading on Thursday after the company reported higher-than-expected revenues and offered an optimistic projection for its next quarter, which includes the critical holiday season.

Amazon's total sales were $43.7 billion, up 34% from the third quarter of last year, when the company sold $32.7 billion worth of everything from toilet paper to streaming movies. Analysts had predicted just over $42 billion in revenue.
The company attributed $1.3 billion of the revenue figure to Whole Foods, which Amazon bought on Aug. 28. Amazon slashed prices on a number of popular items at Whole Foods after it completed the merger.
In Whole Foods' fourth quarter of 2016, which ended on Sept. 25, it had $3.5 billion of sales. By comparison, Amazon's most recent quarter ended on Sept. 30, indicating that Whole Foods' revenues have not changed drastically under Amazon's control.
As usual, the company's profits were relatively small — $256 million, or 52 cents per share, almost flat with the third quarter of last year as it plowed money back into the business. In the last three months, for example, Amazon bought $2.7 billion worth of property, equipment, and software, along with the over $13 billion it spent to acquire on Whole Foods.

The company's shares closed Thursday at $972, but surged almost 8% to $1,047 per share in after-market trading. Going into today's earnings report, Amazon shares had risen almost 30% this year.

While Amazon is still worth less than giants like Apple and Alphabet, analysts have long expected it to top the psychologically meaningful number of $1,000 per share. The company had first hit the milestone in May before dipping back under. After Amazon reported a massive increase in its "Prime Day" sales, the stock went over $1,000 in July.
The company said it expected between $56 billion and $60.5 billion of sales in the fourth quarter, which is always the company's biggest. In the fourth quarter of 2016, Amazon had $43.7 billion worth of sales, meaning that it expects an increase of 28% to 38%.