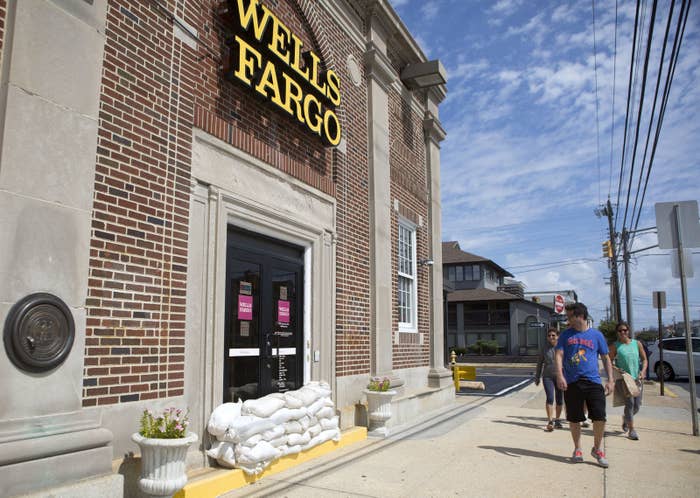 Wells Fargo will pay $185 million in penalties after admitting its employees set up unauthorized credit and debit accounts for customers, even on occasion transferring money between the accounts without the customer's knowledge and permission.
Of the $185 million to be paid to regulators and local authorities, $100 million will go to the Consumer Financial Protection Bureau — the largest such fine ever levied by the CFPB.
Bank employees opened over 1.5 million accounts "that may not have been authorized and that may have been funded through simulated funding or transferring funds from consumers' existing accounts without their knowledge or consent," according to data collected by a consultancy hired by the bank.
The same analysis showed Wells Fargo collected around $2 million in fees from just 85,000 of these unauthorized accounts.

The details were made public by the Consumer Financial Protection Bureau, one of the regulators involved in the settlement. Wells Fargo will pay $100 million to the CFPB — the largest penalty ever levied by the financial regulator, for what it calls "the widespread illegal practice of secretly opening unauthorized deposit and credit card accounts."
The bank has been investigating sales practices among its employees since 2011, and has fired over 5,000 employees since then in connection to the investigation.
Bank employees also applied for over 500,000 unauthorized credit card accounts, and used fake email addresses, to set up online banking accounts for customers without their consent, the regulator said.

The bad behavior was the result of an internal culture based around sales targets, which encouraged bank employees to sell as many services as possible. Wells Fargo "sought to distinguish itself in the marketplace as a leader in 'cross-selling' banking products and services to its existing customers," the CFPB said in its consent order with the bank.
"What happened here instead is that Wells Fargo built an incentive-compensation program that made it possible for its employees to pursue underhanded sales practices, and it appears that the bank did not monitor the program carefully," said CFPB director Richard Cordray.
Federal regulators were not the only ones looking into the bank. The Los Angeles City Attorney Mike Feuer sued the bank in May of last year, alleging its staff engaged in "unfair, unlawful and fraudulent conduct" due to pressure from strict sales quotas. The City Attorney ended up getting a $50 million penalty from Wells Fargo, the largest in his office's history.
In a statement, Wells Fargo said it had "reached these agreements consistent with our commitment to customers and in the interest of putting this matter behind us. Wells Fargo is committed to putting our customers' interests first 100 percent of the time, and we regret and take responsibility for any instances where customers may have received a product that they did not request."
The bank said it had completed its own review of its sales practices, beginning in 2011, and had paid out $2.6 million in refunds for an average of $25 per customer. CFPB director Cordray said the "full extent of appropriate refunds is not yet known."
"Our entire culture is centered on doing what is right for our customers," Wells Fargo chief executive officer John Stumpf wrote in a letter to employees. "However, at Wells Fargo, when we make mistakes, we are open about it, we take responsibility, and we take action. Today's agreements are consistent with these beliefs."