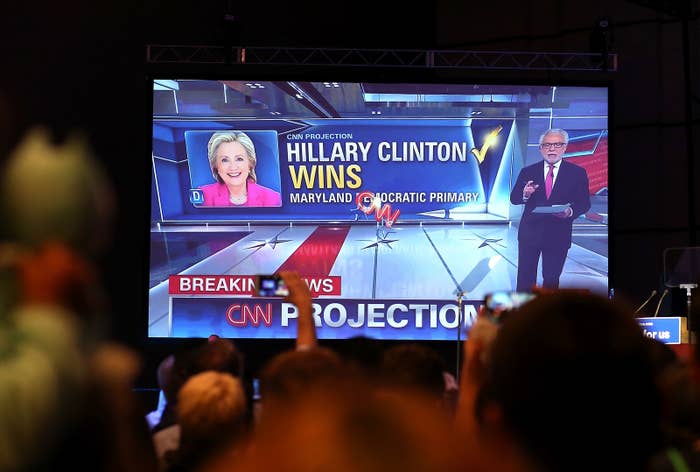 Wall Street traders have joined Washington leaders in voicing skepticism that AT&T will complete its proposed $85 billion purchase of Time Warner, with shares of both companies falling Monday.
Time Warner stock ended the day down 3%, hitting $86.74 per share — 19% below the $107.50 that AT&T has agreed to pay. While it's not unusual for a stock to trade below the price agreed on with a buyer, the size of the discount suggest serious doubts among investors that the deal will really happen.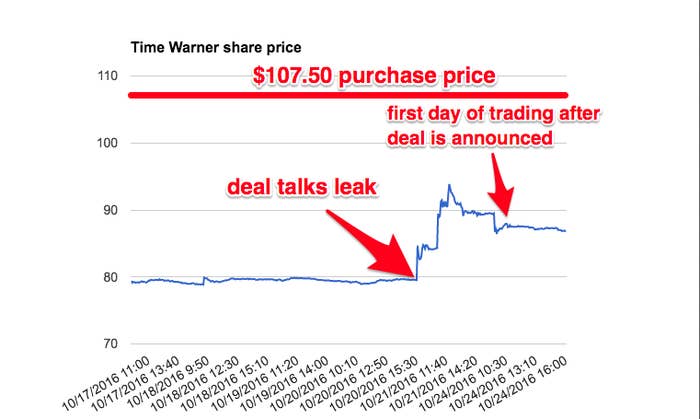 "There's certainly doubt," Sean Stannard-Stockton, the chief investment officer of Ensemble Capital, told BuzzFeed News. "At $87.50 [the price Time Warner shares were trading at Monday morning], there's risk being priced into the market that it doesn't get done."
Stannard-Stockton, whose firm owns Time Warner shares, said the $85 billion deal undervalues the media giant, which owns CNN, HBO, and Warner Bros.
The Wall Street Journal cited an anonymous investor saying Time Warner's falling stock price implies that the deal has a 40% chance of being completed. It could take a long time for such bets to pay off either way — when Comcast pursued NBCUniversal in 2011, the deal took 13 months to get approved. Comcast's attempt to purchase Time Warner Cable took over a year to fizzle out.
As news of the latest deal emerged in recent days, politicians from across the political spectrum, including both presidential candidates, raised questions about the sale. They ranged from outright opposition from Donald Trump and Bernie Sanders to serious concerns from Tim Kaine and Hillary Clinton. Many worried about the impact on consumers of a deal that would unite AT&T's massive broadband internet, satellite, and mobile phone networks with Time Warner's movie studio and prestige cable channels.
Sen. Pat Leahy joined the fray on Monday. The ranking Democratic member of the Senate Judiciary Committee said it should hold a public hearing on the deal "without delay" and said it "raises potentially serious questions about competition, consumer choice, and privacy."
Leahy's counterpart on the Judiciary Committee, its chairman Chuck Grassley, had a more measured statement, saying that it was "imperative that the antitrust regulators conduct a robust review of the proposed acquisition," and noting that the senate his committee "can and will conduct oversight and ask questions about the transaction."
AT&T executives expressed confidence that the deal would ultimately be approved, noting that the company is not buying a competitor in a so-called "horizontal" merger, but instead acquiring a complementary business in a different part of the industry.

"When you're looking at the modern history of media and the internet, the US government has always approved vertical mergers like this," AT&T's general counsel said in a call on Monday.
But some said that with a Democratic presidential victory looking likely, the new administration could use its mandate to push an expanded agenda for blocking corporate consolidation, moving beyond the current approach to antitrust enforcement that focuses on whether direct competition would be affected.
"Clinton could view this deal as an opportunity to broaden the frame of analysis that the antitrust enforcers use beyond the narrow consumer welfare test," Teddy Downey, the chief executive of The Capitol Forum, wrote in a note today. "This deal, if challenged, would send a message that antitrust enforcers are again willing to challenge vertical deals."
The AT&T deal, Downey told BuzzFeed News, could run into trouble because it would give a massive distributor outsize power in the online video market, particularly thanks to HBO, which now has almost a million subscribers to its HBO Now streaming service.
When the Justice Department and Federal Communications Commission effectively killed Comcast's attempted acquisition of Time Warner Cable last year — a classic horizontal merger of two competing broadband providers — it pointed to the possible negative effects on providers of streaming video. Consolidation of the industry could eventually mean streaming video businesses would be forced to strike distribution deals with broadband providers, replicating the cable TV model that the internet has disrupted.
"AT&T wants a cable-type ecosystem for wireless, for broadband, for any kind of distribution," Downey said.
One of the lead government attorneys in reviewing the Comcast–Time Warner Cable deal, Renata Hesse, is now the acting head of the Justice Department's antitrust division. In a closely watched September speech, she said that antitrust laws "were intended to benefit participants in the American economy broadly" and that "measuring the effect on price and output is not required in every merger case."
What remains to be seen is how major streaming video players like Google, Facebook, and Netflix react to the proposed merger. The companies have yet to comment, but Disney — which would be overtaken by the combined AT&T–Time Warner as America's largest media company — said the deal "warrants very close regulatory scrutiny."
UPDATE
This story has been updated with Chuck Grassley's statement.