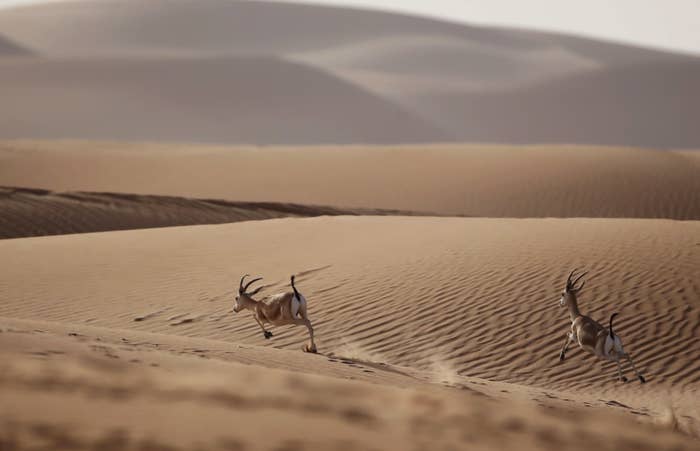 America's big banks are finally taking on Venmo.
A long-promised system for instant money transfers is launching this month, promising a quick, easy way to send money between tens of millions of customers at many of the biggest US banks.
The service will allow transfers "from one bank account to another in minutes, using only a recipient's email address or mobile number," according to its backers. It will be integrated into existing mobile banking apps under its brand name, Zelle. You know, like a gazelle.
More than 30 banks plan to introduce the service in the coming year, including major institutions like Bank of America, Chase, Wells Fargo, Citi, U.S. Bank, First Bank, and Fifth Third.
This might sound like an old-school group of institutions not known for their prowess with slick mobile apps. But don't worry: Zelle is all about the kids. There's even a photo of avocado toast on its website.
They get it.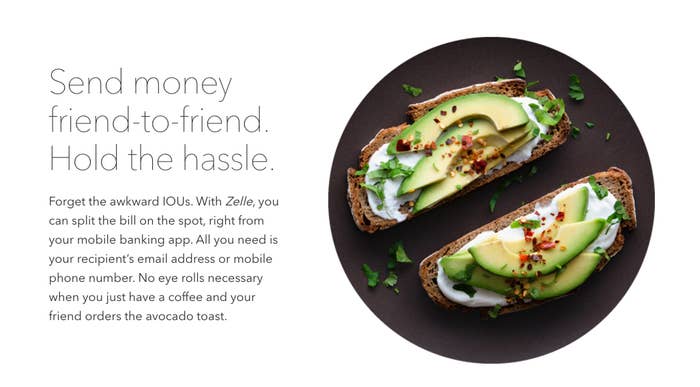 The banks have spent six years working on the systems to support the new service, and in that time, Venmo and other mobile money apps have picked up millions of loyal users. Even without the promise of they money instantly hitting bank accounts, $17.6 billion was moved over Venmo in 2016, with monthly payment volumes doubling. The service has become ubiquitous among younger users.
Venmo was founded in 2009, and banks began working on their own infrastructure for instant transfers in 2011. They first introduced a service called ClearXchange, which made many of the same promises that Zelle makes: fast, easy money transfers using only an email address or phone number. But the service would work only between accounts at the few participating banks and did not catch on. The latest iteration of the service will work across all participating banks — a list that currently includes all the major US banks — and will eventually allow "nearly anyone with a US-based debit card" to download the Zelle app and use the network in "the coming months," Early Warning Services said today.
And while banks worked on an industry-wide system, tech companies like Facebook, Square, and PayPal itself launched their own person-to-person mobile transfer services. Just last week, Apple announced its iMessage system would allow money transfers between friends, built on Apple Pay.
CORRECTION
ClearXchange, the predecessor to Zelle, allowed transfers between participating banks. An earlier version of this post said it was just within the same bank.