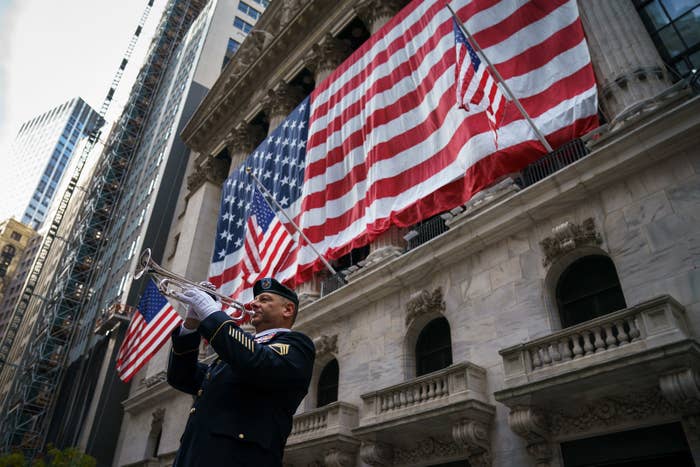 For nearly everyone on Wall Street except the once-mighty bond trader, bonuses are expected to jump across the industry, according to a recent report from Johnson Associates, a consulting firm.
Overall bonus pay is expected to rise between 5% and 10% on Wall Street, the report said, "marking the first significant jump in incentive payments since 2013."

The biggest increases in bonuses will be reserved for bankers who work with companies to issue stocks and bonds, the study found, while those who work with clients to trade those securities are expected to see their bonuses fall from 2016.
Alan Johnson, the managing director of the consulting firm that bears his name, attributes the expected jump to the strong stock market as well as "a favorable political and regulatory environment," for the nation's financial firms. All this, he writes in the report, means that "incentives will be up noticeably, especially in asset management and investment banking."

By comparison, average hourly wages for American workers have risen less than 2.5% in the past year, and annual growth hasn't been above 3% since the Great Recession. Morgan Stanley analysts predicted that wage growth wouldn't reach that rate until this summer.
But the Johnson Associates report does predict a downturn for the bond traders who used to dominate Wall Street firms. This sector of the industry has been beset by a largely placid and gently rising market, which generates little of the volatility needed to force banks' big clients to trade. Johnson Associates predicted that their bonuses would fall between 5% and 10%.
In its most recent quarter, Goldman Sachs generated $1.45 billion in revenue from its fixed income, commodities, and currencies business, a 26% decline from the quarter before. The megabank's chief financial officer, Marty Chavez, attributed the results to low "volatility and client conviction." At JPMorgan Chase, fixed income revenues declined 27% in the third quarter, which its CFO, Marianne Lake, attributed to "volatility and tight spreads."
Johnson Associates forecasted that bonuses for equities traders will at best stay flat or fall 5%. Executives across Wall Street have blamed lackluster results on derivatives, the financial instruments whose prices are based on another asset. Stock derivatives especially are a big business for investment banks equities divisions.

Lake partially blamed a decline in JPMorgan's equities business to "lower flow in exotic derivatives activity," while Chavez of Goldman Sachs lamented a "limited opportunity set in derivatives."