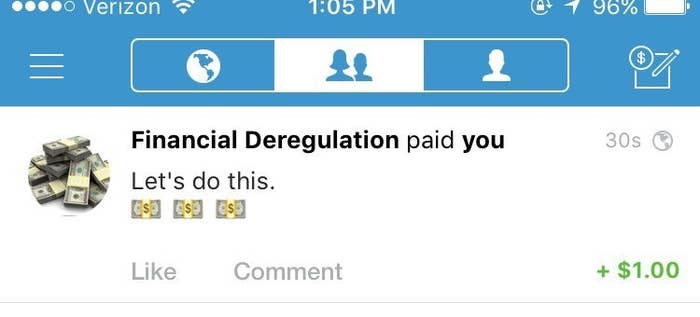 Efforts to overturn Obama-era rules for the financial industry could also cut back government oversight of fast-growing digital payments apps from companies like Venmo, PayPal, and Google.

Digital wallet apps have been rapidly adopted by young people, with Venmo now "almost ubiquitous" among people under 30, according to PayPal's CEO. While they were not the main focus of a 1,600-page set of new financial industry rules finalized in 2016, the apps are subject to many of its requirements.
Those requirements, including clear disclosure of fees and protection against fraudulent charges, are extended to apps like Venmo and Paypal Wallet — something that PayPal, which owns both apps, opposed while the rule was being formulated.
PayPal and Venmo declined to comment on whether they support the current effort to scrap the rules in their entirely. But when the Consumer Financial Protection Bureau was drafting the rules, both wanted to be exempted from them.
"Regulating products that do not pose the risks of consumer harm that the Bureau seeks to target...would stifle innovation in the digital and mobile payments space," PayPal said in a 2015 letter, "impairing the ability of companies like PayPal to develop new, valuable products."

Prepaid debit cards are the main focus of the rules, which are scheduled to go into effect in October.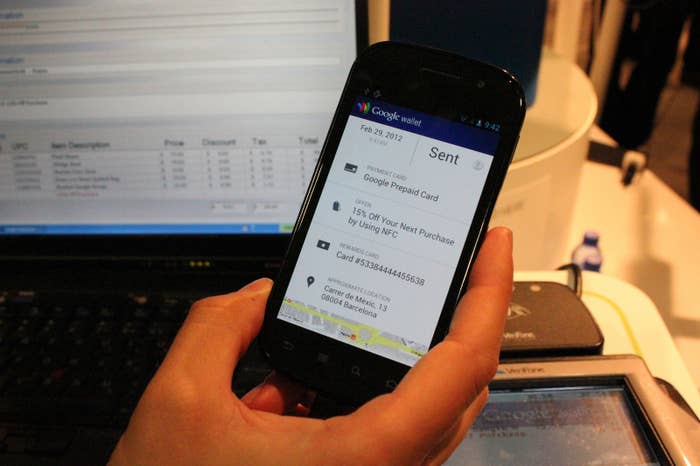 Republicans in the House and Senate have proposed killing the rules entirely using the Congressional Review Act, which allows Congress and the president to strike down regulations finalized in the last 60 "legislative days" — a period that effectively dates back to mid-June.
The process, which cannot be blocked by the Democratic minority, has already been used to kill off a rule requiring coal companies to repair environmental damage to rivers as well as one that would have required energy companies to disclose payments they make to foreign governments.
PayPal declined to comment on efforts to overturn the financial rules, but it has lobbied Congress, according to its disclosures, on "issues related to prepaid accounts and digital wallets." The company spent almost $1 million on lobbying in 2016; in its most recent annual report it listed implementation of the rule as a risk facing its business.
App makers and the trade groups that represent them have made familiar arguments against the rules: Consumers don't need them, they'll be expensive to implement, and they'll slow down one of the only sources of innovation in the sleepy world of consumer finance.
Google, which embeds its payments software in its Android mobile operating system, did not mention the rule in its recent annual report. But it made similar arguments to regulators, telling the CFPB in a letter that there was "little need for heavy-handed regulation" of payment apps, and that such rules "risk inadvertently stunting the continuing development of these products."
Google declined to comment, but referred BuzzFeed News to Financial Innovation Now, a coalition of six large tech companies including PayPal and Google's parent company, Alphabet, that work on issues related to regulation of financial technology.
The fee disclosures required by the new rules present an "engineering challenge" that is "not insignificant" for digital wallet providers, said Brian Peters, the head of Financial Innovation Now. Peters is also a partner at Franklin Square Group, a DC lobbying firm that works for many technology companies.
The rules will also make it harder for these companies to combine digital wallet and payment apps with credit features, Peters told BuzzFeed News.
"We have been engaged with policymakers simply to say that we have some concerns with the implementation timeline and that's what we've been saying," Peters said. He also said the group wasn't working on getting the rule repealed in its entirety, unlike some other financial industry trade groups.
One such group, the Electronic Transactions Association, has opposed the rules entirely and pushed Congress to scrap them.
"We're concerned that the final rule creates a chilling effect, if you're taking an existing product and bootstrapping regulation on person-to-person and mobile transfers," Scott Talbott, the group's head of government relations, told BuzzFeed News.

But others have applauded regulators for extending rules covering traditional financial products into the digital world.

"Usually regulators in Washington only discover concerns or problems after they've grown pretty quickly,' Aaron Klein, a former Obama Treasury official and Brooking Institution fellow, told BuzzFeed News. "To me it should be a huge mark of progress that regulators are thinking not so much such about solving today's problems, but tomorrow's concerns before they metastasize into a more problematic conduct."