U.S. Economy Expanded At A 5% Annual Rate In Third Quarter
New data shows the economy is growing at its fastest pace in a decade.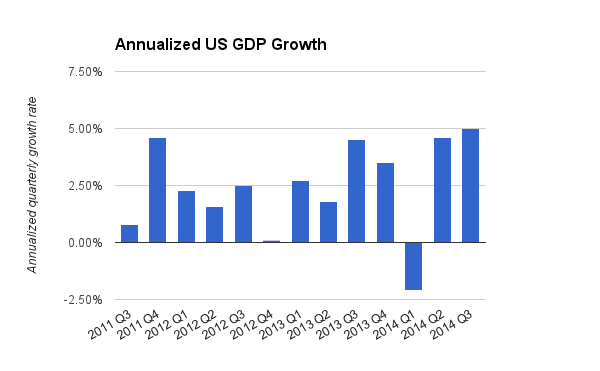 The U.S. economy has been expanding even faster than we thought.
The Commerce Department on Tuesday reported that U.S. gross domestic product grew at a 5% annual rate in the third quarter of this year, up from 4.6% in the second quarter.
The quarterly growth rate had hit 4.6% only once in the last three years, and the 5% annual clip is the fastest the U.S. economy has grown in a quarter since 2003, according to data collected by Bloomberg.
An earlier version of the third-quarter data showed the economy growing at a 3.9% annual rate.
The Commerce Department credited consumer purchases, business investment, spending by the federal government, and more exports for the quick growth seen in the second half of the year.
Despite sluggish growth in the rest of the developed world, especially in Europe, the U.S. has benefitted from several economic tailwinds. Notably, gas prices have dropped 27% in the last year. Those low gas prices helped buoy personal consumption, which makes up for about 70% of gross domestic product — personal consumption grew 3.2% in the third quarter, up from 2.5% in the second quarter.
U.S defense spending increased at a 16% annual rate in the last quarter after falling for most of the last three years.
The strong growth isn't just seen in the gross domestic product statistics, it's also seen in an resurgent labor market. The economy added 321,000 new jobs in November and in the last three months has averaged 278,000 new jobs added.
In 2013, some 194,000 were created each month on average, while this year about 241,000 jobs have been added every month on average.