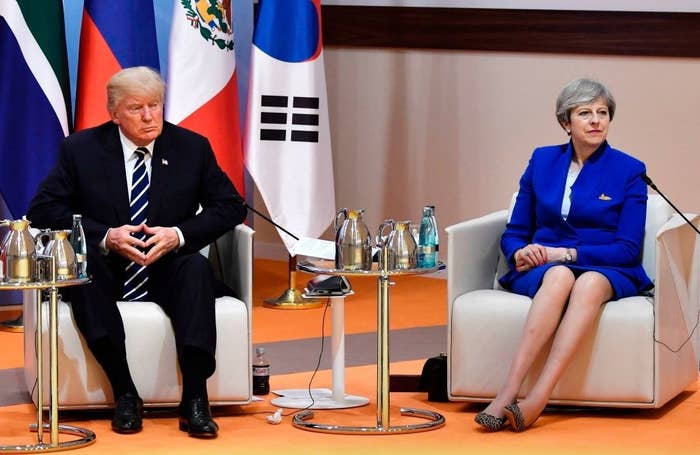 The Trump White House has publicly built up expectations for a quick US–UK trade deal. President Trump himself has said on Twitter that he's "Working on major Trade Deal with the United Kingdom." The White House's new communications director, Anthony Scaramucci, told the BBC that he was "100%" certain a deal was in the works, adding that the president "loves the United Kingdom." On a recent trip to the US, the UK's Secretary of State for International Trade Liam Fox talked up the prospects for a "comprehensive" free trade agreement.

Despite wishful listening in the UK to such promises, the chances that Trump will be able to deliver such a trade deal seem tough as the president struggles domestically to push through campaign promises amid a Russia investigation, an unstable staff, and a divided and directionless Congress. Efforts to repeal Obama's Affordable Care Act failed on Friday.
"They can't do simpler things like corporate income tax, which has bipartisan support. In six months they haven't done anything about it. Why would they be able to do a trade agreement," Simeon Djankov, former finance minister of Bulgaria and a nonresident senior fellow at Peterson Institute for International Economics, told BuzzFeed News.
Then there's the reality that the UK cannot sign onto a trade deal until its negotiations to exit the European Union are wrapped up or it leaves without a deal in 2019, and still lacks consensus about what it wants from any deal.
What, then, accounts for leaders' public optimism that they can get one worked out quickly?
Largely, leaders think a major deal would serve their interests. For the British, a deal is critical to illustrate that leaving a massive trade bloc is not an impediment to pursuing trade liberalization elsewhere. For the US, a deal would shore up the UK's decision to leave the EU, which Trump famously supported, and would demonstrate to the world that the US was serious about negotiating new bilateral trade deals and not just solely pursuing protectionist polices.
"The administration could use this," Claude Barfield, a scholar at the American Enterprise Institute and a former consultant to the US Trade Representative, told BuzzFeed News.
Fox is getting working groups underway so formal negotiations can begin once they are free to do so. Actually reaching a deal will be a thorny process, however, as even seemingly small but touchy subjects such as whether the UK will allow imports of US chicken dipped in chlorine, which is prohibited by EU rules, will need to be addressed.

"Just because you have a working group doesn't mean you'll proceed quickly," said Barfield.
A US Trade Representative official told BuzzFeed News conversations have "focused on what both sides could do in the short term to facilitate bilateral trade and investment, consistent with the UK's obligations as a member of the EU until it leaves."

Yet at this time, there's hardly a consensus in the UK about what kind of deal to pursue. Adam Marshall, the director general of the British Chambers of Commerce, wrote in The Observer that he was "distinctly uneasy" about a major deal. "It is a stark fact that the US has many of the world's toughest and most seasoned trade negotiators, whereas the UK has ceded its policy and knowhow to the European Commission for decades," Marshall wrote.
A more realistic look at the prospects of a deal is more than warranted, Djankov said. For one, the UK's plate is full with its EU negotiations. And because the European Commission itself did trade negotiations for the entire bloc, there has been a frenzy of hiring and reassigning civil servants to work on trade negotiations.
"Britain basically has given up the power and authority to negotiate international trade agreements," Ray Raymond, a former British diplomat and professor at SUNY-Ulster, told BuzzFeed News. "It doesn't have an experienced cadre of trade negotiators that it can actually put into negotiations right now anyway."
The realities are hard to deny. In a talk at the American Enterprise Institute earlier this week, Fox said, "It would be nice to think we can get a full free trade agreement by the time we get to March 2019. But that would be an optimistic view of recent free trade agreements."

The White House declined to comment for this story.