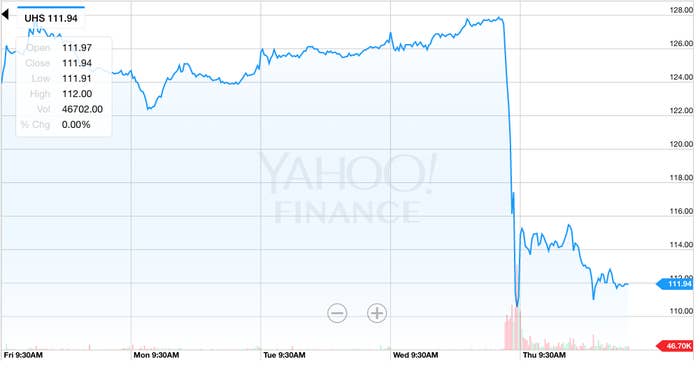 Hospital operator Universal Health Services has lost more than $1 billion in market value in the wake of a BuzzFeed News investigation into the company, which is currently under investigation for Medicare fraud.
The company's stock fell 12% in the hours after the story was published on Wednesday, in the largest single-day drop for the company since 2004. At current prices, UHS is valued at $10.8 billion, down from $12.3 billion at the close of trading on Tuesday.
The impact of the story on the company's stock price was surprising, UHS chief financial officer Steve Filton said at an investor conference Thursday.
"We didn't anticipate a dramatic decline in our stock price," Filton said. "The stock has rebounded a bit, we're pleased with that. The stock dropped 12%, but nothing about the fundamental trajectory of our business has changed."
UHS shares rose during Filton's talk on Thursday — at one point, the stock was up almost 4% — but they later backed down, closing the day up 1%.
Whit Mayo, an analyst at investment company Bair, said in a note that the firm's clients were "shocked" at the report, which caused a larger-than-expected fall in the UHS stock price. "Our gut says yesterday's 12% sell-off was overdone," Mayo wrote, saying the article led to "numerous calls" with clients that invested in the company.
"The story is truly shocking," Max Jacobs, director of healthcare research at the investment research firm Edison, told BuzzFeed News. "Judging by the reporting and the number of investigations that are ongoing, I would just guess there's plenty more coming out."
Filton told conference attendees that UHS "found the article to be overly anecdotal," saying that the length of time patients stay at their mental health facilities are typical for the industry. "The notion that we decide and manipulate how long they stay and when they're admitted is very misleading," Filton said.
Ana Gupte, an analyst at healthcare-focused investment bank Leerink, wrote in a note to clients that while the story was "anecdotal" and "biased focusing only on negative feedback," its impact on the stock "underscores the risk that investors in Mental Health providers face on clinical practices at least from a PR standpoint and with associated legal and regulatory downside."