Twitter Is Now Worth About $25 Billion After Its First Day Of Trading
After pricing its IPO at $26, Twitter ended its first trading day at $44.94, up 73%.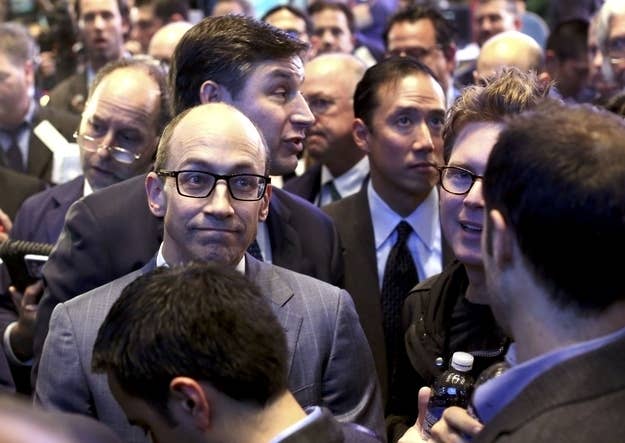 Twitter shares ended the day up 73%, closing its first day of trading at $44.94 and well above its initial public offering price of $26.
That means Twitter, which is currently not profitable and whose user growth has stalled slightly, is worth about $25 billion before restricted stock units and options. It also means that Twitter's co-founders and its CEO Dick Costolo are worth a collective $4 billion. (Noah Glass, also a founder, does not have a stake in the company.)
Twitter's stock price briefly neared $50 just after the company made its trading debut at around 10:49 a.m. ET, but for much of the day floated around $46. Investors shrugged off concerns about the company's growth in both profitability and users, which means they expect the company to continue growing healthily and then becoming profitable in the future.
Twitter in total raised about $1.8 billion (not including greenshoe), which means that the company left at least $1 billion on the table by not pricing the IPO closer to what investors were paying for when trading began at the beginning of the day. It also means that, despite being a pretty large IPO, it's not one of the biggest of the year.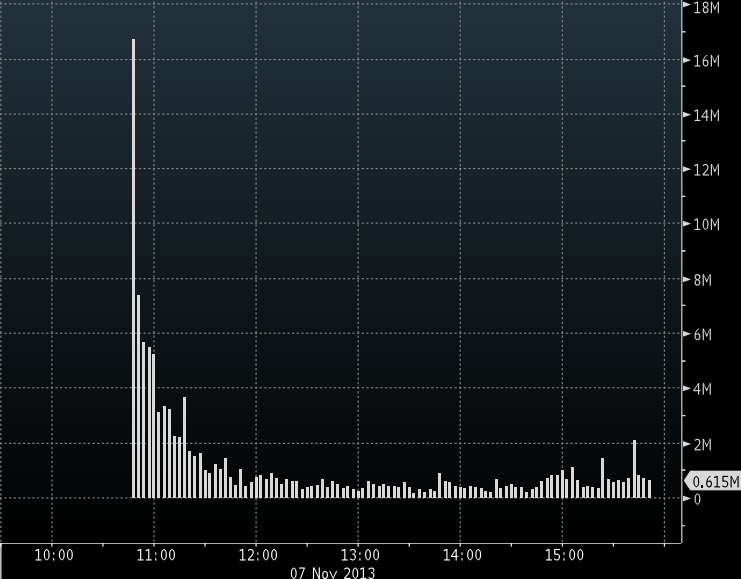 In the opening hours, tens of millions of shares changed hands, though trading quieted out toward the end of the day as Twitter leveled off at around $46.
Twitter was the seventh largest global IPO this year...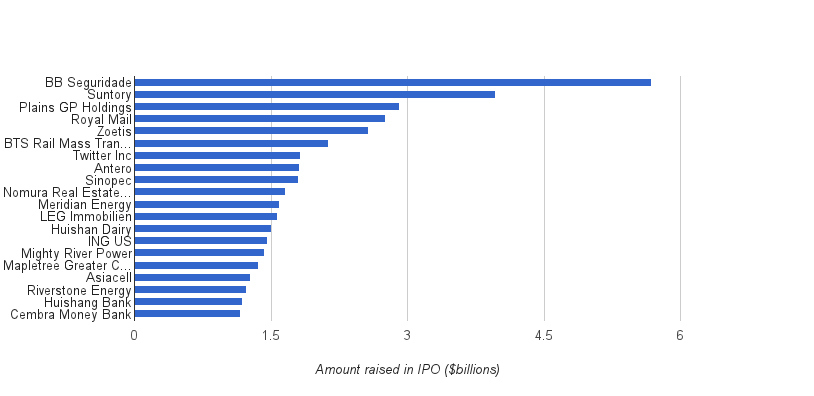 ... and was one of seven U.S.-based internet companies that raised more than $1 billion.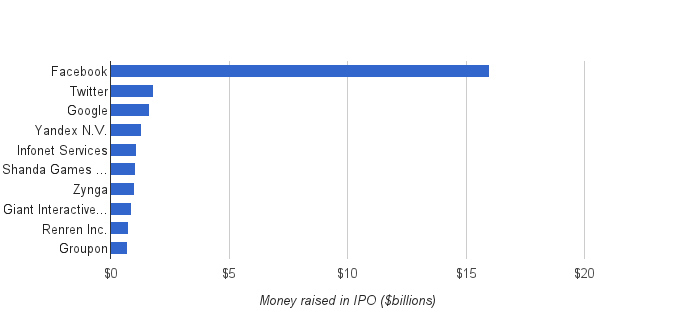 Twitter jumped 73% today from its IPO price, the 14th biggest pop this year.
Some of Twitter's power users rang the opening bell at the New York Stock Exchange this morning as part of a tribute to its user base. The company's trading debut wasn't marred by technical glitches on its first day of trading, like Facebook's was when it began trading on the NASDAQ.
"This went very well," said Scott Cutler, head of global listings and executive vice president at NYSE. "This was fantastic pricing, our goal was transparency around process. There was never a moment I was worried this a.m. about our tech systems."
After ringing the opening bell, the co-founders and Costolo paid a visit to Twitter's New York office. Meanwhile, Twitter's investors and other executives performed a victory lap.
It was an early start for Twitter employees, some of whom made it to the office well before the sun was up. Twitter provided them with doughnuts and cream-filled cronuts as they crowded in the cafeteria section, watching Costolo and the founders ring the opening bell on giant screens.
Following a morning frenzy in the office, it was back to work, though it was clear that some employees were taking more than a few moments to check out the stock price. About 90% of the stock Twitter has distributed to employees began in early 2012 when it ramped up hiring, according to The Wall Street Journal.

Twitter's early investors also took to the service to do a little bit of humblebragging, as their stakes are now worth billions of dollars.
Still, Twitter ended the day actually lower than where it opened, closing just below $45.