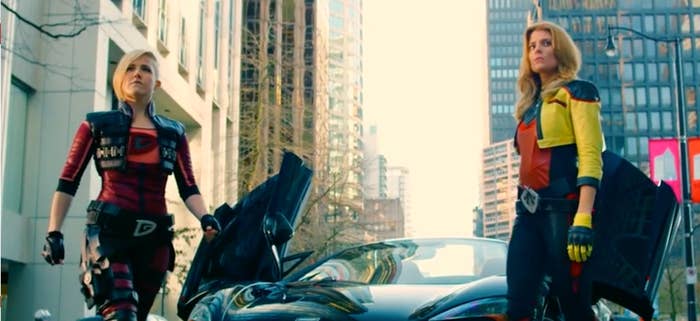 Imagine if every trending topic about '90s nostalgia and current-day social media stars manifested itself as a TV channel — and not just a doomed-to-obscurity channel trapped inside cable boxes, but a web-based one, streaming to anyone with a browser or a smartphone.

Imagine that, and you have something that would look vaguely like fullscreen, the product of a partnership between AT&T and former News Corporation executive Peter Chernin.
Fullscreen's offering is a mix of two distinct kinds of media, united by their trendiness among the social media crowd: Iconic 1990s reruns, and new stuff made by YouTube stars. The service launches April 26, will cost $4.99 a month, and will be available as an app and a website.
Its licensed video is a lineup of nostalgia-tinged, teen-friendly shows like Dawson's Creek, Saved by the Bell, and Daria along with movies like Cruel Intentions and Can't Hardly Wait. Some of these shows were off the air entirely by the time a good portion of fullscreen's target audience was born, although a brief dive into the BuzzFeed archives shows interest remains high:
18 Reasons Kathryn From "Cruel Intentions" Was The Baddest Bitch
13 Reasons Why Pacey Was So Much Better Than Dawson
28 Daria Quotes For Any Situation
How Much Have These "Saved By The Bell" Cast Members Changed Over The Years?
Fullscreen's audience, according to founder George Strompolos, is teens and young people, from 13 to 30. Or as he puts it, young millennials and Generation Z.
But they can't live on '90s nostalgia alone, so fullscreen will also be loaded with the work of social media stars like Grace Helbig — work that a company like Fullscreen has easy access to. Fullscreen started out as an online video network that tied together YouTube stars with marketing, production, and advertising support, and that network already boasts 600 million subscribers and 5 billion video views a month.
"There's really a generation of millennial and Gen Z audiences where their idea of entertainment is delivered through social media. They've fallen in love with a new generation of stars, creators, personalities and formats," Strompolos told BuzzFeed News, "Those creators want to do their best work."

Strompolos says that if you were starting something like MTV today, "you would probably do on the internet, hyper focused on social, you would probably create content with actual creators that resonate with young people, and you might spend less time focused on linear television."

So why is AT&T, which owns both U-Verse and DirecTV, investing in a business that's premised on the collapse of old-school TV viewing by young people?

The telecom giant is "one of the largest providers of video in the world," Strompolos says. "It's important to them over the long term continue to have customer relationships with the younger demographic."
AT&T will also help promote fullscreen, including via "special offers" to its more than 100 million customers. It will include some fullscreen programing it on its AUDIENCE network, which is available on DirecTV and U-Verse.
AT&T is not the only old-school TV giant dumping money into new media. Disney and Fox have invested hundreds of millions of dollars into Vice, NBC/Universal has poured money into both Vox Media and BuzzFeed, and Time Warner bought Bleacher Report and has a stake in Mashable.
"People want to be entertained, they want to feel something emotionally, they want to laugh, they want to cry," Strompolos says. And beyond those hallmarks of media both old and new, there's another part of fullscreen's offering that old-school companies are yet to master: viewers will have access to a "badass GIF creator."
Strompolos pronounces it "jif."