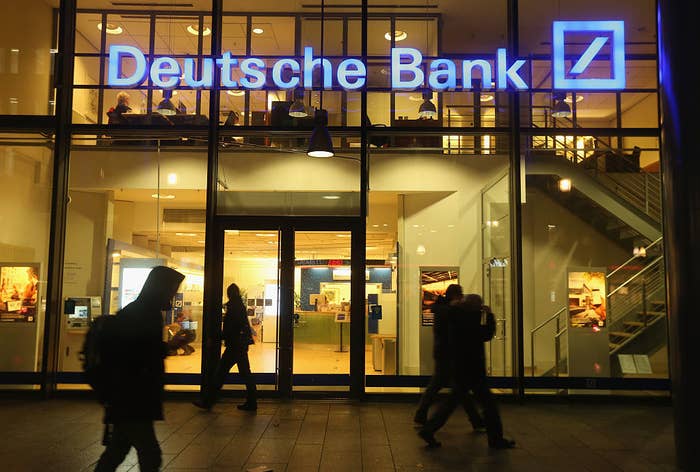 Donald Trump's favorite bank is doing great following his shock electoral victory, with its shares outpacing its rivals and European stocks generally since Tuesday.

Deutsche Bank is virtually the only major financial player that has been willing to finance Trump's real estate projects in recent years. According to his campaign filing, Trump owes Deutsche Bank hundreds of millions of dollars.
The bank's shares, which had fallen precipitously so far this year as the bank faced massive legal issues and questions about its high-flying, trading-heavy business model, closed up 4.5% today in trading in Germany and up almost 15% since the election, reaching €14.75, its highest level since June. The Stoxx 600, a broad index of European stocks, is up less than 1% since the vote and a fund that tracks European bank stocks is up 3.7%.
The bank is currently negotiating with the Department of Justice over a settlement to resolve accusations of wrongdoing in selling mortgage-backed securities before the financial crisis. The company's stock tanked in September when the Wall Street Journal reported that the Justice Department was seeking as much as $14 billion, a number that would outpace nearly all past settlements reached with big banks for their pre-crisis activities.
Banking analysts have long thought that that Deutsche Bank often faced harsher treatment from US law enforcement and regulators.

The bank has said that it will pay nowhere near that amount and analysts have predicted a payout of around $3 billion, based on the size of its mortgage backed securities business and what other banks have paid in the past.
But those plans may be scotched if political appointees in the Justice Department rush to finish up a deal before negotiations restart under a Trump administration. "Accelerating litigation settlements with banks may be one way to end a DoJ tenure with a sense of achievement. Swifter resolution would likely result in smaller settlements for the banks, since larger fines could lead to (potentially lengthy) court cases," Mike Harrison and Jeremy Sigee, two analysts for the British bank Barclays, said in a note today.
In his financial disclosures filed during the campaign, Trump listed loans from Deutsche Bank connected to his Florida golf course between $5 million and $25 million and for over $50 million. For the Trump International Hotel and Tower in Chicago, there's a loan of $25 million to $50 million from Deutsche Bank. And for his hotel just blocks from his newest luxury residence, Trump got $170 million from the German bank to fund its renovation.
All in all, Deutsche Bank has led or participated in $2.5 billion of lending for Trump's companies and companies affiliated with him since 1999, according to a Wall Street Journal analysis. During Trump's meteoric rise in the 1980s, many major Wall Street banks were eager to lend him money, but his near-collapse in the early 1990s made him persona non grata to nearly all of them. Bankers described lending to Trump as taking on unnecessary "Donald Risk."
Deutsche Bank even got a taste of the particular flavor of doing business with Trump when he sued it in 2008 to demand that the bank extend a $640 million loan, arguing that the financial crisis was an "act of god," like a natural disaster, that triggered an extension of its terms. Deutsche Bank sued back, demanding the payment for a $40 million personal guarantee that was part of the original loan agreement. He claimed the force majeure clause in the loan agreement, covering so-called acts of God such as natural disasters, applied to the financial crisis. The two eventually settled.
"With the real estate guys, how well they do depends on a good relationship with the bank — the bank gives them credit, they'll extend credit, they'll make the terms better, but if the relationship goes sour, the real estate people can get in trouble," Richard Painter, who was the chief ethics lawyer for the Bush White House from 2005 to 2007, told BuzzFeed News in September. "The banks have a lot of control over how much money he could make in his business, it's all about borrowing money."

Trump has long said that his children would run the business if he were to win the presidency, an arrangement the Trump Organization confirmed in a statement to BuzzFeed News. "We are in the process of vetting various structures with the goal of the immediate transfer of management of The Trump Organization and its portfolio of businesses to Donald Jr., Ivanka and Eric Trump along with a team of highly skilled executives. This is a top priority at the Organization and the structure that is ultimately selected will comply with all applicable rules and regulations."
But despite being the successors to the business, the three adult Trump children were also selected to be on their father's transition team.
Even if his children ran the Trump Organization with no input from their father, Trump would still have a great deal of knowledge about the company's long term real estate and licensing investments and of how public policy implemented by his administration would affect a business run by children and bearing his name.
The Trump transition team did not comment specifically on Deutsche Bank, instead referring to the Trump Organization statement. Deutsche Bank did not respond to a request for comment.
Michael Cohen, a Trump attorney, told CNN Thursday in response to questions that passing his business affairs to his kids wouldn't satisfy the typical strictures of a blind trust — after all Trump would still know what the Trump Organization's main projects were and how public policy could affect them:

"Will we be able to appease everybody? The answer is no. No matter what the man does. He can't appease everybody. But everything will be done legally. He's not interested in the company anymore. He said it yesterday in front of a whole group of people. He's interested in fixing America."